You are here
'Hijabs held aloft as Iranian women protest compulsory cover '
By Thomson Reuters Foundation - Feb 01,2018 - Last updated at Feb 01,2018
BEIRUT — As images of Iranian women holding their hijabs aloft spread on social media, an influential activist said women are symbolically rejecting the wider "interference of religion" in their lives.
"We are fighting against the most visible symbol of oppression," said Masih Alinejad, who hosts the website My Stealthy Freedom where women in Iran post photos of themselves without hijabs.
Under Iran's Islamic law, imposed after the 1979 revolution, women are obliged to cover their hair with a scarf, known as a hijab, and wear long, loose-fitting clothes. Violators are publicly admonished, fined or arrested.
"These women are saying, 'It is enough — it is the 21st century and we want to be our true selves,'" the Iranian activist told the Thomson Reuters Foundation.
Iranian police said on Thursday that 29 women who took part in the campaign had been arrested in Iran for protesting against the country's compulsory hijab rules, the semi-official Tasnim news agency reported.
The trend picked up momentum after video and images were posted online of one woman waving a white scarf on a stick in December — a day before demonstrations erupted against economic conditions in eastern Iran, said Alinejad.
Unrest quickly spread across the country and the focus broadened as protesters began calling for Iran's supreme leader, Ayatollah Ali Khamenei, to step down.
The video went viral as police cracked down, and Alinejad said the woman was arrested. She has since been released, according to a Facebook post by Iranian human rights lawyer Nasrin Sotoudeh.
Although the wider anti-government demonstrations have ended, women across Iran are "fed up" and continue to protest against "the interference of religion in our personal lives", said the activist.
Alinejad said she is now flooded with videos and photos of women imitating the viral video and she shares them on the My Stealthy Freedom Twitter account and Facebook page.
"These people are not fighting against a piece of cloth, they are fighting against the ideology behind compulsory hijab," said Alinejad, who called the movement the "true face of feminism".
To campaign against the obligatory wearing of headscarves, Alinejad last year encouraged women to take videos or photos of themselves wearing white and upload them on social media with the hashtag #whitewednesdays.
The #whitewednesdays campaign is part of a larger online movement started three years ago by Alinejad, a journalist who has lived in self-imposed exile since 2009. She has received death threats since her campaigning started.
"I wake up everyday with the voices of these women in my inbox," said Alinejad from New York where she now lives.
"I am full of hope. Civil disobedience is the first step to gain our victory."
Related Articles
Feb 08,2018
TEHRAN — A spate of unprecedented protests against Iran's mandatory headscarves for women have been tiny in number, but have still reignited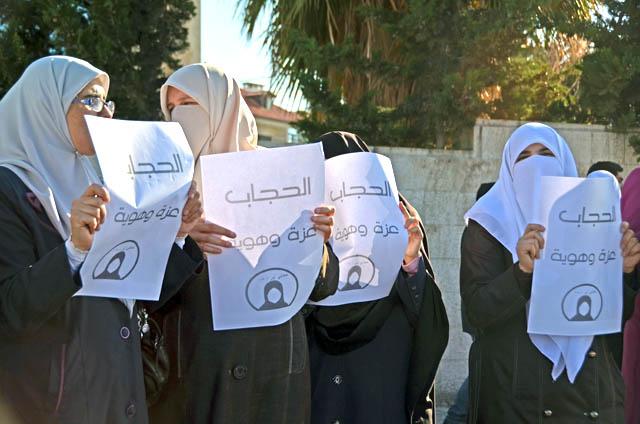 May 14,2014
Around 60 women gathered outside the Prime Ministry on Wednesday to protest against the depiction of terrorists in a drill at the Special Operations Forces Exhibition (SOFEX) 2014 last week. 
May 16,2016
TEHRAN — Iran has arrested eight people for working in "un-Islamic" online modelling networks, particularly on Instagram, the head of Tehran
Newsletter
Get top stories and blog posts emailed to you each day.