You are here
Influential former Iranian leader Rafsanjani dead at age 82
Iranian media reports earlier on Sunday that he was taken to hospital because of heart condition
By AP - Jan 08,2017 - Last updated at Jan 08,2017
In this March 2, 2012 file photo, former president Akbar Hashemi Rafsanjani casts his ballot for the parliamentary elections in front of a portrait of late Iranian leader Ayatollah Khomeini at a polling station in Tehran, Iran (AP photo)
TEHRAN, Iran — Former Iranian president Akbar Hashemi Rafsanjani, a wily political survivor and multimillionaire mogul who remained among the ruling elite despite moderate views, died on Sunday, state TV reported. He was 82.
Iranian media reported earlier on Sunday that he was taken to a hospital north of Tehran because of a heart condition. State television broke into programming to announce his death, the female newscaster's voice quivering as she read the news.
She said Rafsanjani, "after a life full of restless efforts in the path of Islam and revolution, had departed for lofty heaven".
Rafsanjani's mix of sly wit and reputation for cunning moves — both in politics and business — earned him a host of nicknames such as Akbar Shah, or Great King, during a life that touched every major event in Iranian affairs since before the 1979 Islamic Revolution.
His presence — whether directly or through back channels — was felt in many forms. He was a steady leader in the turbulent years following the overthrow of the US-backed shah, a veteran warrior in the country's internal political battles and a covert go-between in intrigue such as the Iran-Contra arms deals in the 1980s.
He also was handed an unexpected political resurgence in his later years.
The surprise presidential election in 2013 of Rafsanjani's political soul mate, Hassan Rouhani, gave the former president an insider role in reform-minded efforts that included Rouhani's push for direct nuclear talks with Washington.
Rouhani's victory was also another example of Rafsanjani's remarkable political luck. Rafsanjani was blocked from the ballot by Iran's election overseers — presumably worried about boosting his already wide-ranging influence. But, in the end, many moderates turned to Rouhani as an indirect vote for Rafsanjani.
It came after years of dwindling influence. Another presidential comeback bid was snuffed out by Mahmoud Ahmadinejad's surprise victory in 2005 elections.
Rafsanjani was a close aide of Ayatollah Ruhollah Khomeini, the leader of the 1979 Islamic Revolution, and went on to serve as president from 1989 to 1997 during a period of significant changes in Iran. At the time, the country was struggling to rebuild its economy after a devastating 1980-88 war with Iraq, while also cautiously allowing some wider freedoms, as seen in Iran's highly regarded film and media industry.
He also oversaw key developments in Iran's nuclear programme by negotiating deals with Russia to build an energy-producing reactor in Bushehr, which finally went into service in 2011 after long delays. Behind the scenes, he directed the secret purchase of technology and equipment from Pakistan and elsewhere.
Rafsanjani managed to remain within the ruling theocracy after leaving office, but any dreams of taking on a higher-profile elder statesman role collapsed with Ahmadinejad's disputed re-election in 2009 and the intense crackdown that followed. Rafsanjani's harsh criticism of Ahmadinejad branded him as a dissenter in the eyes of many conservatives.
In a sign of his waning powers, Rafsanjani's stance cost him his position as one of the Friday prayer leaders at Tehran University, a highly influential position that often is the forum for significant policy statements.
But some analysts believe that Rafsanjani was kept within the ruling fold as a potential mediator with America and its allies in the stand-off over Iran's nuclear programme. His past stature as a trusted Khomeini ally also offered him political protection. Rafsanjani was a top commander in the war with Iraq and played a key role in convincing Khomeini to accept a cease-fire as it became clear that extending the stalemate could pose a crippling drain on Iran's economy.
Nearly 25 years later, Rafsanjani tried to revive his credentials among a new generation of reformers by recounting proposals he made to Khomeini in the late 1980s to consider outreach to the United States, still seen by hard-liners as the "Great Satan".
His image, however, also had darker undertones. He was named by prosecutors in Argentina among Iranian officials suspected of links to a 1994 bombing of a Jewish center in Buenos Aires that left 85 people dead. Some Iranian reformers accused him of involvement in the slaying of liberals and dissidents during his presidency — charges that were never pursued by Iranian authorities.
"The title of Islamic Republic is not just a formality," he said in 2009 in the chaos after Ahmadinejad's re-election.
"Rest assured, if one of those two aspects is damaged we will lose our revolution. If it loses its Islamic aspect, we will go astray. If it loses its republican aspect, [the Islamic Republic] will not be realised. Based on the reasons that I have offered, without people and their vote there would be no Islamic system."
Related Articles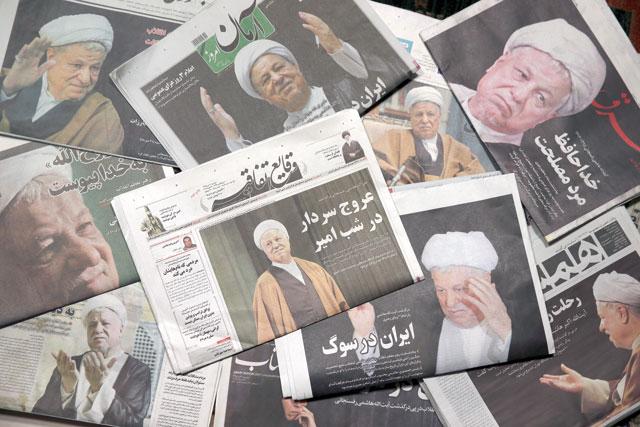 Jan 10,2017
ANKARA — The death of former president Ali Akbar Hashemi Rafsanjani deprives Iran's reformers of a powerful ally, boosting anti-Western hard
Jan 09,2017
TEHRAN — Iran began three days of mourning on Monday after the death of ex-president Akbar Hashemi Rafsanjani, a pillar of the Islamic revol
May 24,2016
TEHRAN — Iran's Assembly of Experts chose another hardline cleric as its chief on Tuesday, keeping the powerful religious body in ultraconse
Newsletter
Get top stories and blog posts emailed to you each day.