You are here
Iran cutting sensitive nuclear stocks, much work remains — IAEA
By Reuters - Mar 03,2014 - Last updated at Mar 03,2014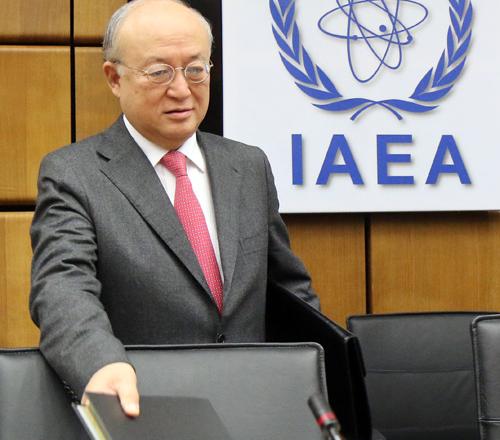 VIENNA — Iran is reducing its most proliferation-prone nuclear stockpile as required by its landmark deal with world powers but much work remains to be done to resolve all concerns about Tehran's activities, the UN atomic watchdog chief said on Monday.
Among measures Iran is taking since the interim agreement took effect on January 20 is the dilution of its stock of higher-enriched uranium to a fissile concentration less suitable for any attempt to fuel an atomic bomb.
Yukiya Amano, director general of the International Atomic Energy Agency (IAEA), indicated that Iran had made sufficient progress in this regard to receive a scheduled March 1 instalment of $450 million out of a total of $4.2 billion in previously blocked overseas funds.
The IAEA has a pivotal role in checking that Iran is living up to its part of the six-month accord in curbing its disputed nuclear programme in exchange for some easing of sanctions that have impaired its oil-dependent economy.
"As of today, measures agreed under the Joint Plan of Action are being implemented as planned," Amano said, referring to the November 24 agreement struck in Geneva between Iran and the United States, Germany, France, Russia, China and Britain.
These included "the dilution of a proportion of Iran's inventory" of 20 per cent uranium gas to a lower enrichment level, which "has reached the halfway mark", he told the IAEA's 35-nation board, according to a copy of his speech.
Under the accord, Iran suspended enrichment of uranium to 20 per cent fissile concentration — a relatively short technical step away from the level required for nuclear bombs — and is taking action to neutralise its holding of the material.
In return, Iran is gradually winning access to $4.2 billion of its oil revenues frozen abroad and some other sanctions relief. The funds will be paid out in eight transfers on a schedule that started with a $550 million payment by Japan on February 1.
Last month, banking sources said South Korea was set to make two payments in March totalling $1 billion.
The March 1 instalment depended on Iran following a schedule for diluting part of its stockpile, which Amano's comment suggested it now had. But it was not immediately clear if the funds had already been transferred to Iran.
The Geneva deal was designed to buy time for negotiations on a final settlement of the decade-old standoff over nuclear activity that Iran says is peaceful but the West fears may be latently aimed at developing a nuclear bomb capability.
IAEA short of cash
for Iran work
Those talks began in Vienna last month and are due to resume on March 17, also in the Austrian capital. The goal is to hammer out a long-term agreement by late July, though the deadline can be extended by six months if both sides agree.
Expert-level talks between the sides are to be held in Vienna on March 5-7, Iran's official IRNA news agency said.
Separately, the IAEA is investigating suspicions — largely believed to be based on intelligence provided by Western states and Israel — that Iran has researched how to construct an atomic bomb, a charge Tehran denies. Iran says it is Israel's assumed nuclear arsenal that threatens Middle East peace.
Amano made clear his determination that those allegations — alleged experimentation and tests to develop the expertise needed to turn fissile material into a functioning atomic bomb — must be cleared up.
"The measures implemented by Iran, and the further commitments it has undertaken, represent a positive step forward, but much remains to be done to resolve all outstanding issues," the veteran Japanese diplomat said.
He said clarification of all issues related to the possible military dimensions to Iran's nuclear programme is "essential".
Amano said 17 IAEA member states had so far expressed interest in contributing extra-budgetary funds to help finance the IAEA's extra workload in monitoring the implementation of the Geneva agreement in Iran, but that more was needed. "We are still short of some 1.6 million [$2.21 million]," Amano said.
The UN agency said in January it needed about 5.5 million euros from member states to pay for its increased activities in Iran. This would cover more inspectors sent to Iran and the purchase of specialised surveillance-related equipment.
Related Articles
Apr 16,2014
Iran expects to get a fifth installment this week of previously blocked overseas funds, a senior official was quoted as saying, a payment that would confirm Tehran's compliance with an interim deal with world powers to curb its nuclear programme.
Jul 20,2014
Iran has moved to eliminate its most sensitive stockpile of enriched uranium gas under an interim nuclear deal reached with six world powers last year, according to a monthly update by the UN nuclear watchdog obtained by Reuters on Sunday.
Mar 01,2017
VIENNA — The chief of the UN atomic watchdog will hold talks on Iran's nuclear deal on Thursday for the first time with senior officials fro
Newsletter
Get top stories and blog posts emailed to you each day.