You are here
Iran says Arak nuclear reactor row all but resolved
By AFP - Apr 19,2014 - Last updated at Apr 19,2014
TEHRAN — Iran's dispute with world powers over its unfinished Arak heavy water reactor has been "virtually resolved", it said Saturday, less than a month before nuclear talks seeking a permanent agreement.
The facility — whose remaining components Iran cannot commission or install under an interim agreement struck in November — is of international concern as it could theoretically give Tehran a second route to a nuclear bomb.
Nuclear chief Ali Akbar Salehi said Iran and the so-called P5+1 group of world powers were now seeing eye to eye on the Arak reactor after Tehran offered to make certain changes.
"Our proposal [is] to redesign the Arak reactor and to reduce its plutonium production to one-fifth," Salehi said in remarks posted in Arabic on the website of Iran's Al Alam television.
"It was welcomed by the P5+1... the issue is virtually resolved," he added without elaborating.
Western governments have monitored the small research reactor with alarm in the past few years over concerns Tehran could theoretically extract weapons-grade plutonium from its spent fuel if it also builds a reprocessing facility.
Located 240 kilometres southwest of Tehran, the reactor has been plagued by a series of delays, however, and its stated completion date of 2014 is expected to slip back even further.
But a year after it eventually comes on line, it could provide Iran with an alternative to highly enriched uranium for use in a nuclear bomb.
With Tehran insisting the reactor would create isotopes for medical and agricultural use, it has also made efforts in recent months to allay relating concerns by agreeing to submit to the UN nuclear watchdog updated design information and finalise a safeguards mechanism for it.
'Centrifuge increase'
Tehran has been engaged in negotiations with the P5+1 — UN Security Council permanent members Britain, China, France, Russia and the United States, plus Germany — aimed at clinching a lasting accord on its nuclear ambitions.
The parties in the talks, which resumed when self-declared moderate Hassan Rouhani took office as Iranian president in August, have not disclosed details about their content.
On Saturday Salehi alluded to another issue being dealt with at the negotiating table, saying a separate Iran-initiated proposal sought to allow the country to keep its current centrifuges.
"They will remain at the current number of 20,000 for four or five years," he said. "After that, we will gradually increase them to reach a capacity of enriching 30 tonnes of uranium per year."
He did not say how the other parties to the talks responded to the proposal.
US negotiators are thought to be demanding that in addition to the Arak changes and more access being given to UN inspectors, Iran must drastically slash its number of centrifuges.
The Islamic republic has installed 20,000 centrifuges, but only about 9,000 of the machines which enrich uranium by spinning it at supersonic speed are active.
A lasting deal aims to once and for all alleviate Western concerns that Iran is seeking nuclear arms and also remove crippling sanctions that have left its economy in a shambles.
Such an agreement, elusive for the past decade, is inching towards reality with all sides agreeing to start drafting it when they meet again in Vienna on May 13, building on the historic interim accord that was limited to six months.
Their experts will meet for technical discussions from May 5 to 9 in New York, deputy foreign minister and top nuclear negotiators Abbas Araqchi said on Saturday.
According to the UN nuclear watchdog, Iran is strictly following the November deal, under which it pledged to "dilute" half of its highly enriched uranium by mid-April, with the rest to be converted by mid-July.
Salehi's spokesman Behrouz Kamalvandi said on Saturday that Tehran was committed to completing its remaining obligations by mid-July, when the interim deal runs out its course.
Related Articles
Feb 10,2014
Iran laid out "red lines" Monday related to its ballistic missile programme, nuclear sites and uranium enrichment ahead of fresh nuclear talks with world powers.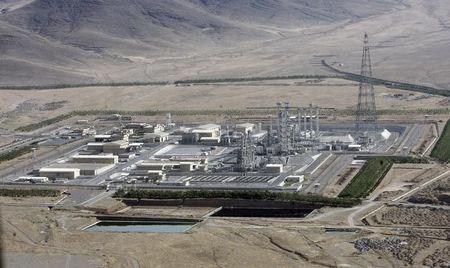 Jun 12,2014
Iran is "busy redesigning" a planned research reactor to sharply cut its potential output of plutonium, a senior Iranian official said in comments that seemed to address a thorny issue in negotiations with big powers.
Feb 08,2014
The UN nuclear agency and Tehran met Saturday for talks on allegations of past Iranian weapons work and to seek additional safeguards to allay international concerns over its nuclear ambitions.
Newsletter
Get top stories and blog posts emailed to you each day.