You are here
Iran's Ahmadinejad rules out third presidential bid
'I will forever remain the small soldier of the revolution'
By AFP - Sep 27,2016 - Last updated at Sep 27,2016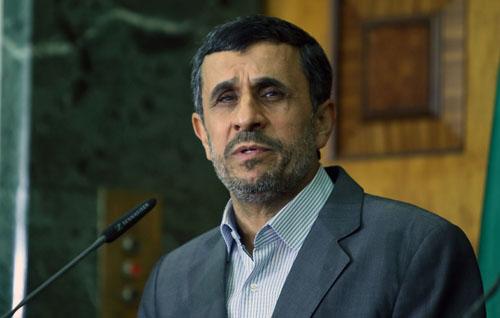 This file photo taken on July 18, 2013 shows Iran's then outgoing president Mahmoud Ahmadinejad speaking during a press conference at the presidential palace in Baghdad (AFP photo)
TEHRAN — Iran's controversial former president Mahmoud Ahmadinejad, whose two-term rule saw the country increasingly isolated internationally, has said he will not stand again following advice from Supreme Leader Ayatollah Ali Khamenei.
"In following the will of the great leader of the revolution, I have no plans to be present in next year's presidential competitions," he wrote in a letter to Khamenei made public by Iranian media on Tuesday.
Ahmadinejad's stand-down came a day after Khamenei, in cautiously worded remarks and without naming the ex-president, indicated that his standing again would be a mistake.
"A certain person came to me and I told him not to do a certain thing, believing it would be to the benefit of both the person himself and the country," Khamenei said.
He implied that an Ahmadinejad candidacy would have a polarising effect that would "damage the country".
Ahmadinejad, who was president between 2005 and 2013, said he had met Ayatollah Khamenei on August 30.
"I will forever remain the small soldier of the revolution and a servant of the people," he concluded in his letter.
Ahmadinejad had made numerous public appearances in recent months, leading to speculation that he was planning a comeback in next May's presidential election.
The news that he is not is likely to reassure moderate incumbent Hassan Rouhani, who is expected to stand for a second term in the May 19 vote.
Ahmadinejad left office in August 2013 after two turbulent four-year terms, leaving the Islamic republic divided domestically, isolated internationally and struggling economically.
His inflammatory rhetoric — particularly over Iran's nuclear programme and hostility towards Israel — was blamed for deepening tensions with the West and bringing down economic sanctions that Iran struggled for years to lift.
But Ahmadinejad's populist approach and humble roots mean that he remains a popular figure among poorer sections of society.
Rouhani, who oversaw a deal with world powers to end sanctions in exchange for curbing Tehran's nuclear programme, faces mounting pressure from conservatives who say the accord has brought few benefits.
Political manoeuvres
In 2009, Ahmadinejad's re-election was followed by one the largest protests to hit the country since the Islamic revolution three decades before.
Two candidates backed by reformists Mir Hossein Mousavi and Mehdi Karroubi — who have been under house arrest since February 2011 — contested the results.
Street demonstrations were repressed by a regime which dubbed the protest movement "sedition" and its leaders "heads of the sedition".
Both of Ahmadinejad's terms were marked by anti-Western and anti-Israeli rhetoric, including questioning the Holocaust.
After becoming president in 2005, he quickly became international news after a speech in which he argued that Israel was doomed to be "wiped off the map" and that the Holocaust was a "myth".
He also accelerated Tehran's atomic programme, triggering tensions with the West and fears of possible military action.
However, Ahmadinejad swept aside such criticism, calling the nuclear project an unstoppable train "without brakes and no reverse gear".
During the last years of his presidency, the international community imposed ever tougher sanctions that paralysed Iran's economy.
Rouhani was elected on a promise to resolve the nuclear issue and normalise relations with the outside world.
The nuclear agreement was reached with the major powers in July 2015 after two years of intense negotiations.
But despite it coming into force in January 2016 and some international sanctions being lifted, the economy's recovery is still pending.
Ahmadinejad's withdrawal from the presidential race comes as another conservative, Mohsen Rezai, former head of the elite Revolutionary Guards, also announced on Monday that he would not be a candidate next May.
More than eight months before the vote, political manoeuvring is already under way.
With Ahmadinejad out, the conservatives are trying to unite to support a single candidate to face Rouhani.
And Tehran Mayor Mohammad Bagher Ghalibaf may also stand again, despite being a losing candidate twice, in 2005 and 2013.
Related Articles
Aug 08,2016
TEHRAN — Iran's former hard-line President Mahmoud Ahmadinejad sent a letter on Monday to President Barack Obama, asking him to "quickl
Jan 09,2017
TEHRAN — Iran began three days of mourning on Monday after the death of ex-president Akbar Hashemi Rafsanjani, a pillar of the Islamic revol
Dec 09,2015
Tehran — An Iranian newspaper editor who defied a national reporting ban on former president Mohammad Khatami hit back at threats of prosecu
Newsletter
Get top stories and blog posts emailed to you each day.