You are here
Iraq's parliament to block PM's technocrat Cabinet — MPs
By Reuters - Apr 11,2016 - Last updated at Apr 12,2016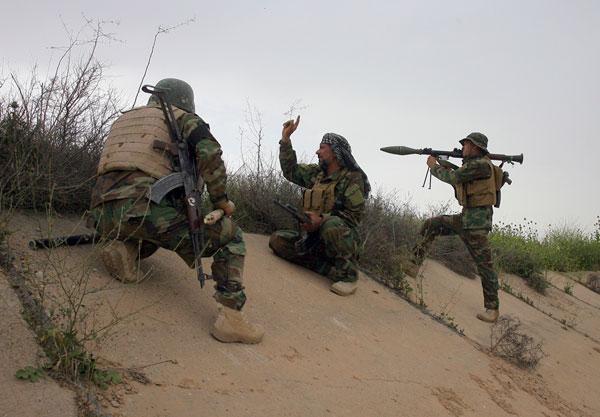 Iraqi security forces and allied popular mobilisation forces take combat positions during a military operation to regain control of the Daesh terror group held town of Besher outside the oil-rich city of Kirkuk, 290 kilometres north of Baghdad, Iraq, on Sunday (AP photo)
BAGHDAD — Iraq's parliament is unlikely to vote on a new Cabinet line-up proposed by Prime Minister Haider Al Abadi in an attempt to curb corruption after lawmakers said on Monday the dominant political blocs would name their own ministerial candidates.
Abadi last month presented parliament with a list of 14 names, many of them academics, to free the ministries from the grip of a political class he has accused of using a system of ethnic and sectarian quotas instituted after the US-led invasion in 2003 to amass wealth and influence.
But political blocs, unhappy with Abadi's proposal to replace their representatives with unaffiliated technocrats, have opted instead to name substitutes that maintain the current party balance, lawmakers said.
Abadi asked parliament on March 31 to accept, reject or modify a line-up which also shrank the Cabinet to 16 posts from 22. Lawmakers said they would take up to 10 days to respond. That deadline passed at the weekend without a decision.
"There is no agreement on the list," said Abbas Al Bayati, a Shiite Muslim MP from the ruling State of Law coalition. "The blocs are trying to find substitutes for their own ministers in the outgoing Cabinet who would be technocrats at the same time."
Another senior Shiite lawmaker said it could take another 10 days or more before parliament votes on a revamped list. "I see no clear response from the political blocs," to Abadi's list, said Hamid Al Mutlaq, a Sunni Muslim MP.
At least two of Abadi's candidates, nominated for the posts of finance and oil ministers, have withdrawn their names.
The three ministers from the political bloc led by powerful Shiite cleric Moqtada Al Sadr, who has pressed Abadi for weeks to replace party-affiliated ministers with independents, resigned on Monday, citing frustration with the other parties' refusal to give up their posts.
A statement from Al Ahrar said the ministers of water, industry and minerals, and housing and construction would no longer attend Cabinet meetings or go to their offices.
Iraq's oil minister made a similar move three weeks ago, asking a deputy to carry out his functions.
The Cabinet reshuffle is part of long-promised anti-corruption measures that Abadi has to deliver on or risk weakening his government as Iraqi forces gear up to try to recapture the northern city of Mosul from the Daesh terror.
US Secretary of State John Kerry, visiting Baghdad on Friday, urged Iraq not to let the political crisis interfere with the fight against the extremists and voiced unequivocal support for the prime minister.
Abadi proposed the new Cabinet in part under pressure from the clergy of the Shiite majority community and popular discontent at the lack of basic public services in a nation facing economic crisis due to low global oil prices.
Sadr, whose opinion holds sway over tens of thousands of followers, agreed to end street protests his supporters had been holding since late February only after Abadi presented his cabinet lineup. MPs close to Sadr have said he would not object to an adjusted line-up as long as the ministers are technocrats and not politicians.
Iraq, a major OPEC exporter which sits on one of the world's largest oil reserves, ranks 161 out of 168 on Transparency International's Corruption Perceptions Index.
Related Articles
Apr 13,2016
BAGHDAD — Iraq's parliamentary speaker Salim Al Jabouri may request the dissolution of the assembly after ministers scuffled during a chaoti
Apr 12,2016
BAGHDAD — Iraq's parliament blocked a cabinet of independent technocrats Prime Minister Haider Al Abadi had proposed, as political factions
Mar 30,2016
BAGHDAD — Iraqi Prime Minister Haider Al Abadi said he would present to parliament on Thursday his new Cabinet line-up aimed at fighting cor
Newsletter
Get top stories and blog posts emailed to you each day.