You are here
Iraq officers say soldiers tortured by Kurdish forces
By AFP - Jul 20,2016 - Last updated at Jul 20,2016
In this Friday picture, displaced civilians, who fled their Daesh-held towns and villages south of Mosul, arrive to a camp for the displaced outside Erbil, 350km north of Baghdad (AP photo)
BAGHDAD — Iraqi officers said Tuesday that Kurdish security forces detained and tortured several soldiers, an event that would likely undermine trust between the two sides when cooperation against extremists is needed.
But a Kurdish security spokesman denied that the incident took place, and other Kurdish officials did not respond to requests for comment.
Iraqi forces are carrying out operations in Nineveh province to set the stage for a final assault on its capital Mosul, the country's second city that has been held by the Daesh terror group since 2014.
Both Iraqi federal troops and forces from the country's autonomous Kurdish region will have important roles to play in battle for the city, but there are significant tensions between the two sides over financial and political issues.
Kurdish "Asayesh forces beat eight of our soldiers during their return from the battlefield for a holiday" on Monday, a senior officer in the 9th Division told AFP.
Three soldiers "were tortured using electricity, and they beat an officer of the rank of lieutenant colonel and another captain, and fired at them, and held them for hours before their release", the officer said.
He said the incident took place in the Makhmur area southeast of Mosul, where both Iraqi soldiers and Kurdish forces are deployed.
An officer in Iraq's Joint Operations Command (JOC) gave a similar account.
"A group of soldiers from the 9th Armoured Division were beaten and humiliated by the asayesh in Makhmur," the JOC officer said.
"Three soldiers were tortured using electric batons, and five others... were beaten by asayesh forces," the officer said.
The officer later acknowledged that the soldiers' accounts differed from that of the asayesh but did not provide details on how, and said the incident would be investigated.
Iraqi lawmakers distributed images of heavily bruised men said to be the soldiers who had been attacked, but the authenticity of the pictures could not be independently confirmed.
Ahmed Al Jaff, the spokesman for Kurdish peshmerga forces in the Makhmur area, denied that Iraqi soldiers had been beaten or tortured, while a number of asayesh officials did not respond to requests for comment.
Daesh overran large areas north and west of Baghdad in 2014, and while both federal and Kurdish forces have battled the militants, they have fought largely independent wars.
But that will need to change for Mosul, with Kurdish forces deployed north, west and east of the city, federal soldiers pushing up from the south, and both expected to play significant roles in the campaign.
But relations between Baghdad and Erbil have been marred by a series of long-running disputes over money, oil and territory, and Kurdish leader Massud Barzani has called for a referendum on the region's independence.
up
33 users have voted, including you.
Related Articles
Mar 12,2017
BAGHDAD — Iraqi forces battling to retake Mosul have cut the last road out of the city, trapping the Daesh terror group militants inside, th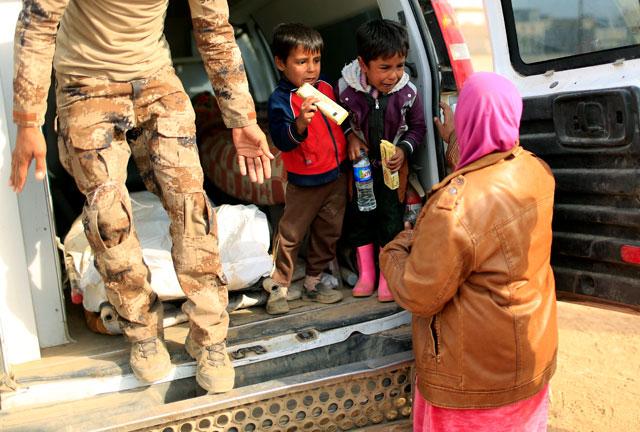 Nov 13,2016
MOSUL, Iraq — Iraqi forces said on Sunday they had recaptured the site of an ancient Assyrian city blown up by the Daesh terror group, as th
Jun 08,2014
A car bomb attack and a suicide blast Sunday killed 18 people at a Kurdish political party's office north of Baghdad, as at least nine others died in violence elsewhere in Iraq.
Newsletter
Get top stories and blog posts emailed to you each day.