You are here
Iraq-Syria border set for last major assault on Daesh — US general
By AFP - Oct 08,2017 - Last updated at Oct 08,2017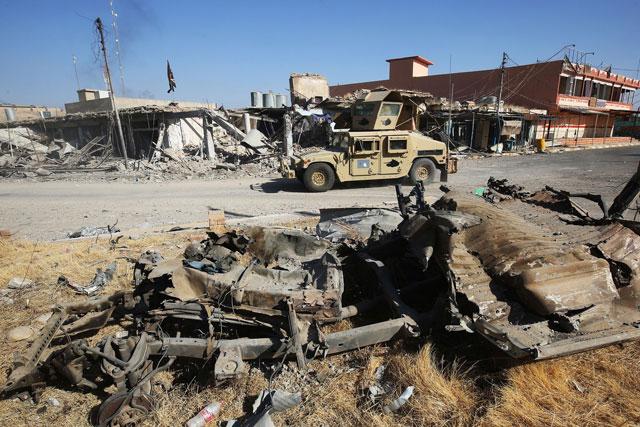 Iraqi forces drive past the wreckage of a vehicle in Hawija on Friday, a day after they retook the northern city from Daesh militants (AFP photo)
BAGHDAD — The "final large fight" in Iraq against the Daesh extremist group will take place on the border with Syria, a general in a US-led coalition against the extremists said on Saturday.
He spoke two days after Iraqi forces recaptured the northern town of Hawija, the centre of one of the extremist group's two remaining enclaves in Iraq.
"The next fight and the final large fight will be in the Middle Euphrates River Valley... on the Iraqi-Syrian border," Brigadier General Robert Sofge, the coalition's deputy commanding general, told AFP.
"All campaigns will aim in that direction, and it is going to happen sooner rather than later."
Daesh seized vast areas of Iraq and Syria in 2014.
Multiple offensives in both countries have since cornered it in a pocket of territory stretching from Syria's Deir Ezzor to the Iraqi towns of Rawa and Al Qaim.
Sofge said some 2,000 Daesh fighters were still in the area.
Coalition-backed Iraqi forces ousted Daesh from second city Mosul in July, going on to inflict a string of defeats on the extremist group.
After seizing the northern town of Tal Afar in August, they focused their efforts on Hawija and the Euphrates River area close to the Syrian frontier.
'Moving quickly'
The extremists are also under pressure in eastern Syria, facing separate offensives by Russian-backed regime forces and a Kurdish-Arab force supported by the US-led coalition.
Brigadier General Andrew A. Croft, the coalition's deputy air force commander, said Iraqi security forces had been able to regroup and move quickly into new battles following their Mosul victory.
"We, as the Coalition, are moving quickly to match," he said.
Sofge said the extremist group was shifting from a military mindset to that of an insurgent group with "sleeper cells" able to launch surprise attacks.
"The challenge for the years ahead is police work in Iraq and Syria," he said.
"Daesh fighters who are not killed or captured are trying to fade back into the fabric of the society."
While extremists have tried to hide among the thousands of people displaced by fighting, Croft said some 1,000 Daesh fighters were captured in Hawija.
Many ended up in the hands of the Kurdish peshmerga militias in Kirkuk province.
Control of the province is a key sticking point in a bitter dispute between Baghdad and Kurdish authorities, fanned by a September referendum on Kurdish independence, held in defiance of the central government.
Iraqi pro-government forces have also advanced towards Kurdish positions since retaking Hawija.
But Croft praised what he said was a "high degree of cooperation between peshmergas and Iraqi security forces".
"It is very positive," he said.
"Much of the tension is at a political level, not only does tension [between Iraqi forces and the peshmerga] not exist, but they keep their cooperation high."
Related Articles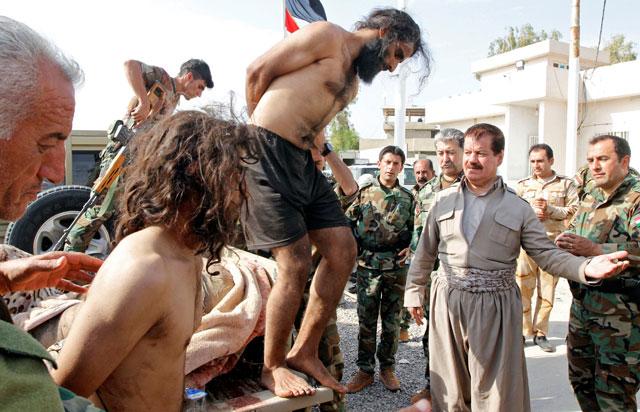 Oct 10,2017
KIRKUK, Iraq — Iraqi forces have found the bodies of two of the crew of a plane shot down by the Daesh terror group last year, the air force
Oct 10,2017
BAGHDAD — Hundreds of suspected Daesh militants surrendered last week to Kurdish authorities after the terror group was driven out of its la
Sep 21,2017
BAGHDAD — Iraq brought all of its territory still held by the Daesh terror group under attack Thursday, throwing the extremists on the defen
Newsletter
Get top stories and blog posts emailed to you each day.