You are here
Iraq violence kills over 30 people in 24 hours
By AFP - May 04,2014 - Last updated at May 04,2014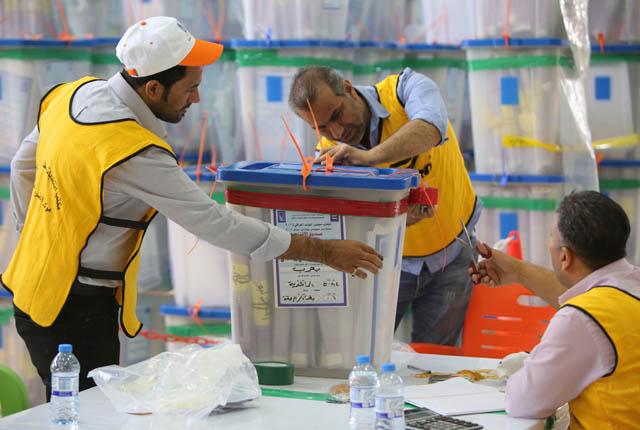 BAGHDAD — Violence in Iraq, including shelling in a militant-held city and an attack targeting Shiite pilgrims, has killed more than 30 people in 24 hours, officials said Sunday.
The bloodshed comes as officials count ballots from the April 30 general election, the first since US troops withdrew in late 2011, and amid a protracted surge in nationwide unrest that has sparked fears of a return to the sectarian killing sprees of 2006-2007.
While officials are quick to blame external factors like the civil war in neighbouring Syria for the heightened violence, analysts and diplomats say widespread anger among the Sunni Arab minority is also a key cause.
In Fallujah, just a short drive west of Baghdad, shelling in southern areas of the city killed 11 people and wounded four, Doctor Ahmed Shami said.
It was not immediately clear who was behind the bombardment, which began on Saturday evening and continued into Sunday.
In a sign of both the reach of anti-government militants and the weakness of security forces, all of Fallujah and shifting parts of Anbar provincial capital Ramadi, farther west, have been out of government control since early January.
The crisis in the desert province of Anbar, which shares a long border with conflict-hit Syria, erupted in late December when security forces dismantled Iraq's main Sunni Arab anti-government protest camp just outside Ramadi.
Militants subsequently seized parts of Ramadi and all of Fallujah, the first time anti-government forces have exercised such open control in major cities since the peak of the deadly violence that followed the US-led invasion of 2003.
North of Baghdad, a bombing and shooting targeted a bus carrying Shiite pilgrims on Saturday evening, killing 11 people and wounded 21, police and a doctor said.
The pilgrims were returning from Samarra when a roadside bomb exploded on the outskirts of the town of Balad and gunmen opened fire on the bus.
The worshippers had been participating in commemorations marking the death of Imam Ali Al Hadi, the 10th of 12 imams who are key to the Shiite Muslim faith.
His body lies in a venerated shrine in Samarra that also houses his son Hassan Al Askari, the 11th imam.
Funerals for the victims were held on Sunday in southern Maysan province.
Also on Saturday evening, police found the bodies of eight family members shot dead inside their home in a predominantly Sunni area southeast of Baghdad.
It was unclear why the family had been targeted or who killed them.
And on Sunday, a shooting in Baghdad and a magnetic "sticky bomb" on a vehicle west of the capital killed two people, while a suicide bombing in the northern city of Mosul left one soldier dead, officials said.
The bloodshed comes just days after a parliamentary election, with incumbent Prime Minister Nouri Al Maliki seeking a third term despite the dramatic deterioration in security and widespread political opposition.
More than 3,000 people have been killed already this year, according to an AFP tally based on security and medical reports.
The unrest is the worst since Iraq emerged from brutal Sunni-Shiite sectarian fighting that killed tens of thousands of people in 2006 and 2007.
Related Articles
May 10,2014
Violence in Iraq, including the shelling of a militant-held city, a suicide bombing and shootings, killed 20 people on Saturday as officials tallied votes from last month's parliamentary election.
Jun 05,2014
Militants launched a major attack on the Iraqi city of Samarra Thursday and occupied several neighbourhoods, sparking house-to-house fighting and helicopter strikes in which dozens of people were reportedly killed.
Jan 20,2014
Al Qaeda-linked militants tightened their grip on Fallujah, a city on Baghdad's doorstep that has been outside of government control for weeks, as bombings in the capital killed 21 people Monday.
Newsletter
Get top stories and blog posts emailed to you each day.