You are here
Iraq will ask US for more arms, strikes — PM
By AFP - Apr 13,2015 - Last updated at Apr 13,2015
BAGHDAD — Iraqi Prime Minister Haider Al Abadi said Monday he will use a visit to the United States to seek increased air support and arms deliveries to aid Baghdad's battle against militants.
"Number one is a marked increase in the air campaign and the delivery of arms," Abadi told journalists when asked what he wants during a visit to Washington, where he is to meet President Barack Obama on Tuesday.
There has already been an increase, "but we want to see more", he said before boarding his plane.
Abadi also said that "we want strict measures to stop the flow of foreign terrorists to Iraq", and that international efforts are needed to curb oil and antiquities smuggling, by which the jihadists gain funding.
He is expected to ask that Iraq be allowed to defer payment for arms purchases, given its major shortage of funds because of a decline in oil prices and the cost of its war against Daesh terror group.
The United States is leading an international coalition waging a campaign of air strikes against Daesh and also providing arms and training for Iraqi security forces.
The jihadist group led an offensive that overran large parts of Iraq last June.
Multiple Iraqi divisions collapsed in the early days of the militant onslaught, but Iraqi forces and allied paramilitaries have since succeeded in retaking significant territory from Daesh.
However, large parts of two provinces — Nineveh in the north and Anbar in the west — remain under Daesh control.
The latest victory came earlier this month when Iraqi security and allied paramilitary forces retook most of Tikrit from jihadists.
The operation lasted a month and was slowed by a reluctance among the main players in the anti-Daesh camp to work, or be seen as working, together.
Some of the Shiite militias backed by Iran stressed that they did not want US-led coalition intervention in the battle, but Abadi's government eventually asked for it to break the military deadlock.
Washington was keen to claim its position as Iraq's top foreign partner and conditioned its air strikes on a greater role for the regular police and army forces in the battle.
"We have an interest in Iraq having good relations with the United States, a solid relationship based on the respect of Iraqi sovereignty and mutual respect," Abadi said at Baghdad airport.
It was initially thought that Iraqi security forces would continue to thrust north towards Mosul after retaking Tikrit, but Abadi last week announced that Anbar was next.
The vast western province is largely under Daesh control, and a large operation there would be yet another new challenge for Iraq's restructuring security forces.
"We need more support, especially because we have two main battles to kick Daesh out of Iraq," Abadi said.
"They are the battles of Anbar and Nineveh," he said, referring to the northern province, of which Mosul is the capital.
Abadi flew to Washington with a high-level delegation including the ministers of oil, finance, defence and higher education, as well as his national security adviser.
Related Articles
Apr 16,2015
Iraq's Prime Minister Haider Al Abadi on Thursday welcomed Iran's assistance in the fight against Daesh jihadists, but warned Tehran to respect Baghdad's sovereignty.
Apr 08,2015
Iraqi security forces launched a new offensive against Daesh insurgents in the Sunni Muslim heartland of Anbar on Wednesday, seeking to build on a victory over the jihadist group last week in the city of Tikrit.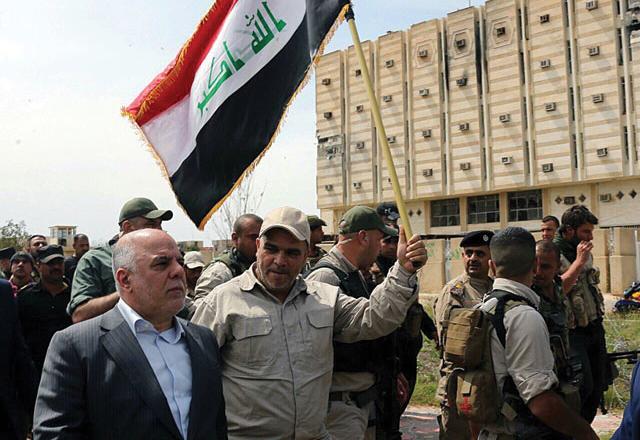 Apr 01,2015
Iraq vowed Wednesday to reclaim the entire country from jihadists after having liberated the city of Tikrit, its biggest boost yet in the fight against Daesh terror group.
Newsletter
Get top stories and blog posts emailed to you each day.