You are here
Iraqi PM Abadi to seek reelection, in alliance with Iran-backed group
By Thomson Reuters Foundation - Jan 14,2018 - Last updated at Jan 14,2018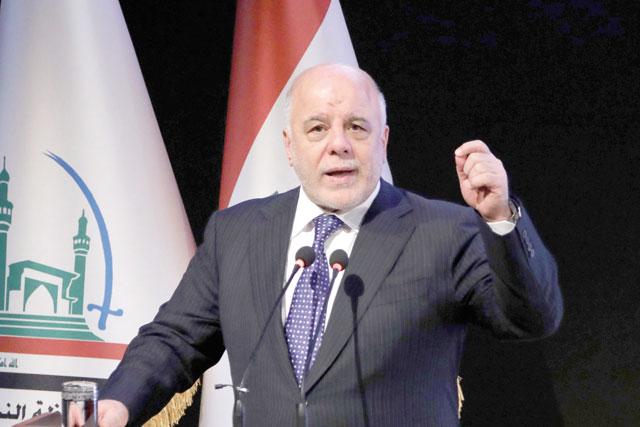 This file photo taken on January 7 shows Iraqi Prime Minister Haider Al Abadi delivering a speech during a ceremony in the Shiite holy city of Najaf (AFP photo)
BAGHDAD — Iraqi Prime Minister Haider Al Abadi on Sunday announced he would stand for reelection on May 12 at the head of a cross-sectarian bloc, and received the support of a powerful Shiite group close to Iran.
Abadi, a Shiite Muslim who led Iraq in the three-year war against the extremist Daesh group, said the "Victory Alliance" that he was assembling to contest the parliamentary election would include candidates from other communities.
Abadi took over the premiership in 2014 from Nuri Al Maliki, a close ally of Iran widely blamed by Iraqi politicians for the army's collapse as Daesh seized a third of Iraq.
Maliki, who heads the Shiite Dawa Party, announced on Saturday that he would be running in the election.
Maliki, who holds the ceremonial title of vice president, remains a powerful figure as head of the largest political bloc in the current parliament.
Abadi is a Dawa member but did not secure Maliki's endorsement for his candidacy. Maliki said on Saturday that Dawa supporters would be free to choose between his "State of Law" alliance and Abadi's Victory Alliance.
The prime minister did, however, secure the support of powerful coalition of Iranian-backed Shiite groups who took part in the war on Daesh, led by the Badr Organisation.
Lawmakers close to Abadi and Badr leader Hadi Al Amiri told Reuters their representatives had signed an electoral pact on Sunday.
Abadi is credited with quickly rebuilding the army and defeating Daesh in its main Iraqi stronghold, Mosul, last July, with strong assistance from a US-led coalition.
His tie-up with Amiri's "Conquest Alliance" broadens his base within Iraq's majority Shiite Arab community.
But it alienated Moqtada Al Sadr, an influential Shiite cleric with a large following among Iraq's urban poor who two years ago led demonstrations against the corruption eating away at Iraq's oil revenues.
"I am stunned to see the course taken by brother Abadi, who we had thought to be a leading advocate of reform," said a statement from Sadr, one of a few Iraqi Shiite leaders who keep Iran at arm's length.
The prime minister's office is reserved for the Shiite Arabs under a power-sharing system set up after the 2003 US-led invasion that toppled Saddam Hussein, a Sunni Arab.
The largely ceremonial office of president is reserved for a Kurdish member of parliament. The speaker of parliament is drawn from Sunni Arab MPs.
Parliament is likely to meet in the next few days to approve May 12 as the date for the election.
Related Articles
Jan 22,2018
BAGHDAD — The Iraqi parliament on Monday set May 12 for elections the winner of which will face the daunting tasks of rebuilding Iraq after
May 15,2018
BAGHDAD — Nationalist cleric Moqtada Al Sadr, a long-time adversary of the United States, led in Iraq's parliamentary election with more tha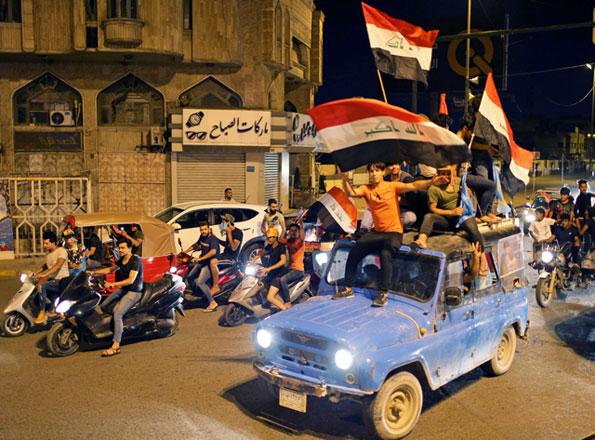 May 17,2018
BAGHDAD, Iraq — Iran and its allies were mustering a bid Wednesday to limit the role of fiery Shiite cleric Moqtada Sadr in Iraq's next gove
Newsletter
Get top stories and blog posts emailed to you each day.