You are here
Iraqi Shiite forces target air base west of Mosul
By Reuters - Nov 08,2016 - Last updated at Nov 08,2016
BAGHDAD — A coalition of mainly Shiite Iraqi militias advancing on the Daesh-held town of Tal Afar plans to seize a nearby military air base from the extremists, the first time the Iran-backed forces have targeted such a base, militia officials said on Tuesday.
The Hashid Shaabi (Popular Mobilisation) paramilitary forces are deployed in the arid region west of Mosul as part of a wider military campaign to retake the largest city under Daesh control in Iraq or neighbouring Syria.
The town of Tal Afar, and its air base, are located on the highway west of Mosul. Capturing them would help cut Daesh supply lines between Mosul and its Syrian territories, and offer a base for the Hashid's stated plan ultimately to take their battle with Daesh into Syria.
But the advance by the mainly Shiite force towards Tal Afar, which had a mixed population of mainly Shiite and Sunni Turkmen before Daesh captured it in 2014, has raised fears of sectarian strife and alarmed neighbouring Turkey.
President Recep Tayyip Erdogan said Turkey was reinforcing its troops on the border with Iraq and would respond if the Shiite militias "cause terror" in Tal Afar.
Capturing an air base would also point to the growing muscle of the Hashid forces, which officially report to the Shiite-led government of Prime Minister Haider Al Abadi but are also backed by Tehran and often fly the banners of Iran's Supreme Leader.
"Now we are 25 km from the Tal Afar air base," said Kareem Alewi, a commander of one of Hashid's brigades and a member of the Badr Organisation, the most powerful force within the paramilitary alliance.
"Tal Afar air base has strategic importance for us considering that it's on the Iraqi-Syrian border, so it will be a general base for all factions of the Hashid Shaabi and it will be the launch pad for these forces to protect the Syrian-Iraqi borders," he told Reuters.
He said it would be the first military base controlled by Hashid, who could take their fight across the frontier once Mosul is taken. "If Iraq is liberated, no doubt our second goal will be to pursue Daesh inside Syria," he said.
A spokesperson for another Shiite force in Hashid, the Kataib Hizbollah, confirmed that control of the air base at Tal Afar was "one of our basic aims".
Jafaar Al Hussaini suggested the base could then be handed over to Iraqi security forces rather than retained by the Hashid force. "The issue may be decided later, and we have many options," he said.
Reshaping Iraq
Two years after Daesh militants swept through north Iraq, the US-backed campaign to retake Mosul has the potential to reshape the country, with Kurds from the northeast and Shiite forces mainly from the south expanding their influence.
Abadi has sought to calm fears that the operation to recapture Tal Afar would ignite sectarian tension, or escalate problems with Turkey, saying the attacking force will reflect the town's religious and ethnic makeup.
Hussaini said there was no final agreement for Hashid to go into Tal Afar, but it had two brigades made up of Turkmens — both Shiites and Sunnis — originally from the town who could take part "to overcome the sensitivities over the liberation of Tal Afar".
"They could carry out this operation, as part of the Hashid Shaabi," he said. "The two brigades could participate with the security forces entering Tal Afar."
Zuhair Al Jabouri, spokesperson for a newly formed Sunni force known as the Nineveh guards, said the government "should be aware of the sensitivity of Tal Afar" and assign the upper hand to the army in the operation to recapture it.
If Hashid forces entered the town there would be "revenge atrocities against Sunni residents who are seen by the Shiite militias, including the Shiite Turkmen Hashid groups, as pro-Daesh".
That would give Turkey a pretext to intervene on behalf of Sunni Turkmen. "This will convert Nineveh into an arena of conflict between regional powers and push Iraq into a dark tunnel," he told Reuters.
Amnesty International says that in previous campaigns, the Shiite militias have committed serious human rights violations, including war crimes against civilians fleeing Daesh territory.
The UN said in July it had a list of more than 640 Sunni men and boys reportedly abducted by a Shiite militia in Fallujah and about 50 others summarily executed or tortured to death.
The government and Hashid say a limited number of violations occurred and were investigated, but they deny abuses were widespread.
Jabouri and Sunni parliamentarian Abdul Rahman Al Lwezi, from Mosul, both said Abadi had told Tal Afar tribal leaders at a meeting last Thursday that only Turkmen members of the Hashid force would be allowed to enter the town.
Alewi, the Badr commander, said Hashid forces cut the road west from Tal Afar to Syria early on Tuesday and were now focusing on the air base and the town.
Tal Afar has a large concentration of Daesh fighters and is believed to be heavily fortified, but Alewi said it could be taken with relative ease.
"The Hashid Shaabi force is a conquering force, a major force which has brigades, weapons, lethal rockets ... and has the ability to advance quickly," he said.
Related Articles
Nov 24,2016
ERBIL/BAGHDAD — Iraqi Kurdish and Shiite forces agreed to coordinate movements after cutting off Mosul from the rest of the territory held b
Nov 16,2016
BAGHDAD — An Iraqi Shiite militia said on Wednesday it was on the verge of driving Daesh militants from an air base west of Mosul, a victory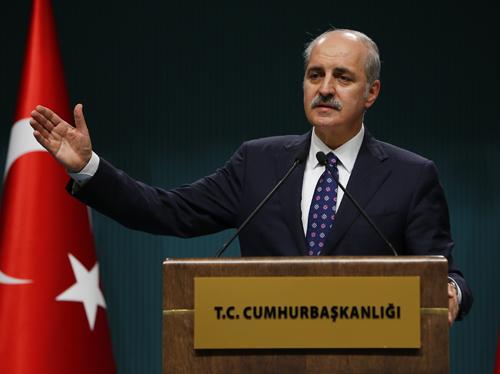 Nov 02,2016
ISTANBUL — Turkey's deputy prime minister said on Wednesday a military build-up on the border with Iraq was a precaution, not a threat, and
Newsletter
Get top stories and blog posts emailed to you each day.