You are here
Iraqi troops face stiff resistance from Daesh in eastern Mosul
By AP - Nov 19,2016 - Last updated at Nov 19,2016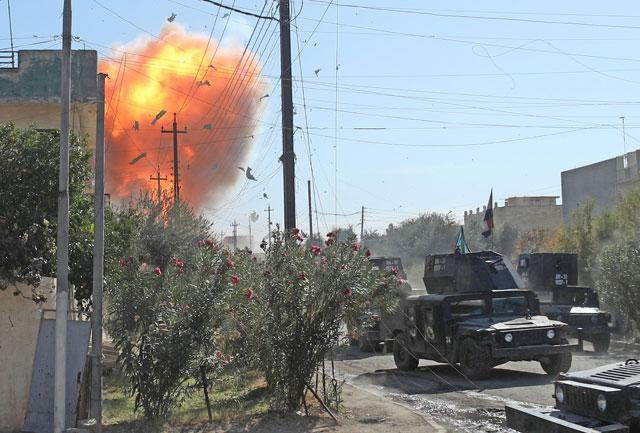 A Daesh suicide bomber attacks Iraqi special forces soldiers with a car bomb during clashes in Mosul, Iraq, on Saturday (Reuters photo)
MOSUL, Iraq — Iraqi troops faced stiff resistance on Saturday from Daesh militants as they pushed deeper into eastern Mosul, backed by aerial support from the US-led international coalition, a senior military commander said.
At dawn, troops moved into the Muharabeen and Ulama neighbourhoods after fully liberating the adjacent Tahrir neighbourhood on Friday, said Maj. Gen. Sami Al Aridi of the Iraqi special forces. Aridi said Daesh militants were fighting back with snipers, rocket-propelled grenades and mortar rounds.
Thick black columns of smoke were seen billowing from the two areas, while dozens of civilians were seen fleeing to government-controlled areas. Shortly before noon, a suicide bomber emerged from a house in the Tahrir neighbourhood and attacked security forces, wounding four troops. Another suicide car bomber hit the troops in Aden neighbourhood in the afternoon, killing a soldier and wounding three others.
Late on Friday, a group of Daesh militants attacked the village of Imam Gharbi south of Mosul, controlling most of it for hours before air strikes from the US-led international coalition were called in, an officer said. The clashes and multiple suicide bombings left three policemen dead, including an officer, and four others wounded, he said. Nine Daesh militants were killed, he added. The officer spoke on condition of anonymity as he was not authorised to brief media.
To the west of Mosul, government-sanctioned Shiite militias took full control of the Tal Afar military airfield Friday night, said Jaafar Al Husseini, spokesman for the influential Hizbollah Brigades. Husseini said the clashes almost destroyed the airport and that it will be an important launching pad for the troops in their advance.
The extremist group captured Mosul, Iraq's second largest city, in the summer of 2014.
The offensive to retake the city, which was launched on October 17, is the biggest military operation in Iraq since American troops left in 2011. If successful, the retaking of Mosul would be the strongest blow dealt to Daesh's self-styled "caliphate" stretching into Syria. The Shiite militias are leading an assault to drive Daesh from Tal Afar, which had a majority Shiite population before it fell to the militants in the summer of 2014, and to cut Daesh supply lines linking Mosul to Syria.
According to the United Nations, more than 56,000 civilians have been forced from their homes since the operation began out of nearly 1.5 million civilians living in and around Mosul.
In the heavily damaged town of Bashiqa, about 13 kilometres northeast of Mosul's outskirts, Christians rang the bells of Saint George's church for the first time to celebrate its liberation from Daesh, which was driven out earlier this month. Much of the town has been reduced to rubble from artillery strikes and air raids.
Parishioners, peshmerga fighters and Kurdish officials sang hymns and played band music as they walked in procession into the church, which was heavily vandalized by Daesh militants. Men prepared a large cross to mount on the rooftop, replacing one destroyed by the extremists.
"The first thing they did was break the cross, we want to replace it and tell Daesh that the cross is still here and we are not leaving at all," said Rev. Afram Al Khoury Benyamen.
Bullet holes marked the walls inside the church courtyard, strewn with garbage and graffiti left by the extremists, including some of their names. Much of the church's inside had been smashed, with rubble strewn across the ground and holy inscriptions covered with black paint. In an upper level, pews had been pushed back to make room for cushions and carpet beneath a broken window that had been used as a sniper's nest, marked out by scattered spent bullet casings.
Broken brass instruments and a torn bagpipe from the church's boy scout band lay scattered across the site, with pills and syringes on the floor in one area. The church graveyard was desecrated, with graves broken into and tombstones smashed and painted over.
"It's good they're gone but how happy can we be — look at this mess," said 22-year old Youssef Ragheed, a drummer from the band who had fled the town when Daesh controlled it, but returned for Saturday's ceremony
Related Articles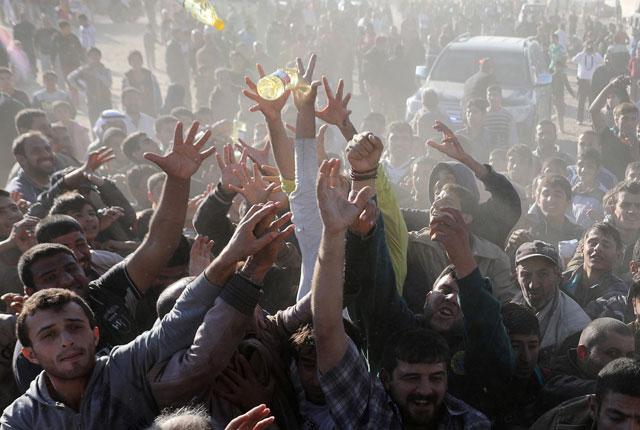 Nov 20,2016
MOSUL — Iraqi troops on Sunday fortified their positions in Mosul neighbourhoods retaken from the Daesh terror group as their advance toward
Nov 23,2016
MOSUL — An air strike by the US-led coalition on Wednesday "disabled" the fourth bridge on the Tigris River in Mosul, leaving the northern I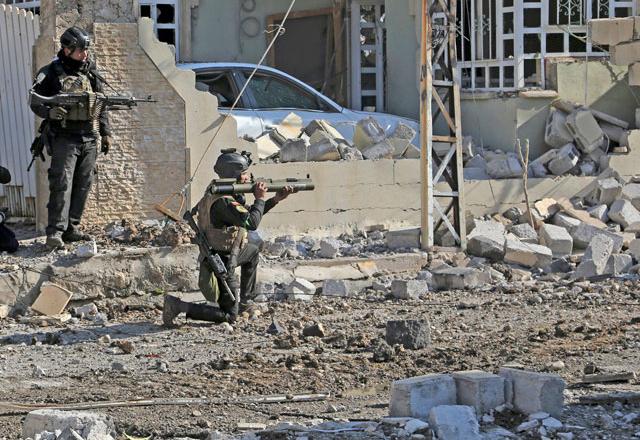 Jan 16,2017
MOSUL — Iraqi special forces battled Daesh militants on Monday in two key neighbourhoods in the eastern half of Mosul, a senior commander sa
Newsletter
Get top stories and blog posts emailed to you each day.