You are here
Israel, Hamas defy truce calls as Gaza toll hits 135
By AFP - Jul 12,2014 - Last updated at Jul 12,2014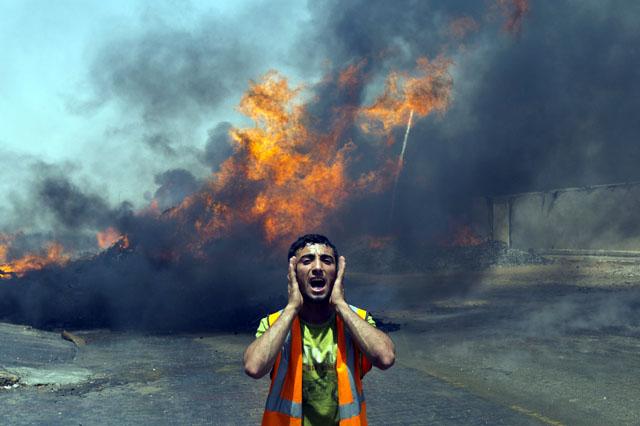 GAZA CITY — The world implored Israel and Hamas Saturday to end hostilities as warplanes pounded Gaza for a fifth straight day, killing at least 30 Palestinians, and fighters replied with rockets.
Both sides have brushed off calls for a truce, and Israel is building up troops and armour on the Gaza border in preparation for a possible ground invasion.
As the Palestinian death toll hit 135, and with no Israelis killed, the UN Security Council urged Israel and Hamas to respect "international humanitarian laws" and stop the loss of life.
In a unanimous declaration, the 15-member council urged a return to the "calm and restitution of the November 2012 ceasefire", referring to Gaza's last deadly full-scale conflict.
Israel's aerial campaign — the largest and deadliest since 2012 — saw strikes start early on Saturday, including one that hit a centre for the handicapped, and another that killed two nephews of Gaza's former Hamas premier, Ismail Haniyeh.
Two Gaza rockets fired from Gaza and apparently targeting Jerusalem hit the southern West Bank city of Hebron, and another struck near Bethlehem, the army said, as Hamas threatened to rain down more rockets on major Israeli population centres.
Hundreds of rockets have so far caused no Israeli deaths, and many have been intercepted by the Iron Dome missile defence system.
Centre for disabled hit
An attack on the northern Gaza Strip hit a centre for the handicapped, killing two disabled women and wounding four, the centre's director said.
"They didn't understand what was happening and they were so frightened," Jamila Alaywa said of those inside the care home.
"They fired the rocket and it hit us without any warning."
The army had no immediate comment.
Other targets included a bank, the homes of Hamas leaders and a mosque that Israel said was being used to store weapons.
Two nephews of Haniyeh were among the dead in one strike, residents said.
Three rockets fired from Gaza, apparently at Jerusalem, fell short, hitting Hebron and Bethlehem, the army and Palestinian security sources said.
There were no reports of casualties from the attacks.
Hamas has fired several rockets at Jerusalem and Tel Aviv since Tuesday, most of which have been intercepted.
Well over 500 projectiles have struck Israel, the army says.
International efforts were under way to mediate a truce, with Egyptian President Abdel Fatah Al Sisi's spokesman saying he was in touch with both sides.
Sisi met Middle East Quartet envoy Tony Blair in Cairo on Saturday to discuss the crisis, and released a statement warning against escalation causing further loss of "innocent lives".
Fruitless mediation efforts
In Washington, the White House has said it is willing to "leverage" its relationships in the region to bring about a ceasefire.
The chief diplomats of Britain, France, Germany and the United States are due to discuss how to achieve a truce when they meet in Vienna on Sunday, on the sidelines of talks on Iran's nuclear programme.
Tehran's foreign minister, Mohammad Javad Zarif, in a taped interview with US broadcaster NBC, urged Washington to use the United Nations to stop the Israeli strikes.
But there has been little sign that either side is interested in an immediate end to the hostilities.
On Friday, Cairo said its efforts to mediate a return to a 2012 ceasefire agreement "have met with stubbornness".
And speaking at a news conference in Tel Aviv, Israeli Prime Minister Netanyahu said he would not end the military campaign until he achieved his goal of stopping the Hamas fire.
"No international pressure will prevent us from striking, with all force, against the terrorist organisation which calls for our destruction," he said.
Haniyeh said Israel started it.
"[Israel] is the one that started this aggression and it must stop, because we are [simply] defending ourselves," he said.
The latest conflict unfolded after last month's kidnap and murder of three young Israeli settlers in the occupied West Bank and the brutal revenge killing of a Palestinian teenager by Jewish extremists.
Israel cracked down on Hamas, though the Islamist group declined to confirm or deny involvement in the abductions, and Gaza fighters hit back with intensified rocket fire.
Israel says preparations are under way for a possible ground incursion, with tanks and artillery massed along the border and some 33,000 reservists mobilised out of 40,000 approved by the Cabinet.
Foreign Minister Avigdor Lieberman has said he expected a political decision on a possible ground operation to be taken by Sunday.
Related Articles
Dec 20,2014
Israeli aircraft hit Gaza for the first time since an August truce ended 50 days of war after a rocket hit Israel, witnesses and the army said early Saturday.
Jul 15,2014
Israel resumed a punishing air campaign against Gaza Tuesday after its Islamist foe Hamas rejected a six-hour truce and fired dozens of rockets over the border, killing a first Israeli.
Aug 27,2014
An open-ended ceasefire in the Gaza war held on Wednesday as Prime Minister Benjamin Netanyahu faced strong criticism in Israel over a costly conflict with Palestinian fighters in which no clear victor emerged.
Newsletter
Get top stories and blog posts emailed to you each day.