You are here
'Israel must take on Palestinian governance if talks fail'
By Reuters - Apr 22,2014 - Last updated at Apr 22,2014
RAMALLAH — Palestinian President Mahmoud Abbas told a group of Israeli journalists on Tuesday that if peace talks do not continue, Israel will have to take on the burden of governing Palestinian lands.
Though Abbas has repeatedly hinted that he could devolve some of the limited powers his Palestinian Authority exercises in the Israeli-occupied West Bank, his statement added urgency to a US effort to extend negotiations set to expire next week.
"If the negotiations stop, it's the Israeli government that will bear the responsibility for the economic situation and the paying of the salaries of [Palestinian] employees, workers and farmers, for health and for education just as it did before the establishment of the Authority," he told the reporters visiting his presidential headquarters in Ramallah.
"Also it will bear responsibility for security, meaning Israel will bear full responsibility ... We hope that we won't come to this period but that we come to solutions," he said.
Israeli, Palestinian and American negotiators met for another round of talks on Tuesday, though sources from both sides of the divide say strong disagreements remain.
US Secretary of State John Kerry revived the peace talks in July after a nearly three-year hiatus, with the aim of ending a decades-old conflict and establishing a Palestinian state alongside Israel.
Palestinians seek a state in Gaza, the occupied West Bank and East Jerusalem — lands Israel captured in a 1967 war.
The Oslo interim agreements signed by the two sides in 1993 created the Palestinian Authority to govern Palestinian areas until the signing of a final agreement — which has proved elusive.
Crisis
The negotiations plunged into crisis this month when Israel refused to carry out the last of four waves of prisoner releases unless it received assurances the Palestinian leadership would continue the talks beyond an April 29 deadline for a peace deal.
After Israel failed to free the prisoners, Abbas responded by signing 15 international treaties, including the Geneva Conventions on the conduct of war and occupations. Israel condemned the move as a unilateral step towards statehood.
Fourteen of the prisoners Israel had agreed to free from its jails are Arabs with Israeli citizenship. Abbas said on Tuesday he rejects an Israeli demand to deport them away from their homes to the West Bank or Gaza as a security precaution.
While both sides have said they are willing to extend the negotiations, Abbas said Israel should commit to freezing settlement activity on occupied land and focus on demarcating the borders of a future Palestine.
Israel has been keen for Palestinian leaders to recognise it as a Jewish state — something Abbas has refused to do — and has been reluctant to commit to the pre-1967 lines as the basis for borders between two states.
An official in the Israeli prime minister's office condemned the statement by Abbas, nicknamed Abu Mazen, saying it showed a lack of Palestinian commitment to the peace process.
"He who wants peace does not time after time present terms which he knows Israel cannot accept," said the source, who declined to be named. "Abu Mazen only wants to receive without giving anything in return."
up
52 users have voted, including you.
Related Articles
Jun 03,2016
OCCUPIED JERUSALEM — The head of Israel's foreign ministry said on Thursday that France's bid to revive Israel-Palestinian peace talks was d
Mar 18,2014
Israel told Palestinian President Mahmoud Abbas on Tuesday it might not carry out a final stage of a Palestinian prisoner release unless he commits to prolonging peace talks beyond an April deadline for a deal.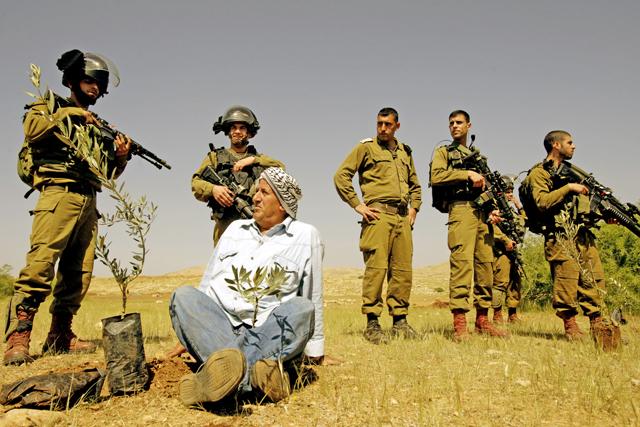 Apr 08,2014
Israeli and Palestinian negotiators ended another US-mediated session on Tuesday with no sign of a breakthrough in efforts to save peace talks from collapse, but an Israeli official said they had agreed to meet again.
Newsletter
Get top stories and blog posts emailed to you each day.