You are here
Israel orders ground offensive in Gaza; heavy shelling on border
By Reuters - Jul 17,2014 - Last updated at Jul 17,2014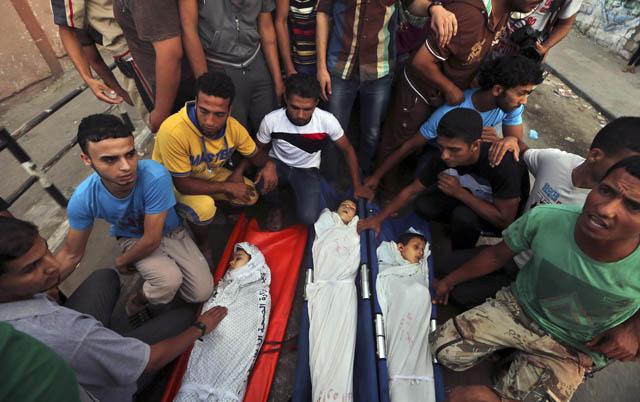 OCCUPIED JERUSALEM/GAZA — Israeli Prime Minister Benjamin Netanyahu on Thursday instructed the military to begin a ground offensive in Gaza, an official statement from his office said.
Reuters witnesses and Gaza residents reported heavy artillery and naval shelling and helicopter fire along the Gaza border.
"The prime minister and defence minister have instructed the IDF [Israel Defence Force] to begin a ground operation tonight in order to hit the terror tunnels from Gaza into Israel," the statement said.
Israel and Palestinian fighters in the densely populated enclave have been fighting a cross border war for 10 days.
The Israeli military says Gaza fighters have fired more than 1,300 rockets into Israel. Palestinian health officials say 233 Palestinians have been killed in Israeli air and naval strikes.
One Israeli civilian has been killed by fire from Gaza.
A statement from the Israeli military said the operation will include "infantry, armoured corps, engineer corps, artillery and intelligence combined with aerial and naval support".
Before dawn on Thursday, about a dozen Palestinian fighters tunnelled under the border, emerging near an Israeli community. At least one was killed when Israeli aircraft bombed the group, the military said.
On Thursday night, loud thuds and flashes of orange light lit the sky in the eastern Gaza strip as Israeli gunboats fired shells and tracer fire, while artillery and helicopters fired over the border, Reuters witnesses on both sides of the border said.
Gaza residents and medical officials reported heavy shelling along the eastern borders from the southern town of Rafah up to the north of the enclave.
Shells landed by Al Wafa rehabilitation hospital east of Shejaia, an eastern suburb of Gaza. "We were not able to evacuate all the patients, the staff can barely evacuate themselves at this point. It's a desperate situation," Basman Alashi, head of the hospital, told Reuters.
"The hospital has been hit many times," he said.
Sirens had sounded in southern Israel earlier in the day at the end of the ceasefire requested by the United Nations, giving way to renewed Palestinian rocket salvoes and Israeli bombing.
Naftali Bennett, Israel's hawkish economy minister and a member of the decision-making Security Cabinet, said earlier in the day that time was running out for Hamas, the Islamist group dominant in Gaza.
"We are moving from Iron Dome to an iron fist," Bennett said, referring to an anti-missile system that has intercepted many of the rockets in 10 days of warfare.
The military said rockets headed towards Tel Aviv, the southern city of Beersheba and Ashkelon. There were no reports of casualties or damage.
Israeli aircraft bombed a house in Gaza City, killing three children, another three youngsters and three other people died in separate attacks, the Gaza health ministry said.
The Israeli Security Cabinet was due to meet on Friday, an Israeli official said.
Ceasefire efforts
French Foreign Minister Laurent Fabius will visit Egypt, Jordan and Israel from Friday to Sunday in a bid to help defuse the situation, and will discuss putting a European mission on the Gaza-Israel border, a diplomatic source said on Thursday.
The French diplomat said the mission could be similar to an EU mission launched in 2005 providing border help at the crossing in Rafah between Gaza and Egypt. That mission was suspended when Hamas was elected in 2007.
Fabius will meet Palestinian President Mahmoud Abbas and US Secretary of State John Kerry separately in Cairo, Egypt's President Abdel Fattah Al Sisi and then the Jordanian foreign minister, Nasser Judeh, and Royal Court Chief Fayez Tarawneh. He will meet Israeli Prime Minister Benjamin Netanyahu in Tel Aviv on Sunday, the source said.
US President Barack Obama said on Wednesday he supported Egyptian efforts to agree a ceasefire that would end the worst flare-up of Israeli-Palestinian hostilities in two years. US officials would use their diplomatic resources over the next 24 hours to pursue closing a deal, he said.
Egypt had proposed a permanent ceasefire plan on Tuesday, which Israel accepted. But Hamas, saying its terms had been ignored, rejected it.
Hamas wants Israel and Egypt, whose military-backed government is at odds with the Islamist group, to lift border restrictions that have deepened economic hardship among Gaza's 1.8 million populace and caused a cash crunch in the movement, which has been unable to pay its employees for months.
The United Nations Relief and Works Agency for Palestinian refugees (UNRWA) said it had discovered on Wednesday some 20 rockets hidden in an empty Gaza school.
Israel has long accused Palestinian fighters of storing weapons in civilian facilities and using Gaza residents as human shields by launching rockets from residential areas.
Related Articles
Jul 19,2014
Two Israeli soldiers were killed in a cross-boarder attack by Hamas fighters on Saturday, the army said, as the Palestinian death toll from the conflict rose above 300 with no diplomatic solution in sight.
Aug 03,2014
An Israeli air strike killed 10 people and wounded about 30 on Sunday in a UN-run school in the southern Gaza Strip, a Palestinian official said, as dozens died in Israeli shelling of the enclave and Hamas fired rockets at Israel.
Jul 15,2014
Israel resumed a punishing air campaign against Gaza Tuesday after its Islamist foe Hamas rejected a six-hour truce and fired dozens of rockets over the border, killing a first Israeli.
Newsletter
Get top stories and blog posts emailed to you each day.