You are here
Israel vows not to negotiate with Palestinian hunger strikers
More than 1,000 Palestinians in Israeli prisons launch hunger strike Monday
By AFP - Apr 18,2017 - Last updated at Apr 18,2017
Palestinians hold the pictures of Palestinian prisoners, who are on hunger strike in Israeli jails, during a solidarity demonstration at Yasser Arafat Square in Ramallah, West Bank, on Tuesday (Anadolu Agency photo)
OCCUPIED JERUSALEM — Israel vowed on Tuesday not to negotiate with hundreds of Palestinian detainees on the second day of a hunger strike led by prominent prisoner and popular leader Marwan Barghouti.
More than 1,000 Palestinians in Israeli prisons launched the hunger strike on Monday, issuing a list of demands ranging from better medical services to access to telephones.
Issa Qaraqe, head of prisoner affairs for the Palestinian Authority, said on Monday that around 1,300 prisoners were on hunger strike and the number could rise.
The Palestinian Prisoners' Club put the number at 1,500.
A spokesman for the Israel Prisons Service said around 1,100 prisoners started the hunger strike and roughly the same number were believed to be continuing on Tuesday.
Public Security Minister Gilad Erdan vowed that Israeli authorities would not negotiate with the prisoners and said Barghouti had been moved to another prison and placed in solitary confinement.
"They are terrorists and incarcerated murderers who are getting what they deserve and we have no reason to negotiate with them," Erdan told army radio.
He said Barghouti had been placed in solitary confinement because calling for the hunger strike was against prison rules.
Some 6,500 Palestinians are currently detained by Israel for a range of offences and alleged crimes.
Of those, 62 are women and 300 are minors.
Some 500 are held under administrative detention, which allows for imprisonment without charge.
Thirteen Palestinian lawmakers are also among the detainees.
'Will not surrender'
Palestinian prisoners have mounted repeated hunger strikes, but rarely on such a large scale.
Barghouti's call for the strike has given it added credibility, with the 57-year-old serving five life sentences over his role in the second Palestinian Intifada or uprising.
He was convicted of attacks that killed five people.
Barghouti is popular among Palestinians, with polls suggesting he could win the Palestinian presidency.
Graffiti showing the iconic image of his cuffed hands raised above his head flashing a peace sign during his trial in 2003-4 has been daubed on walls across the occupied West Bank.
"Decades of experience have proved that Israel's inhumane system of colonial and military occupation aims to break the spirit of prisoners and the nation to which they belong, by inflicting suffering on their bodies, separating them from their families and communities, using humiliating measures to compel subjugation," Barghouthi wrote in a New York Times opinion piece.
"In spite of such treatment, we will not surrender to it."
Hamas, the Islamist movement that runs the Gaza Strip, saluted the "brave prisoners" on hunger strike.
Palestinian President Mahmoud Abbas issued a statement on Monday calling on "the international community to save the lives of the Palestinian prisoners in Israeli jails."
The Thatcher approach
The start of the hunger strike coincided with Palestinian Prisoners Day.
Thousands of Palestinians demonstrated in support of the inmates.
It also comes ahead of commemorations this summer marking the 50th anniversary of Israel's occupation of the West Bank, including now annexed East Jerusalem, in the Six-Day War.
The hunger strike has met with harsh criticism from members of Israel's right-wing government.
Prime Minister Benjamin Netanyahu did not comment directly on the protest, but on Tuesday called Barghouthi an "arch-terrorist".
Defence Minister Avigdor Lieberman said he wanted to take the approach of former British prime minister Margaret Thatcher, who publicly refused to accede to the demands of IRA hunger strikers in 1981, 10 of whom died.
While many Palestinians view Barghouthi as a hero, Israelis point to the bloody suicide attacks of the second Intifada of 2000-2005 and his role in the uprising.
For Palestinians, the prisons have become a stark symbol of Israel's occupation. Barghouthi refused to defend himself at his trial and did not recognise the court's legitimacy.
Some Israeli analysts have sought to highlight the rivalry between Barghouti and Abbas within their Fatah Party, suggesting that his call for a hunger strike was also related to internal politics.
Those close to Barghouthi have dismissed such suggestions.
Israeli-Palestinian peace efforts have been at a standstill since a US-led initiative collapsed three years ago.
Abbas is due to meet US President Donald Trump in Washington for the first time in the coming weeks as the White House seeks a way forward with peace efforts.
Related Articles
Apr 19,2017
RAMALLAH, Palestinian Territories — Palestinian leaders on Wednesday denounced Israel's refusal to negotiate with Palestinians on hunger str
Apr 18,2017
RAMALLAH — Hundreds of Palestinians in Israeli jails launched a hunger strike Monday following a call from leader and prominent prisoner Mar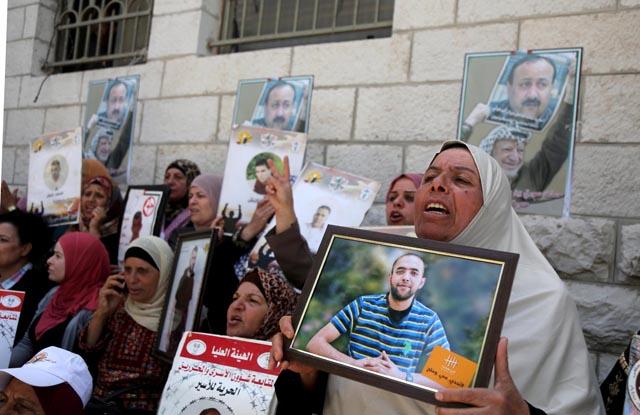 May 09,2017
OCCUPIED JERUSALEM/GAZA — A hunger strike by more than 1,000 Palestinian prisoners over their treatment in Israeli jails has turned into a h
Newsletter
Get top stories and blog posts emailed to you each day.