You are here
Israeli strikes near Damascus wound two soldiers — Syria
Strikes target positions of pro-Iran groups, says monitor
By AFP - Mar 30,2023 - Last updated at Mar 30,2023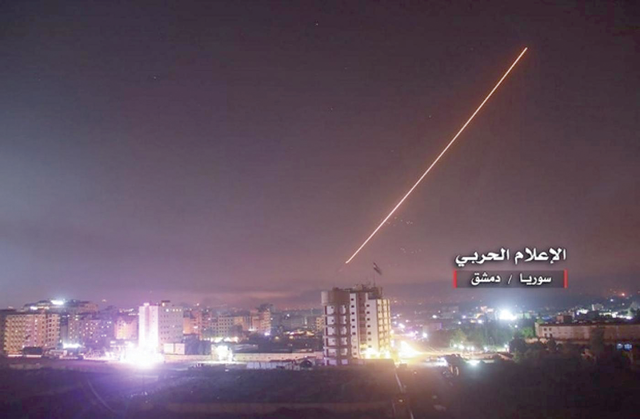 Syrian state media released this image in May last year, which it said showed the army's air defence system intercepting an Israeli missile (AFP handout/file photo)
DAMASCUS — Israel carried out missile strikes near Damascus early Thursday that wounded two soldiers, Syria's defence ministry said.
During more than a decade of war in Syria, Israel has launched hundreds of air strikes on Syrian territory, primarily targeting Iran-backed forces and Hizbollah fighters, as well as Syrian army positions.
Explosions were heard in the Syrian capital early Thursday morning, an AFP correspondent reported.
"At around 01:20 am, the Israeli enemy carried out an aerial aggression from the direction of the occupied Golan Heights targeting several positions in the vicinity of Damascus," Syria's defence ministry said.
It did not provide any details on the targets but said the strikes wounded two soldiers and caused material damage.
Syria's air defences intercepted several missiles, the ministry added.
The Syrian Observatory for Human Rights, a Britain-based war monitor, said the strikes targeted positions of pro-Iran groups, adding that a building south of the capital was destroyed.
Syria's foreign ministry condemned the strikes, accusing Israel in a statement of trying to "escape internal divisions", as the country faces a severe domestic crisis over controversial judicial reforms.
While Israel rarely comments on the strikes it carries out on Syria, it has repeatedly said it will not allow its arch-foe Iran to extend its footprint in the war-torn country.
Last month, an Israeli air strike killed 15 people in a Damascus district that houses state security agencies, the Observatory said at the time.
Last week, an Israeli missile strike destroyed a suspected arms depot used by Iran-backed militias at Syria's Aleppo airport, the war monitor said.
On March 7, three people were killed in an Israeli strike on the same airport that put it out of service. It reopened three days later.
The Syrian war broke out in 2011 with the brutal repression of peaceful anti-government protests, and escalated to a deadly armed conflict that pulled in foreign powers and global terrorists.
Some 500,000 people have been killed and around half of Syria's pre-war population has been forced from their homes.
Newsletter
Get top stories and blog posts emailed to you each day.