You are here
Italy-Libya accord to fight smugglers is 'dangerous fiction' — aid groups
By Reuters - Apr 03,2017 - Last updated at Apr 03,2017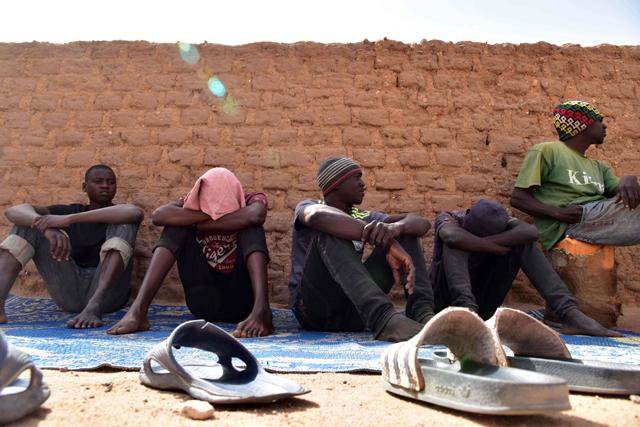 Migrants from West Africa wait in a room at a 'ghetto' in Agadez, northern Niger, on Saturday, as they wait to go to Libya from where they will attempt to reach Europe by crossing the Mediterranean sea (AFP photo)
ROME — An agreement between Italy and Libya to fight people-smuggling in the north African nation will lead to migrants being returned to camps where they are held against their will, extorted and abused, Doctors without Borders (MSF) said on Monday.
Italy signed a memorandum of understanding with the UN-backed Libyan government in Tripoli — which was endorsed by the European Union — in February that promised training, equipment and money to fight human traffickers.
However, Arjan Hehenkamp, general director of MSF and head of the group's Libya mission, said the idea that migrants can be housed in a humane way on Libyan soil "is simply impossible".
"It's a dangerous fiction to think otherwise," Hehenkamp told reporters in Rome after flying in from Libya.
He added that anyone who thinks Libya is a safe port for migrants "is purposely living between alternative facts and la la land... It's simply impossible right now to think that Libya can be considered part of the solution".
He described seven of the camps in and around Tripoli as detention centres controlled by militias that are rife with violence and abuse.
Interior Minister Marco Minniti has said that human rights must be respected and that new camps should be opened with the help of UN agencies, but so far this has not happened.
The EU has so far trained about 90 people to work in the Libyan Coast Guard and Italy has promised to give them 10 patrol boats, the first of which are to be delivered by mid-May.
After a deal between the EU and Turkey largely shut down the sea route to Greece last year, the main passage for migrants to Europe now is through Italy by boat from Libya, where people-smugglers operate with impunity.
Migrant arrivals in Italy are up some 30 per cent this year to 24,000, according to official figures, and an estimated 600 have perished trying to make the crossing.
Often they are rescued by humanitarian groups, which have come under scrutiny from an Italian court for allegedly favouring departures. The Libyan coast guard is already turning back some migrant boats.
Often those turned back end up in the same detention centres they were trying to flee, Hehenkamp said, where "a system of abuse and extortion" means migrants either pay smugglers for a sea passage or risk being sold into a form of slave labour.
Libya is controlled by a patchwork of armed groups that have built local fiefdoms which have vied for power since Libya's 2011 uprising, and two governments — one in the east and another in Tripoli — are competing for control.
"Returning people to Libya by the Libyan Coast Guard is questionable because they end up in detention centres," Othman Belbeisi, the International Organisation for Migration's chief of mission for Libya, told Reuters last week.
"[But] smugglers are still known and seen. You can meet them in a cafe in the middle of Tripoli."
Related Articles
Sep 06,2018
PARIS — Migrants and asylum-seekers rescued while trying to cross the Mediterranean to Europe should not be sent back to Libya, where they r
May 17,2017
LONDON ­— Libya has become a modern-day slave market, with migrants caught in a complex trafficking web largely ignored by the outside w
Mar 29,2017
ROME — About 146 migrants are feared missing after their boat capsized after leaving Libya, according to a Gambian youth who was rescued fol
Newsletter
Get top stories and blog posts emailed to you each day.