You are here
Key powers push Syria truce as regime, rebels make no progress
By AFP - Feb 16,2017 - Last updated at Feb 16,2017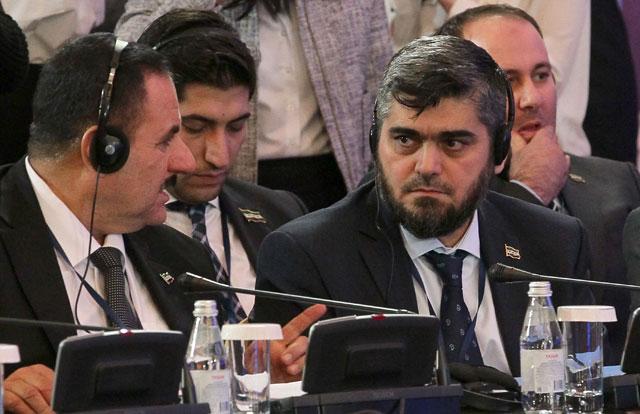 Chief opposition negotiator Mohammad Alloush (right) of the Jaish Al Islam (Army of Islam) rebel group speaks with his colleague during the second session of Syria peace talks at the Rixos President Hotel in Astana on Thursday (AFP photo)
ASTANA, Kazakhstan — Syrian regime and rebel representatives failed Thursday to make any breakthroughs at talks in Kazakhstan, as key powerbrokers Russia, Turkey and Iran sought to shore up a shaky ceasefire.
The meeting was the second time key players Moscow, Tehran and Ankara have brought the warring sides to the Kazakh capital of Astana, and comes ahead of a new round of UN-led talks on Syria in Geneva on February 23.
But the government delegation and rebels again did not hold one-on-one talks and no joint statement was agreed after a final 40-minute meeting involving all the parties.
Instead regime allies Russia and Iran and rebel supporter Turkey followed up an earlier pledge by agreeing to set up a joint monitoring group to try to ensure a fragile six-week truce in the war-torn country.
"The question of observing the ceasefire is being solved and we are hopeful to solve political questions too," Russian mediator Alexander Lavrentiev said.
Lead rebel negotiator Mohammad Alloush said that the meeting "didn't achieve anything practical" but claimed the armed opposition received several pledges from Moscow.
Russia promised to stop shelling opposition areas and to help push for the release of political prisoners, he said, as well as to send a "schedule" for the end of a regime seige around Eastern Ghouta near Damascus.
Main backer Russia has billed the talks in Astana as a prelude to the upcoming UN negotiations in Switzerland, despite speculation that it was trying to sideline the West with the latest initiative.
Moscow has increasingly taken the lead on pushing talks over Syria after its military intervention on the side of leader Bashar Assad helped turn the tables in the protracted conflict.
"The Astana meeting has paved the way for the next Geneva conference," lead Syrian regime negotiator Bashar Al Jaafari said, blaming Turkey and rebels it backs for the failure to produce a final statement.
'Time to step up efforts'
Iranian Deputy Foreign Minister Hossein Jaberi Ansari said that the sides were at "the beginning of a difficult road".
Ansari, who led his country's delegation, said the sides would meet again in "less than a month" in either Astana, Moscow, Tehran or Ankara.
A first set of talks on Syria that took place in Astana in January saw the rebels refuse to talk directly to the regime and did not result in any significant breakthrough.
Before the Astana talks began, UN envoy Staffan de Mistura was in Moscow for talks with Foreign Minister Sergei Lavrov and Defence Minister Sergei Shoigu.
"Now is the right time to step up efforts to normalise the political process in Syria," de Mistura told Lavrov in comments translated into Russian by the state-run TASS news agency.
In Damascus, Assad showed no sign he was ready for concessions as he gave an interview to French media on Thursday.
He said his goal was to retake "every inch of Syrian territory". Such was the "duty of any government", he told Europe 1 radio and the TF1 and LCI television channels.
Related Articles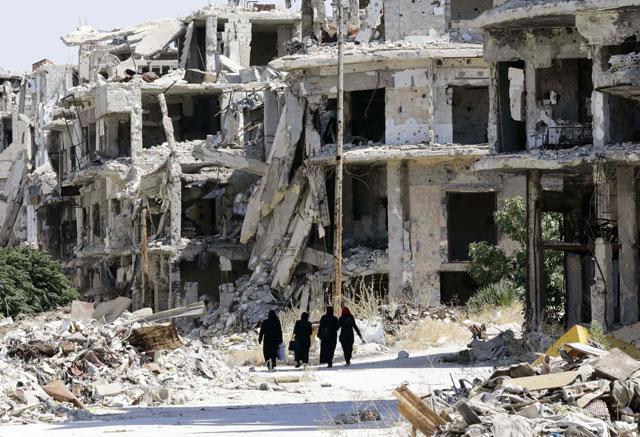 Mar 13,2017
BEIRUT — Syrian rebel factions will not attend a new round of negotiations with government figures in the Kazakh capital, an opposition dele
May 14,2018
ASTANA, Kazakhstan — Russian chief negotiator Alexander Lavrentyev on Monday upbraided the United States for not sending a delegation to obs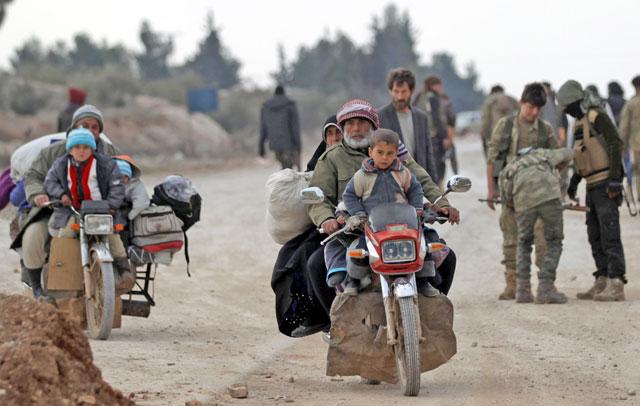 Feb 05,2017
MOSCOW — Russia said on Sunday that it supports the continuation of Syria peace talks under United Nations auspices, long-running negotiatio
Newsletter
Get top stories and blog posts emailed to you each day.