You are here
At least 25 dead in migrant shipwreck off Libya — rescue charities
Italian coast guard says 85 people had been rescued from sinking vessel
By AFP - Jan 06,2018 - Last updated at Jan 06,2018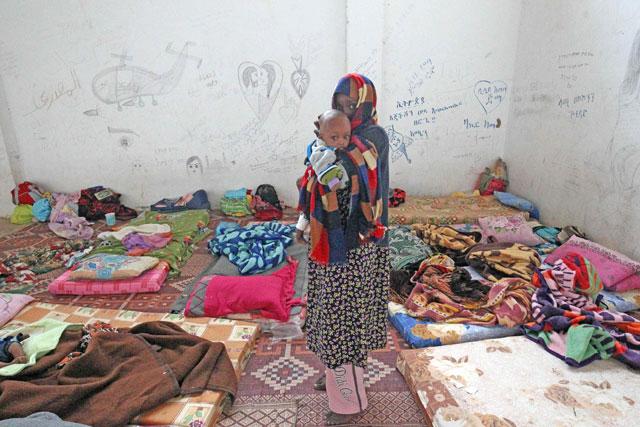 An Illegal migrant looks towards the camera as she carries a child in the Libyan city of Benghazi, before being repatriated, on Tuesday (AFP photo)
ROME — At least 25 people are feared to have drowned in a shipwreck off Libya after a dinghy, possibly carrying some 150 migrants, ran into trouble, two rescue organisations said on Saturday.
"Rubber dinghy sunk north of Tripoli. At least 25 people died in the incident, exact numbers still unclear. Italian navy on the scene," the German charity Sea Watch said on Twitter.
The Italian coast guard told AFP 85 people had been rescued from the sinking vessel, and eight bodies recovered so far.
It was believed to be the first shipwreck of 2018 — though rescue organisations say countless dinghies attempting to cross the Mediterranean are likely to sink without a trace, meaning the year's death toll may have begun even earlier.
The alarm was sounded after a surveillance aircraft deployed in the EU anti-trafficking mission Sophia spotted the partly-submerged dinghy some 40 miles off the Libyan coast, in international waters.
"Shipwreck off the coast of Libya, east of Tripoli. Dozens of people missing who will die without a burial," tweeted the Spanish charity Proactiva Open Arms.
Sea Watch said it had been alerted to the disaster by the coast guard, which believed 150 people had been aboard.
"The search continues for survivors," said the coast guard, which was aided in the rescue by a navy vessel.
Last year, 3,116 people died trying to cross from North Africa to Europe, according to Doctors Without Borders.
Italian-led efforts to prevent people from setting out saw a sharp drop in the number of arrivals in the second half of 2017.
While migrants who made the perilous journey across the Mediterranean in rickety boats still numbered nearly 119,000, it was a roughly one-third drop over the previous year.
The drop has been attributed to a controversial combination of an Italian-led boosting of the Libyan coastguard's ability to intercept boats and efforts to seek the assistance of powerful militias.
In the first six days of 2018, over 400 people have been brought to safety in Italy, the interior ministry said, compared to 729 in the same period last year.
Related Articles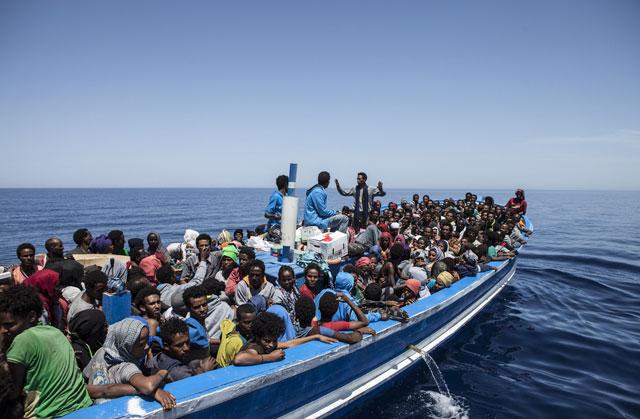 May 04,2015
Around 7,000 migrants were rescued from overcrowded boats crossing the Mediterranean to Europe over the weekend and on Monday, including a woman who gave birth to a baby girl on an Italian navy ship, the coast guard said.
Mar 29,2017
ROME — About 146 migrants are feared missing after their boat capsized after leaving Libya, according to a Gambian youth who was rescued fol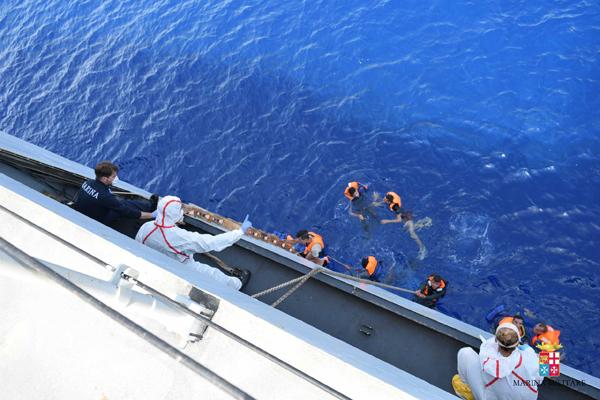 May 26,2016
ROME — A migrant boat sank off Libya's coast Thursday, with some 20 bodies spotted in the sea.
Newsletter
Get top stories and blog posts emailed to you each day.