You are here
Lebanese 'giant of poetry' Said Aql dead at 102
By AFP - Nov 29,2014 - Last updated at Nov 29,2014
BEIRUT — Lebanese poet Said Aql, whose work was loved by Arab readers but who hated Arabism so much that he invented a latinised version of the Lebanese dialect, died Friday aged 102.
Aql championed Lebanese nationalism, while often espousing contradictory views on politics in the tumultuous Middle East.
Some of his lyrics paid homage to Mecca and Israeli-occupied Jerusalem, while in the 1980s he celebrated the Israeli invasion of Lebanon.
The renowned poet "died peacefully", friends said at a press conference.
"Lebanon and all the Arabs today lost a giant of poetry, God rest your soul Said Aql," former prime minister Saad Hariri wrote on Twitter.
Born in 1912 in an eastern Lebanese Christian village, he was a fierce defender of the idea of Lebanese specificity, classing the tiny Mediterranean country as strictly Phoenician, never Arab.
Aql felt an affinity to a cultural and political trend espoused by some Lebanese Christians from the beginning of the 20th century until the outbreak of the 1975-1990 civil war, that sought to emphasise specific Lebanese cultural traits as standing apart from the rest of the Arabs.
The poet, whose bushy white hair and flamboyant gestures made him instantly recognisable, invented a latinised version of the local dialect, and baptised it the "Lebanese alphabet".
He founded a newspaper called Lebnaan (Lebanon in Arabic) and wrote poems such as "Yara" in his alphabet.
At the same time, he maintained a paradoxical relationship with the Arabic language.
While publicly despising anything Arab, he was an innovative Arabic-language poet and master lyricist of songs that became favourites among Arab nationalists.
Among his best-known songs was Lebanese diva Fairouz's track "Zahret Al Madaen", which means Flower of All Cities and is dedicated to Jerusalem.
Aql went even further in his contradictions, once declaring: "The Arabic language is destined to become extinct. And if I have become one of the great Arabic-language poets, it is precisely so that I can have the authority to express this idea."
Several of his more refined poems, some of which follow the "ghazal" model that expresses love for a woman, are taught in Lebanese schools.
One of his works, "Lubnan in Haka" (If Lebanon Spoke), is an epic poem that mixes historical references with fiction.
Aql is seen as the spiritual father of a far-right Lebanese group, the Guardians of the Cedars, that fiercely defended the Israeli invasion of Lebanon in 1982.
In an interview, he referred to Israeli troops as "a liberation army" that sought to defend the Lebanese from Palestinian "terrorism".
At the time of the invasion, the Palestine Liberation Organisation was based in Lebanon, and had the backing of local left-wing and Muslim groups.
Related Articles
Jul 06,2015
KUWAIT — Kuwait has detained 26 people suspected of involvement in a suicide bombing on a Shiite Muslim mosque last month that killed 27 peo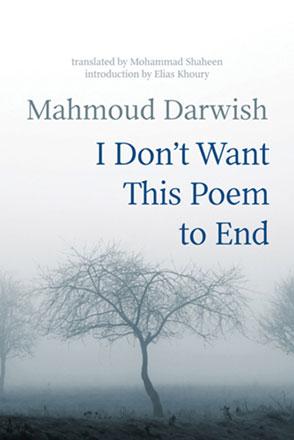 Dec 31,2017
I Don't Want This Poem to EndMahmoud DarwishTranslated by Mohammad Shaheen US: Interlink Books, 2017Pp.
Sep 19,2015
COPENHAGEN — A Danish supervisory body said Friday it had launched an inquiry into whether controversial advertisements published by the gov
Newsletter
Get top stories and blog posts emailed to you each day.