You are here
Lebanon army distances itself from abused Syrians video
By AFP - Sep 22,2014 - Last updated at Sep 22,2014
BEIRUT — Lebanon's army on Monday distanced itself from a video showing troops abusing Syrian detainees in an area where soldiers have battled jihadists, saying the incident was "isolated".
The video, which appeared online over the weekend and quickly provoked widespread outrage on social media, shows around 30 Syrian men lying on the ground, some with their hands bound.
A soldier walks over to one man, who is missing the lower part of his right leg, and treads with his boot on the man's thigh.
He asks sarcastically "Am I hurting you?" while prodding the man's neck with his gun.
Other soldiers kick another prone man in the back and face.
A military spokesman confirmed that the army was "aware" of the video but described it as an "isolated incident".
"The army command is opposed to this kind of behaviour and endeavours to treat all detainees well," he said.
"Every soldier who carries out acts of this kind will be held responsible," he added.
The video was supposedly filmed in the Arsal region of eastern Lebanon on the border with Syria and appears to have been taken by a soldier because it is shot at close range.
Last month, Lebanese troops battled jihadists who entered from Syria in the Arsal area, and around 30 Lebanese soldiers and policemen are still being held hostage after the end of the clashes.
Three of them have been killed, two beheaded by the Islamic State group and a third shot dead by Al Nusra Front, Al Qaeda's Syrian affiliate.
Since the third execution, the army has stepped up shelling of jihadist positions in the Arsal region.
It has also carried out multiple raids targeting Syrian refugees, particularly at informal camps in the region and arrested several Lebanese citizens as well.
Syrian activists have reported increasing tensions with Lebanese residents in the wake of the violence in Arsal, and the kidnappings and executions.
There are more than 1.1 million Syrian refugees in Lebanon, which has a population of just four million citizens and has kept the border open to those fleeing the conflict in its neighbour.
Related Articles
Sep 03,2014
DNA testing has confirmed that the body of a man who jihadists said they had beheaded was that of Lebanese soldier Ali Sayyed, his family said Tuesday.
Sep 21,2014
A suicide bomber killed a number of people Saturday at a Hizbollah checkpoint near Lebanon's border with Syria Saturday, hours after news that the Syrian branch of Al Qaeda had executed a Lebanese soldier.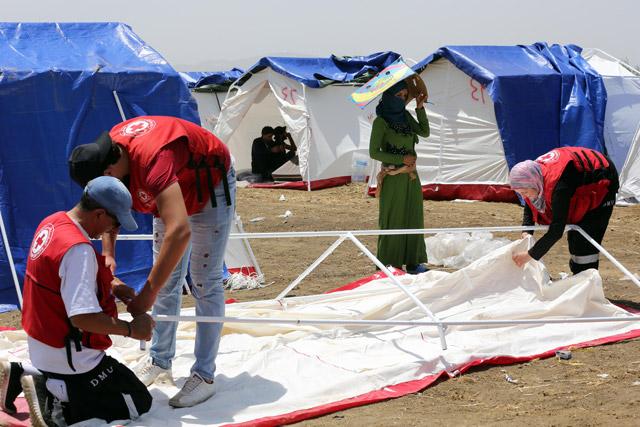 Jul 06,2017
BEIRUT — Lebanon's government called Thursday for the military to investigate the deaths of four Syrians arrested after Lebanese army raids
Newsletter
Get top stories and blog posts emailed to you each day.