You are here
Life in a basement on Mosul's front line
By AFP - Mar 06,2017 - Last updated at Mar 06,2017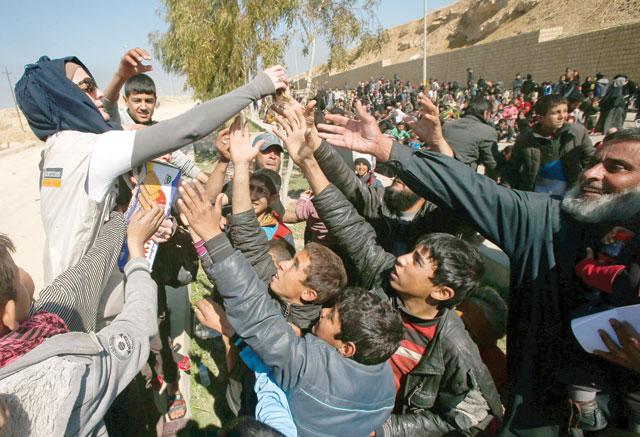 Displaced Iraqis receive food, as Iraqi forces battle with the Daesh militants, in western Mosul, on Monday (Reuters photo)
MOSUL — Abu Mariam's spacious villa sits in an upscale Mosul district, but when Iraq's second city became a war zone, the family sought refuge in their basement.
The house sits at the end of the "fourth bridge", which lies broken in half across the Tigris River dividing the Daesh terror group-held west Mosul from the Iraqi government-controlled east.
Iraqi forces seized the bridge at the end of last month after retaking east Mosul from Daesh in January. Today, they are advancing in the city's west.
Abu Mariam's house stands on the front line.
Iraqi soldiers lounge on the steps as explosions rock surrounding streets.
"I'm afraid a Daesh shell will fall on us," says Abu Mariam, a 46-year-old public servant with a trim salt-and-pepper moustache.
He is interrupted by two explosions that shake the house which has already lost all its windows.
Abu Mariam, his wife and their three children abandoned their spacious kitchen, elegant living room with its flat-screen TV and several large bedrooms to seek refuge underground. An octogenarian neighbour has joined them.
It's a wise precaution.
Two shells have landed on the roof of the villa and a third in the garden since Iraqi forces began their assault, Abu Mariam says.
In nearby streets, houses are deserted, with broken windows and missing doors. Occasionally, a child's face appears behind a window. A burnt-out car sits in a driveway. In another, three dead Daesh militants lie face down on the ground.
Soldiers sit on the steps in the garden, sipping tea that Abu Mariam has prepared. One sits on a swing. The lawn is littered with empty plastic water bottles and polystyrene boxes — discarded meal containers.
"They searched the house when they arrived. They were polite," says Abu Mariam.
Three months underground
Down in the basement, four beds of different sizes are lined up in a row, facing a small TV screen.
At the other end of the room, dozens of water bottles sit on a kitchen table alongside some packets of rice and bulgur wheat. A gas stove sits on the floor.
"We only go upstairs to use the toilet. It's been like this for three months, since shells started falling on the area," says Abu Mariam.
Wrapped up in bed, a shawl over her shoulders, their 82-year-old neighbour says she never wanted to leave the home she had occupied for 40 years.
"My nephews begged me [to leave] over and over again, but I only feel comfortable at home, and I didn't want to be a burden," Suhair, a retired teacher who does not want to use her real name, tells AFP.
She eventually gave in when the bombing got too close, joining her neighbours in their basement.
Like many residents of Mosul, Abu Mariam says he is glad to be rid of Daesh, which conquered the city in June 2014.
"The situation was terrible. We're still afraid now," he says, refusing to appear on camera for fear of reprisals.
"They would hold you to account for everything: your beard, your clothes, how you walk," he says.
"Once, they asked why my daughter had trousers, even though she was wearing a long jacket and a scarf on her hair. She's only 10 years old!"
He says he wants the whole of Mosul to be "liberated" and safe again.
But for now, the neighbourhood is a war zone. Outside, just a few metres away, security forces shoot at a car rigged with explosives. It blows up in a huge fireball.
A few minutes later, crouched on Abu Mariam's lawn, two soldiers shoot down a Daesh drone flying overhead. The extremists have been using the devices to dump explosives on Iraqi forces' heads.
When relative calm returns, Abu Mariam says he has decided to retreat.
"The children are afraid, we will spend a night or two with our neighbours a street back," he says.
Related Articles
Oct 12,2014
Returning to her native country, Lebanon, after fifteen years spent in Australia and Kenya, gives Mariam final proof of her state of displacement and transience — always being on the verge of leaving (symbolised by thirteen suitcases kept on the ready in her Mombasa home).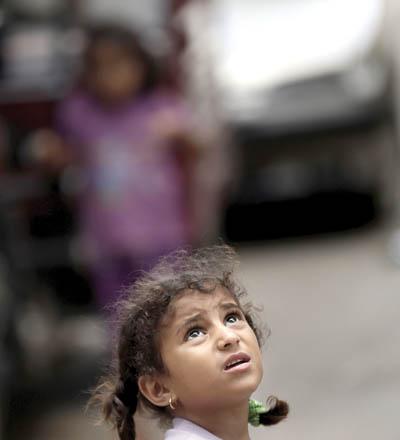 Jul 15,2014
The children of the Attar clan have lived through three wars in just over five years, each time fleeing their homes as Israel bombarded their neighborhood in the Palestinian Gaza Strip.
Oct 20,2016
AL HAWL, Syria — At a refugee camp in Syria's Al Hawl, 11-year-old Jawaher limps from a wound she sustained in a Daesh terror group mortar a
Newsletter
Get top stories and blog posts emailed to you each day.