You are here
Macron chides Netanyahu on settlements
By AFP - Jul 16,2017 - Last updated at Jul 16,2017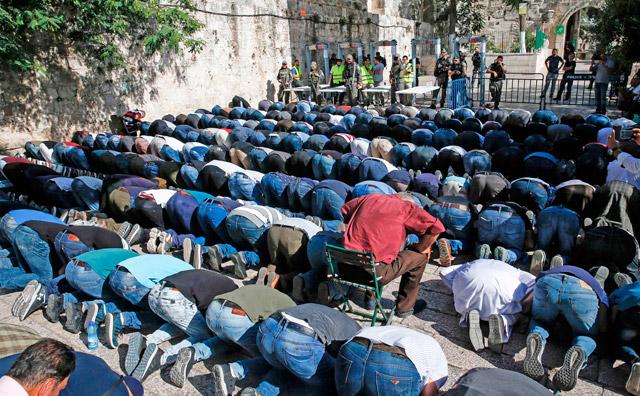 Palestinian Muslim worshippers, who refuse to enter Al Aqsa Mosque compound due to new security measures by Israeli authorities which include metal detectors and cameras, pray near a main entrance to the religious site in Jerusalem's Old City, on Sunday (AFP photo)
PARIS — French President Emmanuel Macron told Israel's visiting Prime Minister Benjamin Netanyahu on Sunday that Paris opposes Israel's expansion of settlement units in occupied Palestinian territory as he urged fresh Middle East peace talks.
Stressing that international law should be "respected by all", Macron said: "I am thinking here of [Israel's] continued building" in occupied Palestinian territory.
Israelis and Palestinians should be able "to live side by side within secure and recognised borders with occupied Jerusalem as the capital", Macron said after his first official talks with Netanyahu.
"I hope everything will be done for negotiations to move forward," he said.
Talks between Israel and the Palestinians have been at a standstill since the failure of US mediation in the spring of 2014.
Macron, elected in May, appears to be following the proactive line taken by his Socialist predecessor Francois Hollande, whose efforts to mobilise the international community on the peace process angered Israel.
The French leader met Palestinian leader Mahmoud Abbas on Wednesday, when he said he backed a two-state solution and opposed Israeli settlements.
"France has always condemned the continuation of settlement building, which is illegal under international law and has reached an unprecedented level since the beginning of the year," he said in his first public remarks on the conflict since taking office.
The United Nations reported in June that Israel had announced a substantial increase in settler units in the past three months despite a UN resolution demanding a halt to the Jewish outposts.
Earlier Sunday, Macron and Netanyahu underscored their two countries' longstanding friendship as they marked the 75th anniversary of a notorious 1942 roundup of 13,000 Jews to be sent to Nazi death camps.
Netanyahu was the first Israeli prime minister to attend a Vel d'Hiv commemoration, and he said the invitation was a "very, very strong gesture".
Macron addressed Netanyahu as "dear Bibi" and called "anti-Zionism" a new form of anti-Semitism.
Netanyahu's presence at the event drew fire from some groups, notably the Union of French Jews for Peace, which accused the Israeli government of "usurping the memory of the victims of Nazism to make people believe that Israel represents all the world's Jews". During their talks afterwards, Macron assured Netanyahu of his "vigilance" regarding the 2015 nuclear accord reached by Western powers with Israel's arch-enemy Iran.
Netanyahu was a vocal opponent of the deal, which saw sanctions against Iran eased in return for curbs on its nuclear programme.
The French presidency said Sunday's meeting would be an occasion to "signal our lack of complacency towards Iran".
Related Articles
Jan 27,2014
Comments by Israeli Prime Minister Benjamin Netanyahu at the World Economic Forum make it clear he is against the establishment of a Palestinian state, chief Palestinian negotiator Saeb Erekat has said.
Dec 26,2016
OCCUPIED JERUSALEM — Israeli Defence Minister Avigdor Lieberman on Monday criticised an upcoming Middle East peace conference organised by F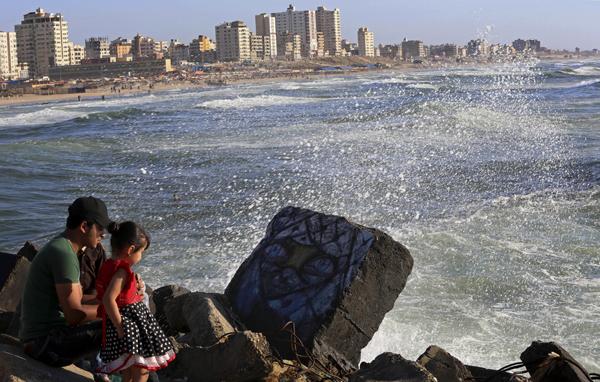 May 22,2016
TEL AVIV — French Prime Minister Manuel Valls visited Israel on Sunday to advance his country's plan to restart Israeli-Palestinian peace ef
Newsletter
Get top stories and blog posts emailed to you each day.