You are here
Migrants sold into slavery in Libya tell of 'total hell'
By AFP - Nov 22,2017 - Last updated at Nov 22,2017
Migrants arrive at a naval base after they were rescued by Libyan navy in Tripoli, Libya, on November 4 (Reuters photo)
ABIDJAN — Survivors of slave auctions in Libya have described a "total hell" that they wouldn't wish on their "worst enemy" as global outrage grows over footage showing migrants being sold off in the war-torn country.
"We were slaves," said Moussa Sanogo, a migrant who flew back to Ivory Coast from Libya this week after surviving regular beatings and forced labour in the fields.
"For the Arabs [Libyan jailers], black-skinned men are nothing but animals — animals were treated better," said Sanogo, who spent more than four months in Libya trying to get to Italy by boat.
The North African country has long been a major transit hub for migrants trying to reach Europe.
He was just one of those who returned home with stories similar to those aired last week by US TV network CNN, which showed an apparent slave auction where black men were presented to North African buyers as potential farmhands and sold off for as little as $400 (340 euros).
"It was total hell in Libya," said Maxime Ndong, one of 250 migrants flown back to Cameroon on Tuesday night.
"There is a trade in black people there. People who want slaves... come to buy them," he told AFP.
"If you resist, they shoot at you. There have been deaths," said Ndong, who spent eight months in Libya.
The Cameroonians flew back to Yaounde on Tuesday aboard a plane charted by the International Organisation for Migration (IOM) as part of a project to return and reintegrate some 850 people.
Sold by the police
Sanogo, 22, was one of about 600 Ivory Coast migrants that were returning from Libya with IOM's support. Around 150 people landed in the capital Abidjan on Monday with the rest to be brought home during the week.
Sanogo described Libya as an anarchic country preyed on by bandits where the forces of law and order were involved in human trafficking.
"At one point, we were caught by people who said they were police," he said.
"The police then sold me for 500 dinars (310 euros, $365) to a man who made me work in a tomato field for a month. You have to work."
Sanogo fled across the desert to Niger where he was imprisoned again before finally escaping to Tunisia.
Then a people smuggler promising a path to Europe convinced him to return to Libya.
'Pricing you like merchandise'
"We were captured and locked in a small room with 60 other people," and were "not able to wash", he said.
"When the Arabs entered they wore masks due to the smell," he said, shaking his head at the memory.
"They are buying you. You're there, you have been arrested, you see they are judging your price like merchandise. They bought you and you're going to work... like a slave," he said.
"They hit you all the time — especially if you're big like me — until the blood flows, with sticks, metal, the butt of a gun.
"For food, you are given a piece of bread and a piece of cheese, that's all... I'm happy to be back," he said.
"I would not wish it on my enemy."
'Humiliation for Africa'
Another migrant, Seydou Sanogo from Abidjan, said: "You would have to see what we lived through to
believe it."
But not everyone wanted to leave Libya. One woman with an 18-month-old baby said she did not want to return to Ivory Coast.
"We were waiting for the boat. We were almost there," said the woman, who did not give her name.
The slave auction footage has triggered an outcry across Africa, bringing to public consciousness a situation that has previously been condemned by many non-governmental groups and observers.
Music and football stars have expressed their outrage at the revelations, including Ivorian reggae singers Alpha Blondy and Tiken Jah Fakoly, as well as footballer Didier Drogba.
"It is a double indignation, a cry from the heart: I am shocked to see the children of Africa die... trying to find a better tomorrow," said A'Salfo, lead singer of the group Magic System.
"A humiliation for Africa."
The United Nations said the slavery auctions should be investigated as possible crimes against humanity, and the issue will be on agenda at an African Union-EU summit on November 29 to 30 in Abidjan.
Related Articles
Sep 21,2023
SFAX, Tunisia — Thousands of migrants are living without proper shelter north of Tunisia's port city of Sfax after many were driven out of t
Nov 28,2017
UNITED NATIONS — France said on Tuesday it wanted the United Nations Security Council to consider imposing targeted sanctions on human traff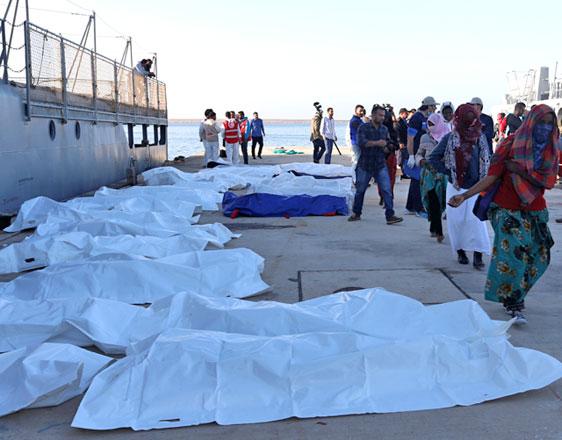 Nov 26,2017
OTTAWA — Canadian Prime Minister Justin Trudeau on Sunday urged the international community to "do more" following reports of the "abhorrent