You are here
On Mosul's front line, Iraqi refuses to quit beloved home
By AFP - May 19,2017 - Last updated at May 19,2017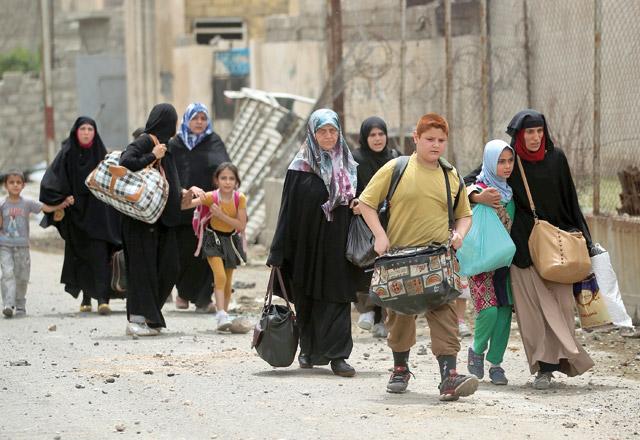 Iraqis residing in western Mosul's 17 Tammuz neighbourhood flee their area as Iraqi forces continue their military offensive to retake the northern city from the Daesh extremists on Friday (AFP photo)
MOSUL, Iraq — Standing at the gate of his house in Iraq's war-torn city of Mosul, Muwaffaq Al Obeidi watches as waves of displaced residents pass by, away from the crackle of automatic gunfire.
The battle for Iraq's second city has come to Obeidi's front door, but the 70-year-old refuses to leave his home.
Armoured vehicles come and go, transporting Iraqi soldiers to the front line to battle Daesh group extremists just a few hundred metres down the road.
Leaning on his cane, Obeidi slowly turns his back as an armoured digger clears rubble from the street.
He enters his garden — a hidden oasis amid the devastation of northwest Mosul's Al Rifai district.
A palm tree dominates the oasis of green and a swinging garden chair rocks gently among the plants.
"My house is my life, my country, my well-being," says the ageing businessman, who shares the house with his wife, daughter, their dog and a small cat.
But the fighting has not spared Obeidi's urban paradise. The dried-up fountain is full of smashed tiles and light penetrates holes in the porch roof.
Broken pieces of a sink, a chair and a light fixture are stacked in the corner.
Despite more than two years of extremist rule and months of fierce fighting since Iraqi forces launched a vast offensive last October to oust Daesh from Mosul, leaving was unthinkable. "I have a fractured vertebra, where should I go?" he asks.
"Even if I stayed with one of my brothers, I would be a burden. I built my house in 1985. I have been working since I was 10 years old -- this house is the fruit of 60 years of effort."
He left the house for just three days at the end of last week, forced out by extremists as Iraqi troops stormed the area.
Obeidi stayed with neighbours down the road but returned early Wednesday morning.
"There were 140 of us there. I don't know how we slept. I was desperate to come back," he says.
His luxurious home is testimony to the success of the tiling company he used to run in the eastern suburb of Gogjali.
Iraqi forces retook the area in mid-January, but he has no news on the fate of his business.
'Coarse, despicable people'
In his living room, the amateur archaeologist has collected all manner of vases and porcelain ornaments. Some were smashed by a rocket that pierced the roof and two floors before lodging itself in the basement.
But for Obeidi, the fighting around his house marks an end to the violence and the shortages of life under Daesh.
"I haven't seen a tomato or an egg for four months. Other simple things like an onion — if you could find one — were 20,000 dinars a kilo," ($17, 15 euros), he says. "A small bottle of oil was 35,000 dinars."
A clenched fist resting on his grey robe, he curses the extremists who conquered his district in 2014.
He describes them as "coarse, despicable and merciless people who respected no one".
They even used his beloved house as a base, he says.
"When we had to leave, I forgot a bag with my documents and my passport," he says.
"I came back, and there was a car in the garage. I'm sure it was a car bomb."
When he returned again a few days later, he discovered his cellar was full of rockets.
His neighbourhood is being gradually cleared of extremists, but few residents have remained. "Everyone is gone. I cried when I saw people passing, carrying wounded people, 90-year-olds," he says.
Amid the rattle of automatic weapons and the boom of mortars, he invokes God's protection and quotes an Arab proverb:
"Whoever leaves his house loses his esteem."
Related Articles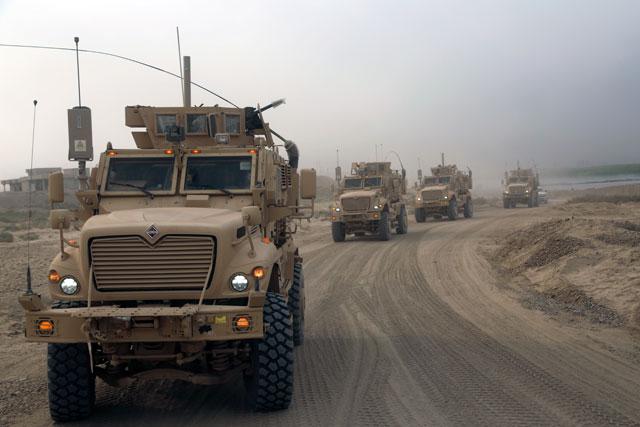 Aug 28,2016
BAGHDAD — Iraq's security forces continue to gear up for a long-awaited operation to retake the Daesh-held city of Mosul.
Jan 23,2017
MOSUL, Iraq — The Daesh terror group expelled civilians from their homes along the Tigris on Mosul's west bank, apparently bracing for a cro
Jun 23,2017
MOSUL, Iraq — Mosul's trademark leaning minaret was missing from its skyline for the first time in centuries Thursday after desperate extrem
Newsletter
Get top stories and blog posts emailed to you each day.