You are here
Before Mosul, Iraqi army may face fight at the gates of Baghdad
By Reuters - Dec 31,2015 - Last updated at Dec 31,2015
A member of Iraq's elite counterterrorism service flashes the 'V' for victory sign on Wednesday in the city of Ramadi, the capital of Iraq's Anbar province, about 110 kilometres west of Baghdad (AFP photo)
BAGHDAD — Iraqi forces may face a big battle near Baghdad before they can try to retake the Daesh stronghold of Mosul: Fallujah, a long-time bastion of Sunni Muslim jihadists at the capital's western gates.
Prime Minister Haider Al Abadi's government and the US-led coalition backing it have been cagey so far in plans for Fallujah, which lies between Baghdad and Ramadi, the capital of western Anbar province that the Iraqi military recaptured this week from the militants.
Fallujah was the first Iraqi city to fall to Daesh in January 2014, six months before the group that emerged from Al Qaeda swept through large parts of Iraq and neighbouring Syria.
Abadi said on Monday the army would head next to Mosul, the biggest urban centre under Daesh control. He said its capture would mark the end of the "caliphate" proclaimed from the northern city's main mosque in June 2014.
But with many western and northern areas still held by the Daesh terror group, the authorities have not made clear what path they intend to take to Mosul, 400km north of Baghdad.
"The government will need to control Fallujah before Mosul," Jabbar Al Yawar, secretary-general of the peshmerga — the forces of the Kurdish regional government fighting Daesh in northern Iraq — told Al Hadath TV.
Ahmed Al Assadi, a spokesman for the Hashid Shaabi — a coalition of mostly Iranian-backed Shiite militias set up to fight Daesh — said Fallujah would likely come before Mosul. "But the final decision is with the commander-in-chief," he added, referring to Abadi, to whom the Hashid formally report.
Daily military statements mention air strikes and attacks by the Iraqi army and the international coalition in and around Fallujah, a city with a pre-war population of around 300,000 located 70km west of the capital.
But there has been no indication of if and when a battle will be launched to take the city, which Baghdad-based analyst Hisham Al Hashimi said contains around 1,000 Daesh militants.
"There's a military leadership; there's planning and a military vision," Brigadier-General Yahya Rasool, spokesman for the joint operations command told Reuters on Thursday. "If a battle starts to liberate the centre of Fallujah, Fallujah itself or any other area, we will announce it officially."
About 3,000 families remaining in Fallujah could be used as human shields, said Hashimi, who has worked with the Iraqi government.
Around 70,000 families have taken refuge around Baghdad, according to Iraq's High Commission for Human Rights.
Turbulent past
Fallujah, downstream from Ramadi in the Euphrates River valley, is encircled by Iraqi forces, according to the international coalition, though some militants manage to slip past the cordon.
Assadi said the Hashid were present south of Fallujah, on the road leading to the Shiite shrine city of Karbala, as well as in some eastern and western areas. There they had helped to isolate the city and hold areas, freeing up the military to advance.
Maria Fantappie, Iraq analyst at the International Crisis Group, said that despite Fallujah's proximity to Baghdad, it was not necessarily the next target.
Ramadi's strong tribal networks had made it easier for Iraqi forces to forge alliances and take control of key areas. "Fallujah has more of an urban structure where tribes are present but are less a structuring element of the city, so it's going to be much harder to retake and keep the city under control," she said from Istanbul.
Known as the "City of Minarets and Mother of Mosques", Fallujah is a focus for Sunni faith and identity in Iraq. It was badly damaged in two offensives by US forces against Al Qaeda insurgents in 2004.
The tribes of Anbar helped turn the tide of that insurgency at its height in 2006, banding together and making common cause with US troops to rout Al Qaeda.
The group's resurgence as Daesh has divided residents of Anbar, where many accuse former Prime Minister Nouri Al Maliki of shutting Sunnis out of power and being a pawn of Shiite power Iran. Some support the extremists, or are too fearful to move against them.
Fantappie said any attempt to retake Fallujah could face local resistance because of a deal struck more than two years ago between the extremists and the city's tribal and urban elements.
Yet local government officials said the capture of Ramadi, the largest Sunni city regained from Daesh, had weakened the militants' morale. It had also created tension with Fallujah residents as well as provoking clashes with Sunni tribes. Those reports could not be independently confirmed.
"After some Daesh fighters fled Ramadi to Fallujah ... fears mounted among Fallujah residents that a government offensive on their city could be imminent and pushed many families to try to leave the city," said Ibrahim Al Fahdawi, a member of the city council.
"Daesh elements threatened to execute anyone trying to flee, which triggered a squabble that developed into clashes between residents and Daesh, who were mostly foreigners," he told Reuters by phone.
Related Articles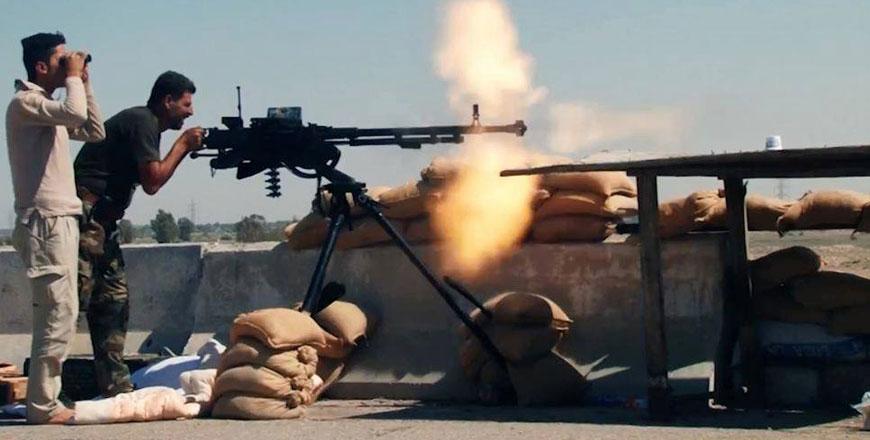 Jul 11,2015
ERBIL, Iraq/WASHINGTON — Iraqi Shiite militia fighters are tightening a noose around the Daesh-held city of Fallujah west of Baghdad a
Jul 23,2015
BAGHDAD — Iraq has for the first time deployed troops trained by the US-led coalition in their campaign to retake the city of Ramadi from Da
Jul 14,2015
BAGHDAD — Iraqi troops and Shiite Muslim militia forces attacked Daesh militants on several fronts on Monday in Anbar, the country's largest
Newsletter
Get top stories and blog posts emailed to you each day.