You are here
Mosul operation has displaced nearly half a million — UN
By AFP - Apr 18,2017 - Last updated at Apr 18,2017
BAGHDAD —Nearly half a million people have fled their homes since Iraqi forces launched an operation to wrest Mosul back from extremists exactly six months ago, the United Nations said Monday.
Iraqi forces began the country's biggest military operation in years on October 17 last year and recaptured the east side of the city in January.
But an assault launched the following month on the part of Mosul that lies west of the Tigris river has seen a sharp rise in displacement.
"The sheer volume of civilians still fleeing Mosul city is staggering," Lise Grande, the UN's humanitarian coordinator in Iraq, said in a statement.
"Our worst case scenario when the fighting started was that up to one million civilians may flee Mosul. Already, more than 493,000 people have left, leaving almost everything behind," she said.
Iraqi forces have been making significant gains in west Mosul over the past two months but the toughest battles could yet lie ahead, with diehard Daesh terror group extremists hunkering down in the treacherous streets of the Old City.
The UN estimated that another half million civilians were still in Daesh-controlled areas of west Mosul.
"Mosul has pushed us to our operational limits," said Grande.
UN chief Antonio Guterres said on March 31 during a visit to a displacement camp near Mosul that the aid effort was woefully underfunded and called for greater international solidarity.
Around two thirds of the overall number of displaced people fled their homes in west Mosul over the past two months alone.
Children exposed
Grande said the fighting there was tougher than on the east bank, which may explain why some residents who had planned to weather the fighting and stay eventually had to escape.
"There are more trauma injuries, homes are being destroyed, food stocks are dwindling quickly and families are at serious risk because there isn't enough drinking water," she said.
The UN has been expanding the capacity of some of the camps scattered around Mosul but the aid community could yet have to deal with an unprecedented exodus if and when the remaining civilians flee the city.
More than half of those who have fled Mosul and its surroundings are children and the UN voiced concern that those still in Daesh-controlled areas would be more exposed than ever before.
"We have seen children with signs of psychological distress while others have been injured in the fighting, or used as human shields," the UN Children's Fund said.
Heavy rain swept one of the main floating bridges across the Tigris south of Mosul and forced the security forces to close another over the weekend, further complicating the military and humanitarian effort.
The Joint Operations Command coordinating the fight against Daesh said engineering teams were deployed and hoping to reopen the bridges in the coming days.
People were allowed to cross the bridge near Hammam Al Alil on foot Monday but vehicles were still stuck.
All five bridges across the Tigris inside Mosul itself have been destroyed in air strikes or by the extremists.
In east Mosul, many of those displaced in the early stages of the operation have returned.
Life has yet to return to normal however, since people and goods cannot yet move freely and key infrastructure was damaged in the fighting.
Related Articles
Jan 03,2017
HASSAN SHAM, Iraq —They wait for nightfall before attempting the perilous escape across bombed-out bridges and front lines between Daesh mil
Jan 24,2017
BAGHDAD — The United Nations said on Tuesday it is "racing against the clock" to prepare emergency aid for hundreds of thousands of civilian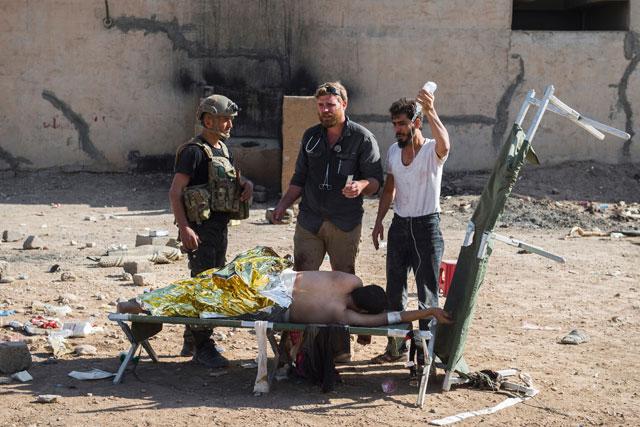 Nov 17,2016
MOSUL — Layers of hastily erected barricades built from rubble and twisted metal trace Mosul's eastern frontline where Iraqi forces and Daes
Newsletter
Get top stories and blog posts emailed to you each day.