You are here
New Egypt government sworn in
By AFP - Sep 19,2015 - Last updated at Sep 19,2015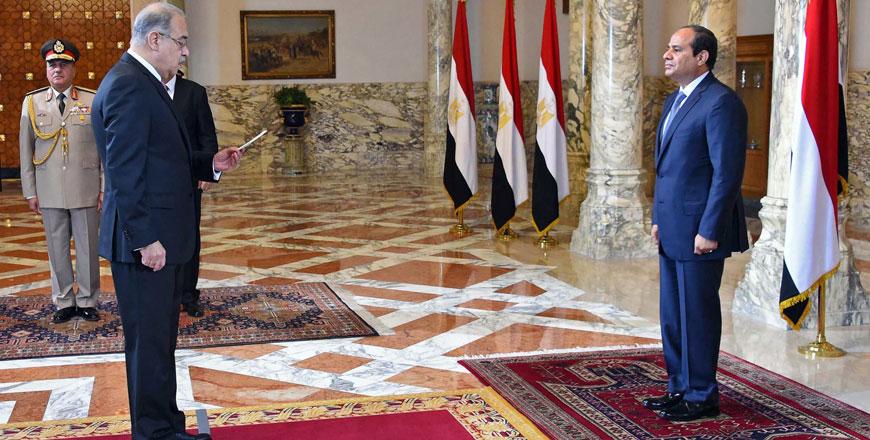 In this photo provided by Egypt's state news agency MENA, Egyptian President Abdel Fattah Al Sisi presides over the swearing in of Prime Minister Sharif Ismail (left) one week after the previous Cabinet resigned amid a corruption probe in Cairo, Saturday (AP photo)
CAIRO — Egyptian President Abdel Fattah Al Sisi swore in a new government on Saturday that included 16 new ministers, a week after the previous administration resigned following a corruption scandal.
Sharif Ismail, who served as petroleum minister in the last Cabinet, was sworn in as prime minister in a ceremony shown on state television.
The ministers of foreign affairs, defence, interior, justice and finance have kept their positions in the new Cabinet.
Former premier Ibrahim Mahlab's government resigned on September 12 days after the arrest of agriculture minister Salah Helal as part of a corruption probe.
It had also come under growing criticism for delays in economic projects.
A senior government official had told AFP the reshuffle, the first major shake-up since Sisi won elections last year, was meant to "pump new blood" into the government.
Ismail is seen as a veteran technocrat with experience in state-owned oil companies before he joined the Cabinet in 2013.
In his first remarks after assuming his post, Ismail struck a note of caution and warned the new government "does not have a magic wand".
"It will take some time to solve some of the problems," he was quoted as saying by state television.
The new Cabinet consists of 16 new ministers, and sees four ministries axed, the presidency said in a statement. The state news agency had reported 15 new ministers.
There had been growing calls for Mahlab's resignation and increasing protests by civil servants over a new law that centralises promotions while taxing bonuses.
Mahlab quit as Egypt prepares to hold long-delayed legislative elections in two phases between October 17 and December 2.
The elections had initially been scheduled for early 2015 but were cancelled by a court on technical grounds.
Mahlab, who had headed the Arab Contractors construction firm, had been appointed by interim president Adly Mansour in March 2014, less than a year after the army led by then defence minister Sisi toppled Islamist president Mohamed Morsi.
New state prosecutor
Morsi's removal and detention unleashed a deadly crackdown on Islamists that killed hundreds of protesters, and the army has struggled to quash a jihadist insurgency in the Sinai Peninsula.
Separately on Saturday, Sisi appointed a new state prosecutor, Nabil Sadiq, to replace Hisham Barakat, who was killed in a car bombing in June.
The assassination of Barakat, the most senior government official killed since Morsi's overthrow, helped fast track tough new anti-terrorism laws.
The government had enjoyed support in the face of militants who have killed hundreds of soldiers, but in recent months had come under fire for corruption and the unpopular civil service law.
There has also been growing discontent over a rise in food prices and slashes to a generous fuel subsidy system as Sisi pushes to narrow a budget deficit.
Sisi has been able to pass decrees virtually unchecked in the absence of a parliament, including the subsidy cuts that previous governments had shirked to avoid unrest.
The new parliament, expected to begin work by the end of the year, will review those laws.
However, it is unlikely to present the president with any sustained opposition and will probably be dominated by Sisi loyalists and weak and fractured political parties that have generally backed him.
The previous parliament, elected in 2011 after an uprising ousted veteran president Hosni Mubarak, had been dominated by Morsi's now blacklisted Muslim Brotherhood movement.
Related Articles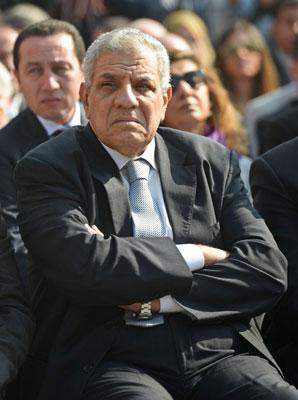 Sep 12,2015
CAIRO — Egypt's prime minister and his Cabinet resigned on Saturday following a corruption scandal and President Abdel Fattah Al Sisi tasked
Jun 09,2014
Egypt's President Abdel Fattah Al Sisi, who took office on Monday, tasked Prime Minister Ibrahim Mahlab with forming a new government after the previous Cabinet resigned, the presidency said.
Feb 26,2014
Egyptian army chief Field Marshal Abdel Fattah Al Sisi will keep his post as defence minister in the new government, an official source said on Wednesday, quashing speculation he was about to announce a widely expected bid for the presidency.
Newsletter
Get top stories and blog posts emailed to you each day.