You are here
Palestinians say Gaza probe a 'serious test' for ICC
Some 2,251 Palestinians, including 551 children, killed in Israel's aggression on Gaza — UN
By AFP - Oct 06,2016 - Last updated at Oct 06,2016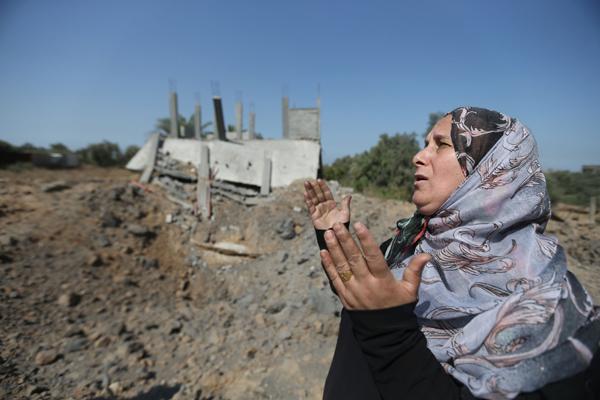 A Palestinian woman prays near a site that was hit by an Israeli air strike the previous day in Gaza City on Thursday (AFP photo)
RAMALLAH, Palestine — Palestinian officials on Thursday welcomed delegates from the International Criminal Court (ICC) and said they hoped it would open a war crimes investigation against Israel.
Officials from the world's only permanent war crimes court are visiting Israel and the Palestinian territories this week against the backdrop of a probe into the 2014 Israeli aggression on Gaza.
But chief prosecutor Fatou Bensouda said the trip is not linked to her on-going initial enquiry on the war.
She said the visit is for "outreach and education activities" to raise awareness about the ICC and her own office.
The official schedule does not include a visit to Gaza.
"Palestine is a serious test to the ICC and I don't think they can afford to fail it," said Ammar Hijazi, a Palestinian foreign ministry official.
"If they fail Palestine's test the whole ICC and the whole international criminal system will collapse," he told journalists.
At the request of the Palestinians, Bensouda's office opened an initial probe into alleged war crimes by both sides during the July-August 2014 conflict.
Some 2,251 Palestinians, including 551 children, were killed during the Israeli aggression on Gaza Strip, according to UN figures.
The Palestinians have also given the ICC files on Israeli settlements and what they say are forcible population transfers.
Israel, which is not a party to the treaty that governs the court, vehemently opposes any ICC investigation.
Officials have however said they will cooperate with the body to convince it of the competence of Israel's own courts.
Israel controls all access to the occupied West Bank and to the Gaza Strip — except its border with Egypt — meaning the ICC visit is dependent on Israel's goodwill.
The officials, who arrived on Wednesday and leave Monday, will visit Tel Aviv, occupied Jerusalem and Ramallah.
They were expected in the Israeli-occupied West Bank on Saturday and Sunday.
Hijazi said he hoped the ICC would move the case forward by the end of the year.
"There is no lack of evidence and we believe that the office of the prosecutor should have been moving much faster," he said.
Related Articles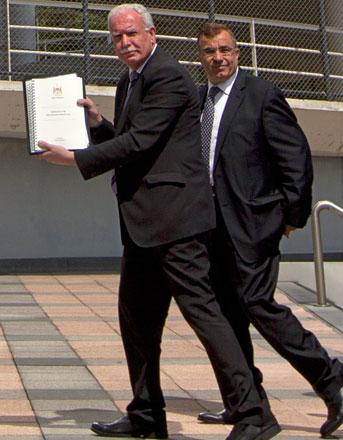 Jun 25,2015
THE HAGUE — The Palestinian Authority made its first submission of evidence of alleged Israeli war crimes to the International Criminal Cour
Jun 18,2015
OCCUPIED JERUSALEM — The Palestinians will next week submit their first file to the International Criminal Court (ICC) in their bid to open
Jan 29,2015
Lawyers representing the Comoros on Thursday asked International Criminal Court (ICC) judges to order its chief prosecutor to reconsider her decision not to probe Israel's deadly 2010 raid on a Gaza-bound flotilla.
Newsletter
Get top stories and blog posts emailed to you each day.