You are here
Pentagon chief warns of Yemen 'Hizbollah'
By AFP - Apr 19,2017 - Last updated at Apr 19,2017
Yemeni tribesman from the Popular Resistance Committee, supporting forces loyal to Yemen's Saudi-backed President Abed Rabbo Mansour Hadi, fires a gun in the country's third-city Taez during clashes with Shiite Houthi rebels on Sunday (AFP photo)
RIYADH — US Defence Secretary Jim Mattis warned on Wednesday of Iranian efforts to create a Yemeni militia "in the image" of Lebanon's Hizbollah, after talks with officials in Saudi Arabia.
The kingdom leads an Arab coalition which for two years has been fighting in support of Yemen's government against rebels backed by Iran.
Saudi officials have accused Tehran and the Lebanese Shiite militant group, which Iran supports, of aiding the Houthi rebels.
Mattis told reporters of the need to overcome Iran's efforts "in destabilising yet another country and create another militia in the image" of Hizbollah.
Washington alleges that Iran, Saudi Arabia's regional rival, has shipped missiles to Yemen but Tehran denies the charge.
A United Nations panel in January reported that it "has not seen sufficient evidence to confirm any direct large-scale supply of arms" from Iran.
Analysts from the International Crisis Group also said there has been "very little hard evidence" of Iranian arms to the Houthis, who are allied with troops loyal to former president Ali Abdullah Saleh.
Pentagon officials believe members of the Quds Force, the foreign operations wing of Iran's Revolutionary Guards, are in Yemen to help the Houthis.
Hizbollah, a powerful political movement in Lebanon, is fighting alongside government forces in Syria and has been declared a "terrorist organisation" by Riyadh.
Washington provides intelligence as well as aerial refuelling to coalition warplanes conducting air strikes in Yemen with American-supplied weapons.
But after talks with Saudi Arabia's King Salman and Defence Minister and Deputy Crown Prince Mohammed Bin Salman, Mattis did not indicate if President Donald Trump's administration was considering an increase in that support.
Rights groups have repeatedly criticised the coalition bombing campaign in Yemen for causing civilian casualties.
"Our goal is to push this conflict into the UN brokered negotiations to ensure that it ends as soon as possible," Mattis told reporters on his first Middle East tour since taking office.
Seven ceasefires alongside UN-brokered peace efforts have so far failed to stop the fighting.
Related Articles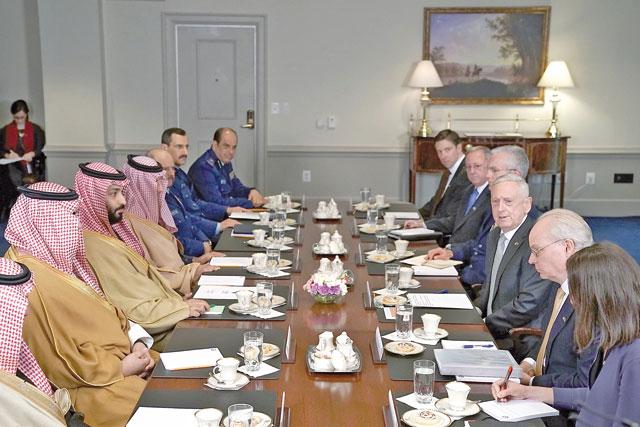 Mar 23,2018
WASHINGTON — US Defence Secretary Jim Mattis told Saudi Crown Prince Mohammed Bin Salman on Thursday there was an urgent need to find a poli
Jan 04,2016
TEHRAN, Iran — The execution of a Shiite cleric in Sunni-ruled Saudi Arabia has laid bare the divisions now gripping the Middle East, as pro
Nov 16,2017
RIYADH — Saudi Arabia's Foreign Minister Adel Al Jubeir said on Thursday the kingdom's actions in the Middle East were a response to what he
Newsletter
Get top stories and blog posts emailed to you each day.