You are here
Red Cross says employee gunned down in Yemen
By Reuters - Apr 21,2018 - Last updated at Apr 21,2018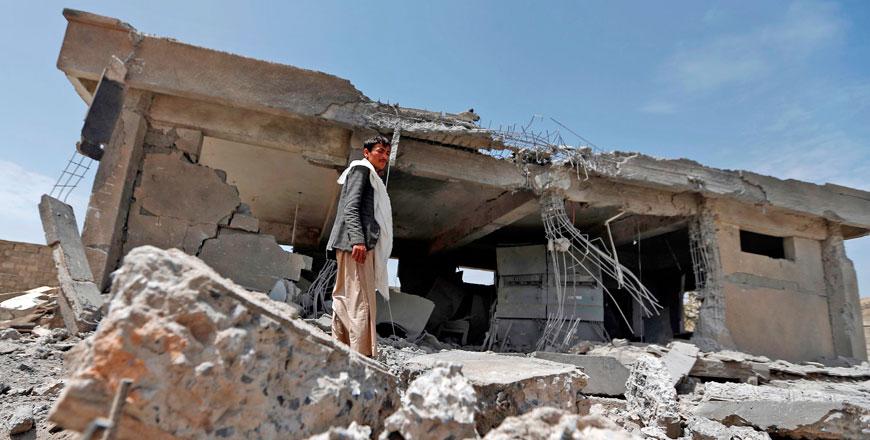 A Yemeni checks the damage in a power station in the aftermath of a reported air strike by the Saudi-led coalition in the Yemeni capital Sanaa on Friday (AFP photo)
GENEVA/ADE — The International Committee of the Red Cross (ICRC) said on Saturday one of its employees had been killed in a shooting in the Yemeni city of Taiz, one day after a Saudi-led coalition air strike killed twenty people in Taiz province, according to residents.
Yemeni officials and the ICRC named the man as Hanna Lahoud, a Lebanese national, who was killed in Taiz in southwestern Yemen by unknown gunmen who opened fire on a car.
Lahoud was in charge of the ICRC's detention programme in Yemen, the ICRC said in a statement. He was on his way to visit a prison this morning when he was attacked on the outskirts of Taiz, the statement said. He was taken to the hospital and died from his injuries.
Friday's air strike hit a car transporting 20 passengers south of Taiz province, locals told Reuters. Six bodies had been identified but the rest were charred beyond recognition, they added.
A spokesman for the Saudi-led coalition said it would investigate the report, but declined to comment further. "We take this report very seriously," he said.
A Saudi-led military coalition intervened in Yemen in 2015, backing government forces fighting Iran-allied Houthi rebels.
Coalition air strikes have repeatedly struck civilians while trying to target Houthi forces during the three-year war. The coalition says it does not target civilians.
Also on Friday. Houthi fighters killed two people, including a woman, and wounded four others in an attack north of Taiz, residents and medical sources said.
The Yemen war has killed more than 10,000 people, displaced more than 2 million and driven the country to the verge of famine, according to the United Nations.
Related Articles
Apr 23,2018
SANAA, Yemen — Dozens were killed and wounded in an air raid on a wedding party in Yemen, local officials said on Monday, with Houthi rebels
Jun 02,2015
SANAA — Armed tribesmen killed 18 Houthi fighters in an ambush in Yemen's central province of Ibb on Tuesday, residents said, in one of the
Oct 22,2015
CAIRO — At least 20 Houthi militia fighters were killed in heavy clashes in Yemen's third-largest city Taiz on Thursday, a day after they po
Newsletter
Get top stories and blog posts emailed to you each day.