You are here
'Saudi Arabia prepared for truce in Yemen if Houthi rebels agree'
By Reuters - Oct 17,2016 - Last updated at Oct 17,2016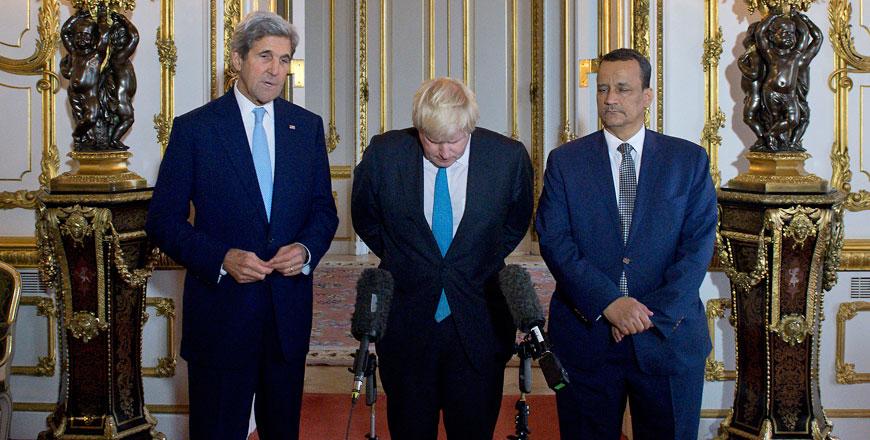 US Secretary of State John Kerry, British Foreign Secretary Boris Johnson and UN Special Envoy for Yemen Ismail Ould Cheikh Ahmed make a joint statement on Yemen at Lancaster House in London on Sunday (AP photo)
LONDON — Saudi Arabia is prepared to agree to a ceasefire in Yemen if the Iran-allied Houthis agree, Saudi Foreign Minister Adel Al Jubeir said on Monday, adding that he was sceptical about efforts for peace after previous ceasefire attempts had failed.
The Saudi-led military campaign in Yemen has faced heavy criticism since an air strike this month on a funeral gathering in the Yemeni capital Sanaa that killed 140 people according to a United Nations' estimate and 82 according to the Houthis.
The United States and Britain, which have both supported the Saudi-led campaign, called on Sunday for an immediate and unconditional ceasefire between Houthis and the Saudi-backed, internationally recognised government.
"We would like to see a ceasefire yesterday," Jubeir told reporters in London. "Everybody wants a ceasefire in Yemen, nobody more so than the Kingdom of Saudi Arabia and the coalition members."
He accused the Houthis of reneging on previous deals.
"So yes, we come at this with a lot of cynicism. But we are prepared, the Yemeni government is prepared, to agree to a cessation of hostilities if the Houthis agree to it. The coalition countries will respect the desire of the Yemeni government," Jubeir said.
British Foreign Secretary Boris Johnson, together with US Secretary of State John Kerry, met Jubeir and officials from the United Arab Emirates on Sunday and said the conflict in Yemen was causing increasing international concern.
"The fatalities that we're seeing there are unacceptable," Johnson said. Britain's Foreign Office said that Saudi Arabia's approach to humanitarian law will be a factor in London's continual assessment of arms sales to the kingdom, and it would look into the air strike on the funeral as part of that process.
Houthis 'losing ground'
Since March 2015, Saudi Arabia and several Gulf Arab allies have carried out air strikes in support of the government of Abed Rabbo Mansour Al Hadi against Houthi fighters, who are backed by troops loyal to ex-president Ali Abdullah Saleh. Gulf states have also deployed troops in Yemen.
Saudi Arabia and Hadi's government accuse Shiite Iran of supplying weapons to the Houthis to help spread Tehran's influence at the expense of Riyadh, its main regional rival. Iran denies the charge.
The Houthis still control Sanaa and large areas of northern and western Yemen, but Jubeir said it was a matter of time before they were defeated.
"The momentum is going against them in Yemen. They're losing more territory, more people are mobilised against them. They are not paying their bills, businesses are not extending credit to them," Jubeir said.
Jubeir said the Sunni Kingdom was being very careful to abide by humanitarian law in the Yemen conflict. He said that those responsible for the funeral bombing would be punished and victims would be compensated.
Asked about an offensive on Daesh militants in the Iraqi city of Mosul, Jubeir said Daesh would lose the war but he added that he was worried that Shiite militias would enter Mosul and "engage in bloodbaths".
"This would have tremendously negative consequences and would further inflame the sectarian tensions in Iraq. That would be the greatest danger we see."
Related Articles
Feb 18,2016
RIYADH — Saudi forces participating in any US-led ground operation in Syria would focus on fighting the Daesh terror group not the Damascus
Apr 04,2016
RIYADH — A delegation of Shiite Houthi rebels from Yemen is holding talks in Riyadh, Saudi Foreign Minister Adel Al Jubeir said Monday, ahea
Dec 11,2016
RIYADH — The press took out of context comments by Britain's foreign secretary about "proxy wars" waged by longtime ally Saudi Arabia, the S
Newsletter
Get top stories and blog posts emailed to you each day.