You are here
Saudi Arabia says Iranian talk of rapprochement is laughable
By Reuters - Sep 05,2017 - Last updated at Sep 05,2017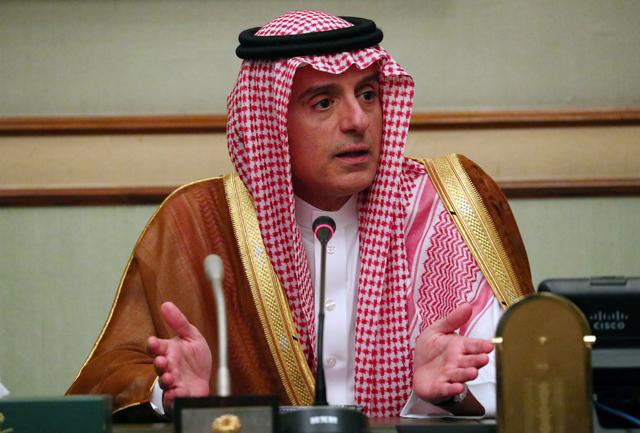 Saudi Arabia's Foreign Minister Adel Al Jubeir speaks at a briefing with reporters at the Saudi embassy in London on Tuesday (Reuters photo)
LONDON — Saudi Arabia said on Tuesday that Iran's talk of a possible rapprochement with the kingdom was laughable.
Saudi Foreign Minister Adel Al Jubeir told reporters in London that Iran would have to change its policies for any rapprochement.
Iran's Foreign Minister Mohammad Javad Zarif, last month said the Islamic republic would soon exchange diplomatic visits after the regional rivals severed diplomatic ties last year.
"The comments of the foreign minister are laughable," Jubeir said. "If Iran wants to have good relations with Saudi Arabia, it has to change its policies. It has to respect international law."
"At this time, we do not see... that they're serious about wanting to be a good neighbour," Jubeir said.
Iran's Zarif was quoted by the Iranian Students' News Agency (ISNA) that diplomatic visits could take place after the Hajj pilgrimage ends in the first week of September.
But Jubeir said that diplomatic exchanges with Iran over arrangements for the Hajj did not represent a normalisation of relations and that such contacts had nothing to do with politics.
"We had the Hajj season, and when we have the Hajj, we try not to politicise it... But this is not normalisation," he said. "The meetings around the Hajj, have nothing to do with the politics. It's a religious issue."
Relations between Iran and Saudi Arabia are at their worst in years, with each accusing the other of subverting regional security and supporting opposite sides in conflicts in Syria, Iraq and Yemen.
Jubeir also said that if the rift with Qatar continued for two years then "so be it".
Saudi Arabia, Egypt, Bahrain and the United Arab Emirates (UAE) severed ties with Qatar in June over Doha's alleged support for militants.
Related Articles
Feb 14,2016
GENEVA — Switzerland said on Sunday it will represent the interests of Iran and Saudi Arabia in both countries after the rupture of diplomat
May 30,2016
DUBAI — Iran said on Sunday its pilgrims would not attend the annual Hajj, blaming regional rival Saudi Arabia for "sabotage" and failing to
May 28,2016
RIYADH — An Iranian delegation has left Saudi Arabia without an agreement for its citizens to attend the Hajj (the greater Muslim pilgrimage
Newsletter
Get top stories and blog posts emailed to you each day.