You are here
Stranded Yemenis, thousands of others stand to lose 'golden ticket' to US
By Reuters - Jul 31,2017 - Last updated at Jul 31,2017
NEW YORK/WASHINGTON — Yemen is urging the US government to take in dozens of Yemenis who travelled to Malaysia in recent months expecting to immigrate to the United States, only to find themselves stranded by President Donald Trump's temporary travel ban.
The ban, which was blocked by lower courts before being partially reinstated by the Supreme Court in June, temporarily bars citizens of Yemen and five other Muslim-majority countries with no "bona fide" connections to the United States from travelling there.
The Supreme Court ruling sharply limited the number of people affected by the ban. Largely unreported has been the fate of one group — thousands of citizens of the six countries who won a randomised US government lottery last year that enabled them to apply for a so-called green card granting them permanent residence in the United States.
In a stroke of bad luck for the lottery winners, the 90-day travel ban will expire on September 27, just three days before their eligibility for the green cards expires. Given the slow pace of the immigration process, the State Department will likely struggle to issue their visas in time.
A recent e-mail from the US government to lottery winners still awaiting their visas warned "it is plausible that your case will not be issuable" due to the travel ban.
The lottery attracts about 14 million applicants each year, many of whom view it as a chance at the "American Dream". It serves as a potent symbol of US openness abroad, despite the fact that the chance of success is miniscule — about 0.3 percent, or slightly fewer than 50,000, of lottery entrants actually got a green card in 2015.
The programme helps to foster an image of America "as a country which welcomes immigrants and immigration from around the world, but also especially from Africa", said Johnnie Carson, a former US assistant secretary of state for African affairs during the Obama administration.
Some former diplomats worry the travel ban's impact on the lottery could tarnish that image of inclusiveness.
"Taking this away from people who have won it is the cruelest possible thing this administration could do," said Stephen Pattison, a former senior State Department consular official. "It makes us look petty and cruel as a society."
Reuters spoke to dozens of lottery winners from Yemen, Iran and Syria, including about 20 who are still waiting for their visas to be issued. Many declined to be named so as not to risk their applications but provided e-mails and other documents to help confirm their accounts.
They described having spent thousands of dollars on the application process, and many said they had delayed having children, sold property and turned down lucrative job offers at home because they assumed they would soon be moving to the United States.
An arduous journey
For Yemenis, the situation is particularly difficult. Because the United States does not maintain a diplomatic post in Yemen, its citizens are assigned to other countries to apply for their visas, and many of them to travel to Kuala Lumpur, Malaysia. The journey to a country 6,400km away can be expensive and arduous for Yemenis, whose country, the Middle East's poorest, is embroiled in a two-year conflict.
Most of the Yemenis who come to Malaysia make their first stop at a high-rise apartment building on the outskirts of the capital, where they have built a small community. Because of immigration restrictions, they are not allowed to work and are slowly running out of money. Most survive from funds donated by other Yemenis or sent by relatives back home.
"Imagine you get notified you got the golden ticket, only to have it yanked away," said Joshua Goldstein, a US immigration attorney who advises lottery winners.
The so-called "diversity visa" programme was passed in its current form by Congress in 1990 to provide a path to US residency for citizens from a range of countries with historically low rates of immigration to the United States.
Because it has relatively few educational or professional requirements, it tends to attract people from poorer countries. In Ghana and Sierra Leone, for instance, more than 6 per cent of the population in each of the West African nations entered the lottery in 2015.
Yemeni officials in Washington launched talks with the State Department this month to find a way to get dozens of Yemeni lottery winners into the United States despite the travel ban, said Yemen's ambassador to the United States, Ahmed Bin Mubarak.
"They've been in Malaysia for more than six months and sold everything in Yemen," Bin Mubarak said. "We are doing what we can."
US officials said they would work with Yemen's government to help those who qualify for exceptions to the travel ban to be allowed in on a case-by-case basis, said Mohammed Al Hadhrami, a diplomat at Yemen's embassy in Washington.
A State Department official declined to comment on how the United States was working with Yemen on the issue.
'Yanked away'
It is unclear exactly how many lottery winners are now caught up in the travel ban, which affects Iran, Libya, Somalia, Sudan, Syria and Yemen, but in 2015, more than 10,000 people from the six countries won the lottery, and 4,000 of them eventually got visas.
Yemeni officials provided Reuters with a list of Yemeni lottery winners, mostly in Malaysia, which they have also given to the State Department. It showed 58 Yemenis still waiting for a response to their applications, including some who have been stuck in security checks for more than eight months.
The State Department declined to comment on the figures, but departmental data shows that 206 Yemenis received diversity visas between March and June.
Following the June 26 Supreme Court ruling, State Department officials told lottery winners from the six countries that their visas would not be granted during the 90-day period the travel ban is in place unless they can demonstrate close family ties or other approved connections to a person or institution in the United States, according to an e-mail seen by Reuters.
Yemeni officials are scrambling to help the country's lottery winners demonstrate how they might qualify for an exemption and are also pushing to get a waiver for those who do not have any relationships, Hadhrami said.
Rafek Ahmed Al Sanani, a 22-year-old farmer with a high school education, is among the Yemenis stuck in Malaysia. He travelled there in December via a route that included a 22-hour bus ride followed by flights to Egypt, Qatar and finally Malaysia.
"I was the first one to apply for the lottery in my family," said Sanani, one of nine children in a family from Ibb governorate in Yemen's north. "I want to come to the United States to learn English and continue my studies."
Sanani said he had to borrow $10,000 to pay for his trip to Malaysia and living expenses. As he waits to hear the outcome of his application, he is resigned to his fate.
"What can I do?" he said. "I will accept reality."
Related Articles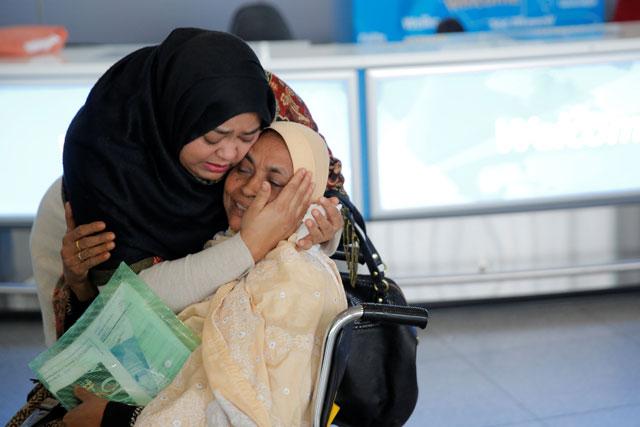 Jan 28,2017
WASHINGTON — President Donald Trump's sweeping ban on people seeking refuge in the United States and visitors from seven Muslim-majority cou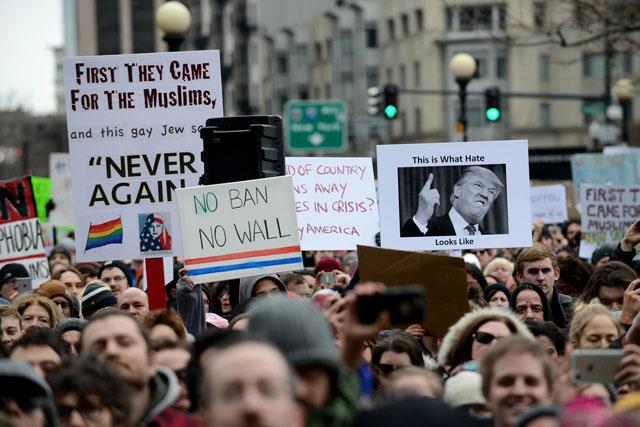 Jan 29,2017
TEHRAN — Families split, a father unable to reach his son's wedding and officials warning of a "gift to extremists" — President Donald Trump
Feb 14,2017
AMMAN — The US embassy on Tuesday refuted "false" reports of "visa-free travel" for certain Arab nationals, while clarifying the current vis
Newsletter
Get top stories and blog posts emailed to you each day.