You are here
Strikes on east Syria's last Daesh pocket kill 25 civilians
By AFP - Feb 26,2018 - Last updated at Feb 26,2018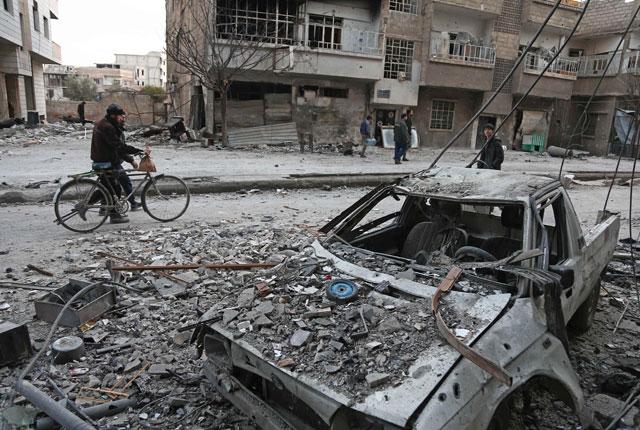 Syrians walk along a street covered in debris from shelling in Arbin in the rebel-held enclave of Eastern Ghouta, on Sunday (AFP photo)
BEIRUT — Air strikes on the last pocket of Daesh extremists in eastern Syria have killed at least 25 civilians, including seven children, a monitor said on Monday.
The strikes were conducted on Sunday on and around the village of Al Shaafah, north of the former Daesh bastion of Albu Kamal near the border with Iraq, the Syrian Observatory for Human Rights said.
The head of the Britain-based oservatory, Rami Abdel Rahman, said the air strikes were carried out by the US-led coalition.
"Twenty-five civilians, including seven children, were killed in the village of Al Shaafah and in surrounding desert areas in coalition strikes all through Sunday," he said.
"This village is in the last pocket controlled by Daesh in the east of Syria," he said of Al Shaafah, which lies on the eastern bank of the Euphrates River.
Air strikes against extremists forces holding out in remote areas of Deir Ezzor province have killed dozens of civilians in recent weeks, many of them relatives of the fighters.
Coalition-backed Kurdish-led forces have been trying to flush out Daesh from the east bank of the Euphrates, while Russian-backed regime and allied forces are stationed west of the river.
Abdel Rahman could not say how many Daesh combatants were taken out by the latest wave of air strikes.
"Daesh now holds less than 3 per cent of Syrian territory," he said.
The self-styled "caliphate" Daesh proclaimed over swathes of Syria and Iraq in 2014 effectively died when anti-extremist forces retook its de facto capital Raqqa and other strongholds such as Albu Kamal late last year.
However the US-led coalition has continued to carry out strikes against small pockets of Daesh fighters hunkering down in and around small villages in Deir Ezzor province.
Small groups of Daesh-affiliated fighters are also still active in other parts of Syria.
Related Articles
Jun 05,2018
BEIRUT — An offensive by the Daesh militant group in eastern Syria has left at least 45 pro-regime fighters dead, a monitoring group said on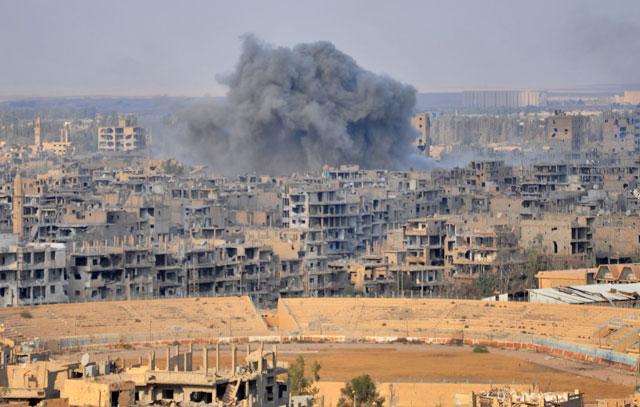 Nov 04,2017
DEIR EZZOR, Syria — Syrian and allied forces converged Saturday on holdout Daesh group fighters in the Syrian border town of Albu Kamal, the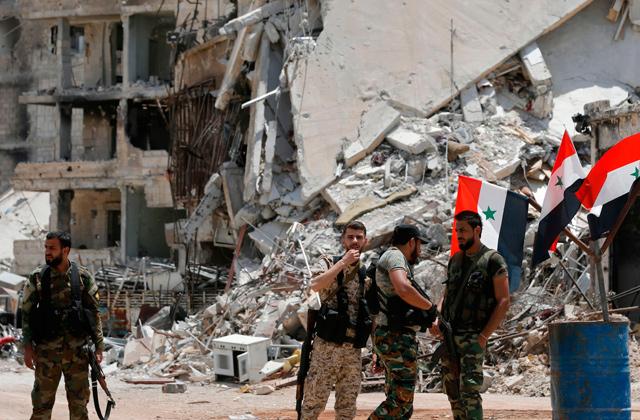 May 24,2018
BEIRUT, Lebanon — A US-led coalition air strike on Syrian army positions overnight killed at least 12 pro-regime fighters in an area where b
Newsletter
Get top stories and blog posts emailed to you each day.