You are here
Suicide bomber kills 11 people in latest Yemen violence
By Reuters - May 11,2014 - Last updated at May 11,2014
ADEN, Yemen / SANAA — A suicide car bomber killed 10 Yemeni soldiers and one civilian and wounded many others on Sunday after targeting a military police building in the southern coastal city of Mukalla, state news agency Saba said.
The blast appeared to be a revenge attack by Al Qaeda over the Yemeni army's campaign to crush Islamist insurgents in two large southern provinces.
This has ousted many militants from towns they first seized during mass unrest in 2011 that jeopardised national security and posed a serious threat to major oil producer Saudi Arabia next door.
Rescuers picked through the rubble of the two-storey building to search for survivors from the blast, which hit the complex as the soldiers were having lunch, a local security official told Reuters.
"We cannot tell the wounded from the dead," the official said. Saba cited a security source as saying 15 soldiers were wounded in the attack.
Residents said ambulances had been evacuating the wounded from the scene of the blast which had sent shrapnel flying into nearby residential buildings.
"It was a strong explosion and it shook Mukalla," resident Salah Al Hamawi told Reuters by telephone.
In a separate assault in the Yemeni capital on Sunday, three gunmen were killed after they tried to attack a security checkpoint, the interior ministry said, the second such incident close to Sanaa's presidential palace in as many days.
The checkpoint attack also appeared to be retaliation for the army offensive, which state news agency Saba said had killed or wounded hundreds of Al Qaeda members.
Western powers are concerned Al Qaeda in the Arabian Peninsula (AQAP) could use Yemen as a springboard for future international attacks.
Keen to stem a stubborn Islamist insurgency that has targeted security forces, military facilities and foreigners, Yemen's army went after the militants last month in the south.
Citing a military source, Saba said the military had recently killed dozens of Al Qaeda leaders, most of them foreigners. The army had captured weapons, equipment and bomb-making workshops, it said.
The army, which conducted a similar, ultimately ineffective campaign against Al Qaeda in 2012, has pledged to continue to pursue militants who had retreated from towns in Shabwa and Abyan provinces into the rugged desert hinterland.
The interior ministry said on its website it had tightened security at several Yemeni sea ports after receiving information that militants from Somalia may cross to Yemen to join forces with Al Qaeda-linked fighters to counter the army offensive.
Sunday's attack in the capital, about 500 metres from the presidential palace, came two days after a gunfight in the same part of Sanaa, and what appeared to be an assassination attempt on the defence minister in Shabwa province.
"Three terrorists were killed at dawn today in a new attack that targeted a security checkpoint," the interior ministry said in a statement. It said a fourth gunman was wounded and a civilian bystander was also killed.
Residents heard gunshots in the area early on Sunday and said the military had deployed extra soldiers to secure surrounding roads since the attack.
Related Articles
Jul 18,2016
ADEN — Suicide bombings killed 11 people Monday at two army checkpoints in Al Qaeda's former stronghold in southeastern Yemen, officials sai
Jun 28,2016
ADEN — A wave of suicide bombings targeting Yemeni troops killed at least 19 people Monday in the southeastern city of Mukalla, which Al Qae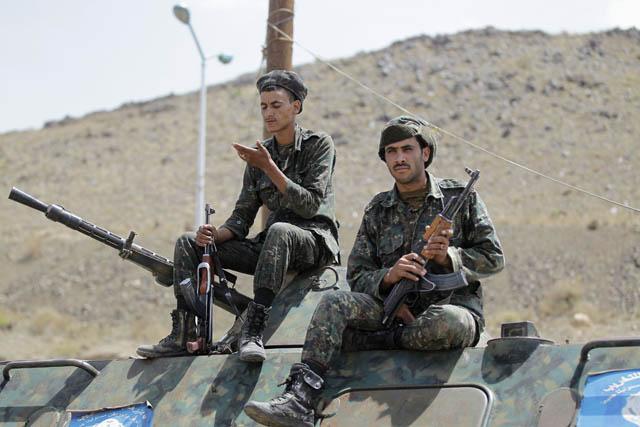 May 14,2014
The Yemeni army killed more than 30 Al Qaeda insurgents in heavy fighting on Wednesday, a senior military commander said, after the Islamists attacked military posts in a southern province where the government launched an offensive two weeks ago.
Newsletter
Get top stories and blog posts emailed to you each day.