You are here
Sunni mosques in east Iraq attacked after Daesh-claimed blasts
By Reuters - Jan 13,2016 - Last updated at Jan 13,2016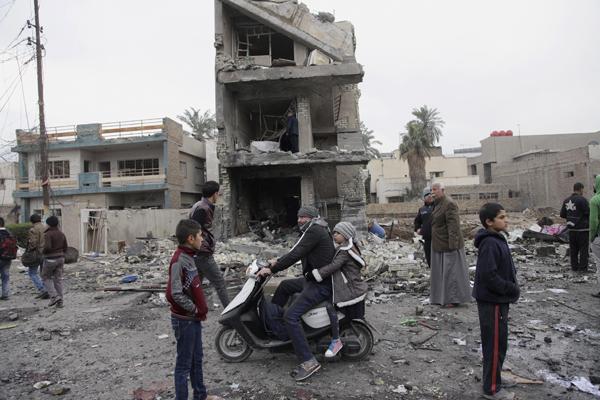 People gather at the scene of a car bomb explosion in commercial area of New Baghdad, on Tuesday (AP photo)
BAGHDAD — At least seven Sunni mosques and dozens of shops in eastern Iraq were firebombed on Tuesday, security sources and local officials said, a day after 23 people were killed there in two blasts claimed by Daesh.
Ten people were also shot and killed in Muqdadiya, 80km northeast of Baghdad, security and hospital sources said.
The rise of the militant group Daesh has exacerbated a long-running sectarian conflict in the country mostly between the Shiite majority and minority Sunnis.
A surge in such violence could undermine efforts by Prime Minister Haider Al Abadi, a moderate Shiite Islamist, to dislodge the militants from large swaths of the north and west that they seized in 2014.
At least two Sunni mosques south of Baghdad were attacked last week after a Shiite cleric was executed in Saudi Arabia, triggering angry reactions in Iraq and neighbouring Iran.
At the height of Iraq's civil war nearly a decade ago, such mosque attacks often unleashed revenge killings and counter-attacks across the country.
Officials tried on Tuesday to head off further violence, condemning the mosque attacks as well as Monday's bombings, which Daesh said had targeted Shiites.
Abdul Lateef Al Himayim, head of Iraq's government body overseeing Sunni religious sites, called them "a desperate attempt to destroy Iraqi unity", while the United Nations warned in a statement the mosque bombings could "take the country back into the dark days of sectarian strife".
Haqqi Al Jabouri, a member of the local council in Diyala province where Muqdadiya is located, said both types of attacks hurt the social fabric of the community. He blamed "undisciplined [Shiite] militias" for burning the mosques.
Shiite militias were crucial in keeping Daesh from overrunning Baghdad and southern Shiite shrines during their lightning advance across the Syrian border in 2014, and have supported Iraqi forces pushing back the militants, including from parts of Diyala.
Militia elements have been accused of human rights abuses against Sunnis, allegations the groups have repeatedly denied or blamed on rogue members.
Amal Omran, a Shiite member of the Diyala council, blamed the mosque attacks on "infiltrators" seeking to smear the image of the militias.
Witnesses said some of those killed on Tuesday had been shot inside their homes or dragged into the street and executed by gunmen wearing black and camouflage uniforms.
Police sources and local residents said the gunmen were patrolling Muqdadiya and warning families through loudspeakers to leave the city or face death.
Reuters could not verify these accounts.
"It's worse than hell. I hid my two sons under a pile of clothes inside a wardrobe to avoid being discovered," said Um Ibrahim, a Sunni widow who fled to nearby Khanaqin after seeing two mosques engulfed by black smoke.
The attacks occurred in the central districts of Mualimeen, Asri and Orouba, the security sources said.
Police targeted
Two Iraqi journalists were also killed on Tuesday outside Baqouba, Diyala's provincial capital 65km northeast of Baghdad, according to police, a security official and their network Sharqiya TV.
They said the men had been turned back from a checkpoint near Muqdadiya run by a Shiite militia. On their way back to Baqouba, gunmen sprayed their vehicle with automatic gunfire.
Earlier in the day, a suicide bomber attacked a police convoy near Baqouba, critically wounding a senior police officer and killing three other members of the security forces, police said.
Brigadier Qasim Al Anbuki, the local head of police intelligence, was leading a force to check tips about a suspected car bomb parked on a highway linking Baghdad to Baqouba.
After reaching the site, a suicide car bomber detonated his vehicle near the officer's convoy, police sources said. Four others were also wounded, they added.
There was no immediate claim of responsibility for the blast.
Abadi condemned a separate attack on Monday at a mall in a predominately Shiite district of Baghdad that killed 18 people. He called it "a desperate attempt by terrorist gangs after our forces' victories in Ramadi and other areas".
The Iraqi government last month claimed victory against Daesh in the western city of Ramadi, and has slowly pushed them back in other areas.
Related Articles
Jan 12,2016
BAGHDAD — Gunmen detonated suicide vests inside a shopping complex in Baghdad on Monday, and a car bomb exploded nearby in an attack claimed
Jan 13,2016
BAGHDAD — Gunmen shot dead two Iraqi journalists on Tuesday in Diyala, a province where Baghdad declared victory a year ago but which is sti
Jul 27,2015
BAQOUBA, Iraq — Bombs went off during a local football game in Iraq's restive Diyala province on Monday, killing at least four people, secur
Newsletter
Get top stories and blog posts emailed to you each day.