You are here
In Syria's 'Berry Place,' residents dodge bullets
By AFP - Jun 08,2014 - Last updated at Jun 08,2014
DAMASCUS — The Damascus neighbourhood is known as "Berry Place," but its bucolic name hides its difficult reality — it is the front line between rebels and soldiers loyal to President Bashar Assad.
The area is an island in the eastern district of Jobar, where rebels hold the east and the army controls the west.
On the two streets on the edge of the regime-held portion, lined with modest one-storey homes, children play, shouting and laughing, their voices occasionally drowned out by the rumble of artillery or the crack of a sniper's rifle.
"They [the rebels] threatened us to try to make us flee but we have stayed despite the bombings," said Um Imad Al Masri, a woman in her forties in a black robe and turquoise headscarf.
"Despite the deaths of our neighbours, Karim, Marc, Abu Mohamed, killed in their homes by mortars, we haven't left. Anyway, where would we go?"
The government considers Berry Place a strategic area because it provides access to the capital's central Abbasid Square. If the rebels took the square, they could take the heart of Damascus.
So residents of Berry Place have found themselves trapped, trying to go about their lives in the crossfire.
"When the bombing starts, we tell the children to come inside, and when it calms down, they return to the street," Masri said.
"We can't keep them locked up," she adds, insisting she will stay "so long as the army is here".
For Wafic Kamshi and some of his Christian neighbours, the situation is even worse.
"I live between the army and the Free Syrian Army," he said.
He lives just east of Berry Place, in a no-man's-land in Jobar that nearly no one enters.
He works as a taxi driver near Abbasid Square, but rides his bicycle to work each day for fear a car could attract the snipers' attention. Sharpshooters riddled a vehicle with bullets near Kamshi's home, where it still lies abandoned.
Seven months ago, Kamshi was injured by a sniper while he was sitting in front of his home.
"I don't know where the bullet was fired from, but it hit me in the back and it came out from my stomach," he said.
After he was discharged from hospital, however, Kamshi returned to the home where he was wounded.
"In three years, I've gotten used to the war and the bombing doesn't even stop me sleeping now."
A refuge for some
But the same can't be said for the children living in the front-line homes in Berry Place, where a tank is stationed at the entrance to the two streets.
"When the bombing starts every day, they are really afraid. And then when it calms down they give the impression that they've forgotten everything and they start to smile again," said Fariza Lahham, an elegant 25-year-old dental assistant.
Jobar was built in the 1960s and was a bustling commercial district before the conflict.
Now, most of its shops are shuttered, its buildings deserted and the pavement pockmarked by shrapnel.
The fight between the regime and rebels even goes on below ground, with both sides using tunnels to attack the other.
"We used to do our shopping in Jobar Al Balad," said Berry Place resident Bassam Zarqi, referring to a district in eastern Jobar, now under rebel control.
"We've had to change that and go to Abbasid Square instead," adds the 70-year-old, sitting in front of his house with his granddaughter in his arms.
Despite the danger, for some the neighbourhood has become a refuge.
Um Mohamed fled the eastern Damascus suburb of Ain Terma because the rebel-held district was under such fierce regime bombardment.
"I was living with my cousin there. He left his house with his family when a mortar shell came in through their house," she said.
"I decided to come here because I felt it was less dangerous than where I was coming from," she said.
Nearby, soldiers are on patrol.
"We're here to protect civilians and children in the Abbassid region," one said.
"It's a strategic position to ensure the security of all of Syria."
Related Articles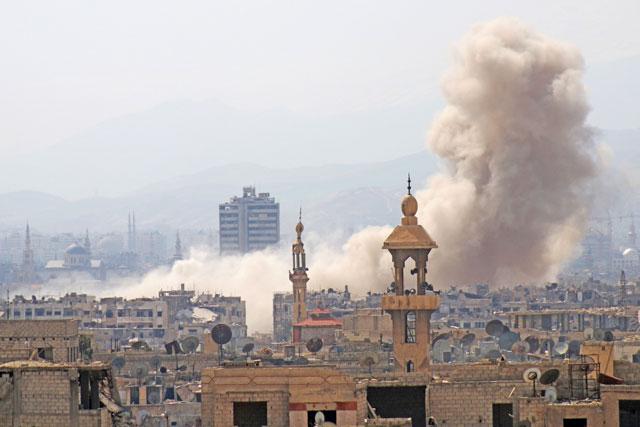 Mar 19,2017
BEIRUT — Heavy clashes rocked eastern districts of the Syrian capital on Sunday as rebels and extremists tried to fight their way into the c
Apr 29,2018
JOBAR, Syria — Muhammad Al Masri spent the Syrian war in a house the 75-year-old described as being on the frontline with death.In his partl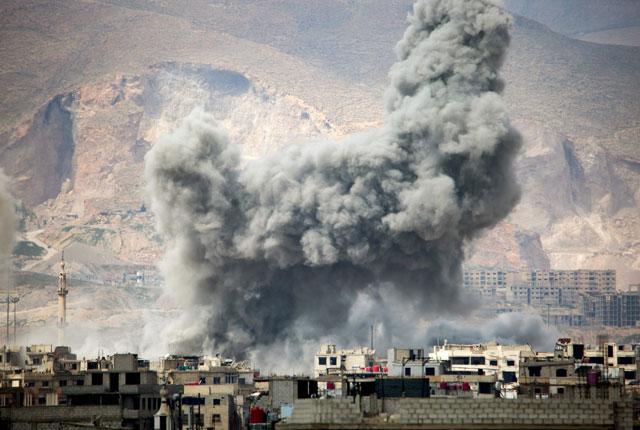 Mar 20,2017
DAMASCUS — Syrian government forces clashed with rebels and hammered opposition-held areas of east Damascus on Monday after pushing back a s
Newsletter
Get top stories and blog posts emailed to you each day.