You are here
Syria donors fall short without US aid, warn of cruel end-game
By Thomson Reuters Foundation - Apr 25,2018 - Last updated at Apr 25,2018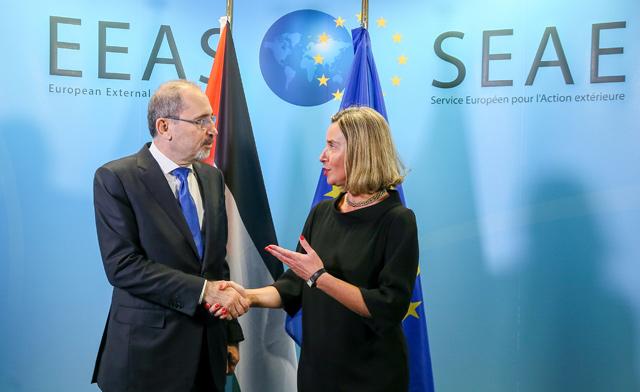 Minister of Foreign Affairs Ayman Al Safadi (left) is welcomed by European Union Foreign Policy Chief Federica Mogherini ahead of a meeting on the sidelines of a conference on 'Supporting the future of Syria and the region' at EEAS, in Brussels on Wednesday (AFP photo)
BRUSSELS, Belgium — International donors raised $4.4 billion in emergency aid for Syria and its neighbours on Wednesday, but the total fell well short of the UN target for 2018 after the United States failed to submit a pledge.
Humanitarian agencies also pleaded for peace before the Syrian military and its Russian and Iranian backers turn their firepower on the rebel-controlled Syrian city of Idlib, warning of civilian suffering on a greater scale than during the siege of Aleppo last year.
"What I fear is a very cruel battle engulfing Idlib. We cannot accept the war moves towards what is essentially a gigantic refugee camp," Jan Egeland, head of the Norwegian Refugee Council and a senior UN adviser on Syria, said of the northwestern Idlib region.
"There have to be talks to spare the civilians from the fighting," he said, adding that 2.5 million people were at risk.
Britain and Germany offered new money for refugees at the conference, which brought together some 85 governments and aid groups. But pledges were less than the $6 billion gathered for 2017 as US President Donald Trump cuts foreign aid.
"A number of important donors have not yet been in a position to confirm their financing for 2018 because of the status of their internal budgetary discussions," UN Emergency Relief Coordinator Mark Lowcock told a news conference.
"That includes the United States, which has been providing more than $1 billion a year to Syria and the region in recent years," he said.
While the United Nations said more money may still come in, the US government is reviewing its Syria policy, including its humanitarian support, and Trump has questioned the value of such aid as he pursues his "America First" agenda.
The European Union, which along with the United States is the world's biggest aid donor, is also struggling to agree with its member governments a 3 billion euro ($3.66 billion) package for refugees in Turkey.
"The war hasn't stopped, people are still being bombed and live in refugee camps. The pledges today show that the conditions for Syrians will only get worse in the future," said Rouba Mhaissen, a Syrian-Lebanese activist working for refugees.
Crisis peak
Humanitarian aid is also set to go to Lebanon, Jordan, Iraq and other countries overwhelmed with some six million Syrian refugees. Refugees in Lebanon makes up a quarter of the country's population, the United Nations says.
Achim Steiner, head of the UN Development Programme, told Reuters there was a risk of so-called donor fatigue because of the sheer length of the multi-sided war.
The international community's split over Syria was also highlighted by the fact that Damascus was not taking part in the conference organised by the EU. Russia sent no top state officials and was only represented by its EU ambassador.
The envoy, Vladimir Chizhov, challenged the EU's line that the West would only focus on humanitarian assistance but provide no money for reconstruction of Syria for as long as Assad does not share power with the opposition.
Palestinian refugees
On Tuesday, Pierre Kraehenbuehl, who heads the UN Relief and Works Agency (UNRWA) providing aid for Palestinians across the Middle East, said US President Donald Trump had withheld $305 million in funding, far more than the $65 million reported in January.
Emergency food aid for around a million Palestinians in Gaza may run out from June if the UN agency for Palestinian refugees cannot raise another $200 million following a cut-off in US funding.
Gulf states, Norway and Canada have stepped in with a total of $200 million to help meet a planned $465 million budget for 2018. The United States, long the biggest donor to the agency, is providing just $60 million of a promised $365 million, Kraehenbuehl said.
That leaves a $200 million shortfall to fill for rice, flour, sugar and also to keep funding schools in Gaza and the West Bank.
Kraehenbuehl warned of greater instability in Gaza in part because the economy is already suffering its deepest collapse after a decade of Israeli occupation-led blockades, and internal Palestinian divisions in the coastal strip.
Kraehenbuehl said the shortfall in funding for the agency could also mean there may not be enough money to re-open schools in August and September for the new academic year.
"This is our largest funding crisis ever," he said.
Trump withheld the aid to UNRWA in January after questioning the value of such funding, while the US State Department said the agency needed to make unspecified reforms.
Many Western diplomats saw Trump's decision as a reaction to the condemnation across the Middle East of his Dec. 6 decision to recognise Jerusalem as Israel's capital. The United Nations also voted to reject that recognition.
Related Articles
Jan 09,2017
GENEVA — US President-elect Donald Trump and foreign powers should revive the Middle East peace process at a time Palestinian youths are bec
Feb 19,2015
The failure by world donors to deliver billions of dollars of aid to rebuild Gaza is jeopardizing efforts to avoid a new flareup in the Palestinian territory, a senior UN official warned Wednesday.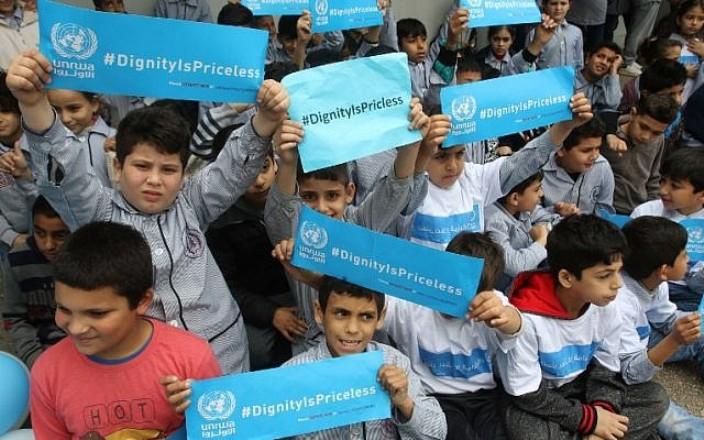 Mar 14,2018
Ramallah, Palestinian Territories - Global powers will gather in Rome on Thursday to discuss the future of the UN agency for Palestinian ref
Newsletter
Get top stories and blog posts emailed to you each day.