You are here
Syria Kurds announce capture of prominent French militant
By AFP - May 24,2018 - Last updated at May 24,2018
QAMISHLI, Syria — Kurdish-led forces in northern Syria on Thursday announced the capture of French extremist Adrien Guihal, known as the voice that claimed 2016 attacks in France for the Daesh militant group.
"The SDF's intelligence services conducted an operation on May 19 that led to the capture of a group of Daesh militants led by Adrien Guihal, known as Abu Osama Al Faransi," the Syrian Democratic Forces (SDF) said in a statement.
Guihal was thought to be among the most dangerous members of the large French contingent in the ranks of the Daesh group, whose self-styled "caliphate" spanned huge swathes of territory in Iraq and Syria before collapsing last year.
The Kurdish forces controlling northeastern Syria have detained dozens of French Daesh members who have gone underground in recent months, including well-known figures such as Thomas Barnouin and Emilie Konig.
The SDF statement said Guihal was detained together with his wife, who was not identified, in the area of Raqq, Daesh's former Syrian "capital" which the US-backed SDF took last year.
He made headlines when he was recognised as the man behind the voice that claimed responsibility for the July 2016 attack that killed 86 people in the French city of Nice.
He is a veteran member of France's extremist networks, however.
Uncertain fate
He converted to Islam while he was still in his teens and became acquainted with the brothers Fabien and Jean-Michel Clain, central figures in French extremist circles, more than ten years ago.
According to a profile in French daily Liberation, Guihal learnt Arabic in Cairo and became very active in online extremist forums.
He was detained in France in 2008 on charges of planning an attack in France to protest against the French military presence in Afghanistan and was sentenced in 2012 to four years in prison.
He was released that same year.
According to Liberation, he immediately started forming another extremist cell in the Paris region and eventually managed to reach Syria in the spring of 2015.
Daesh conquered swathes of Syria in 2014 and eventually proclaimed a "caliphate" about the size of Britain after taking Iraq's second city of Mosul and overrunning vast expanses of territory in both countries.
Hundreds of militants, including converts like Guihal, streamed into the pro-state headed by Abu Bakr Al Baghdadi.
Around 300 French extremists, including at least 12 women, have been killed in Iraq and Syria, according to French security and other sources speaking to AFP in March this year.
Another 40 or more French nationals are being held by the SDF and their fate is a controversial issue in France, whose authorities seem reluctant to bring them home for trial.
France argues that any adults among them should be tried where they are, so long as they face a "fair trial".
Rights groups and lawyers for the families of the militants say none of them are getting due process in the Kurdish-run part of Syria.
There is also some concern that the Kurds, who feel they have been abandoned by their erstwhile Western allies since the collapse of the Daesh "caliphate", might let dozens of dangerous loose if their home countries refuse to repatriate them.
up
5 users have voted, including you.
Related Articles
Nov 16,2017
PARIS — France's military said on Thursday the coalition battling the Daesh terror group in Syria had opposed a deal allowing fighters of th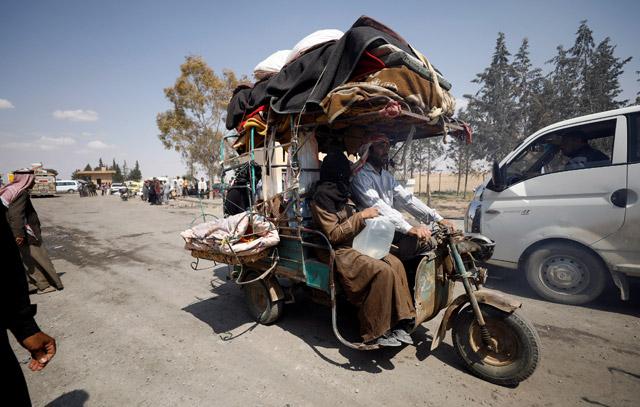 May 07,2017
BEIRUT — Dozens of Daesh terror group militants cornered in a northern part of Syria's Tabaqa are holding off US-backed forces that hold alm
Mar 28,2017
TABAQA Dam, Syria — US-backed forces battled the Daesh terror group around a key Syrian town Monday, after the capture of an airbase brought
Newsletter
Get top stories and blog posts emailed to you each day.