You are here
Syria Kurds weather IS assault as they await reinforcements
By AFP - Oct 21,2014 - Last updated at Oct 21,2014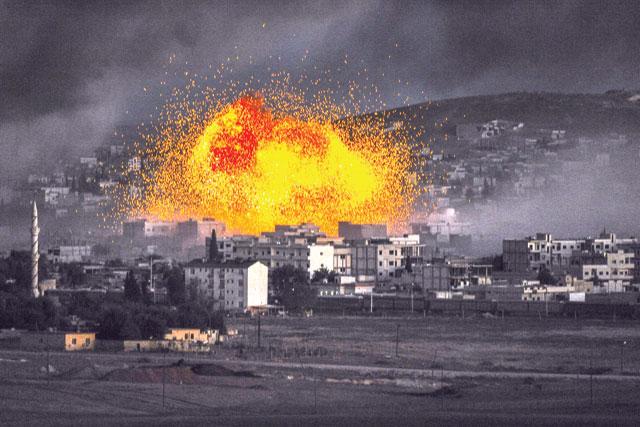 MURSITPINAR, Turkey — Kurdish fighters in the battleground Syrian town of Kobani weathered an onslaught by Islamic State (IS) militants on Tuesday as they waited for promised reinforcements.
Fighting continued in Kobani but appeared to have lessened after a fierce attack by IS fighters, including suicide bombers, late on Monday, witnesses and monitors said.
IS forces based in the east of the town were exchanging fire with Kurdish militia in the west and there were reports of an explosion, probably a car bomb, the Syrian Observatory for Human Rights monitoring group said.
Kobani has become a crucial symbolic battleground in the war against IS, which is fighting to extend areas under its control in Iraq and Syria where it has declared an Islamic "caliphate".
Ankara announced on Monday that it would help Kurdish forces from Iraq to relieve Kobani's beleaguered defenders in a major shift of policy that was swiftly welcomed by Washington.
Iraqi Kurdish officials have said they will provide the training, although any forces sent will be Syrian Kurds.
A local Kurdish official, Idris Nassen, told AFP Kobani was relatively calm on Tuesday, adding that no reinforcements had yet arrived and they did not have "any idea" when they would.
Turkish Foreign Minister Mevlut Cavusoglu confirmed that Kurdish fighters had yet to cross from Turkey to Kobani, telling NTV television "the issue is still being discussed".
The US administration has stepped up its commitment to Kobani in recent days, with Secretary of State John Kerry saying it would be "irresponsible" and "morally very difficult" not to help.
Three C-130 cargo aircraft carried out what the US military called "multiple" successful drops of supplies early on Monday, including arms provided by Kurdish authorities in Iraq.
A US-led coalition has carried out more than 140 air strikes against IS targets around Kobani, but it was the first time it had delivered arms to the town's defenders.
Coalition aircraft carried out further strikes during the night, said the Britain-based observatory, which has a wide network of sources inside Syria.
IS lost at least five of its militants to air strikes on Monday and a further 12 in ground fighting, including two suicide bombers, the monitoring group said.
Five Kurdish fighters were also killed.
The British government, which has joined coalition air strikes against IS in Iraq, said Tuesday it would deploy drones to conduct surveillance on the group in Syria.
Iraqi PM in Tehran
Iraqi Prime Minister Haidar Al Abadi meanwhile described IS as "a threat to the entire region" while in Tehran for talks with his Shiite ally.
IS holds towns just a few kilometres from the Iranian border, and Tehran has been a key backer of Baghdad's efforts to hold them back.
According to a senior Iraqi Kurdish official, Iran has deployed troops on the Iraqi side of the border in the Khanaqin area northeast of Baghdad.
Iranian forces also played a role in breaking the siege of Amerli, another senior Kurdish official said.
But Abadi on Monday ruled out any foreign ground intervention to assist government forces in retaking territory lost to jihadists.
"No ground forces from any superpower, international coalition or regional power will fight here," Abadi told reporters.
"This is my decision, it is the decision of the Iraqi government, he said.
Related Articles
Oct 12,2014
Kurdish fighters have been able to halt the advance of the Islamic State (IS) extremist group in the Syrian border town of Kobani, where the US-led coalition has been carrying out air strikes for more than two weeks, activists said Sunday.
Oct 29,2014
Heavily armed Iraqi peshmerga fighters were set Wednesday to reinforce fellow Kurds defending the Syrian border town of Kobani from the Islamic State group, as anti-regime rebels also joined the battle.
Oct 26,2014
Kurdish forces in the Syrian town of Kobani thwarted a new attempt by fighters from the Islamic State group Sunday to cut off the border with Turkey before Iraqi Kurdish reinforcements can deploy.
Newsletter
Get top stories and blog posts emailed to you each day.