You are here
Syria medics launch cholera vaccine campaign in rebel-held northwest
By AFP - Mar 07,2023 - Last updated at Mar 07,2023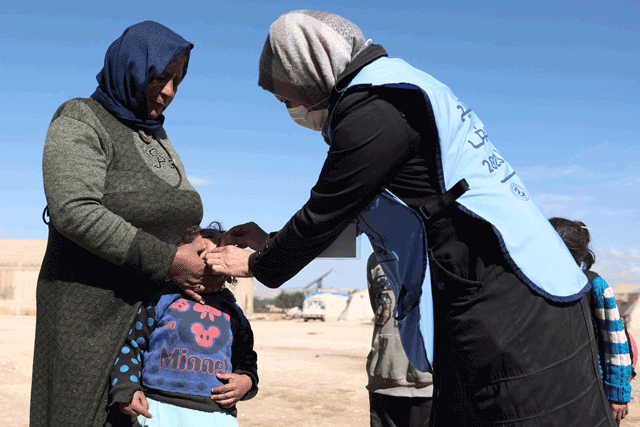 A medic administers a cholera vaccine to a child at the Maram camp, for the internally displaced, in Syria's north-western Idlib province on Tuesday (AFP photo)
MAARET MASRIN, Syria — Syrian medics launched on Tuesday the first cholera vaccination campaign in the rebel-held northwest since a deadly outbreak began last year, amid increased fears of contagion after last month's devastating earthquake.
Health workers were going door to door to inoculate people in homes and displacement camps in the Idlib region, the war-torn country's last main rebel bastion, an AFP correspondent said.
Syria's first cholera outbreak since 2009 has killed at least 26 people in areas outside Syrian regime control since September, according to Idlib health official Zuhair Karrat.
Local authorities have recorded 565 cases of the extremely virulent disease, Karrat added. Across Syria around 85,000 suspected cases have been logged, according to the United Nations.
The vaccination campaign, which relies on UN supply and had been planned before the February 6 earthquake, began Tuesday and "will last 10 working days", said another Idlib health official, Rifaat Al Farhat.
Officials had told AFP it targets "high-risk areas" near the border with Turkey that were heavily impacted by the tremor.
The quake killed more than 50,000 people in both countries including nearly 6,000 in Syria, according to officials and medics.
It left more than 10,000 buildings completely or partially destroyed in Syria's northwest, according to the United Nations.
The Syrian rebel-held pocket's healthcare sector had been hit particularly hard, with hospitals and civilian infrastructure already battered by years of Russian air strikes and regime shelling.
Thousands of people now languish in cramped shelters and tents, with poor access to clean water and hygiene, putting them at a higher risk of infection.
These conditions mean "the risk of disease outbreaks soars", Ammar Ammar of the UN children's agency UNICEF had told AFP.
"For vulnerable children, an increase in waterborne diseases such as cholera and acute water diarrhoea could be catastrophic."
The United Nations sent 1.7 million cholera vaccines to northwest Syria in January in preparation for the inoculation campaign.
More than 4 million people live in areas outside government control in Syria's north and northwest.
Cholera is generally contracted from contaminated food or water, and causes diarrhoea and vomiting.
The disease can spread in residential areas lacking proper sewerage and drinking water systems.
Even before the quake, nearly two-thirds of Syria's water treatment plants, half of pumping stations and one-third of water towers had already been ravaged by almost 12 years of war, the UN has said.
Cholera can kill within hours if left untreated, according to the UN, but many of those infected will have no or mild symptoms.
Newsletter
Get top stories and blog posts emailed to you each day.