You are here
Syria regime back on the offensive with Russian help
By AFP - Jan 15,2016 - Last updated at Jan 15,2016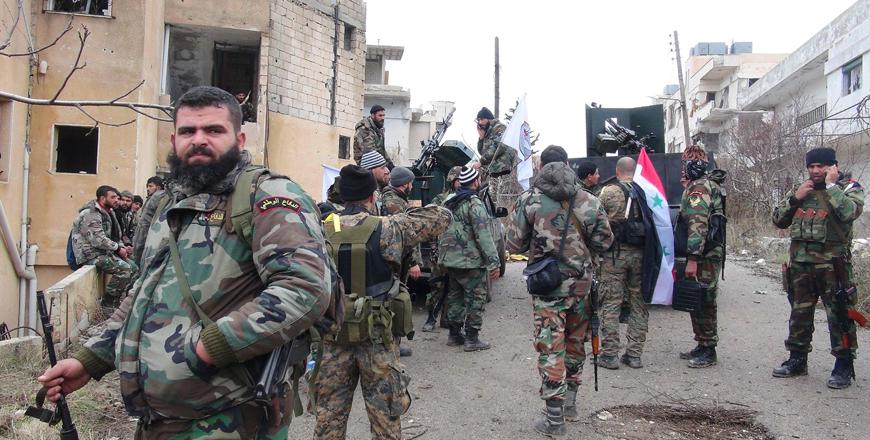 Forces loyal to the Syrian regime stand on a street with national flags after the Syrian army took control of the strategic town of Salma, in the northwestern province of Latakia, on Tuesday (AFP photo)
BEIRUT — Last summer, Syria's regime was on the back foot after a series of military defeats, but in recent weeks it has capitalised on a Russian air campaign to recapture territory.
The gains have been limited, and have relied heavily on support from mostly Shiite foreign fighters from Lebanon's Hezbollah movement, as well as Afghan and Iraqi forces, and Iranian "advisers".
But they have allowed the regime to retake the initiative and go on the offensive after a humiliating string of defeats.
Perhaps the regime's biggest success since Russia began air strikes last September was this week's capture of Salma, a town in coastal Latakia province that became a rebel stronghold after its 2012 capture.
Simultaneously, the army is seeking to encircle the city of Aleppo, advance in the south of central Hama province and east in Homs, and is on the offensive in the key rebel town of Sheikh Miskeen in southern Daraa province.
"The Russian intervention has undoubtedly been of immense value to the Syrian regime, which was very much on the back foot in mid-2015," said Torbjorn Soltvedt, head of Middle East and North Africa at the Verisk Maplecroft risk analysis company.
"The intervention has largely succeeded in halting rebel advances led by the FSA [Free Syrian Army rebels] and the Islamist Army of Conquest, and eased mounting pressure on the regime," he said.
The Army of Conquest rebel alliance, which includes Al Qaeda affiliate Al Nusra Front, dealt the regime a particularly severe blow last year with the capture of all of Idlib province.
But Russia's strikes have brought new pressure to bear on opposition forces, with the Britain-based Syrian Observatory for Human Rights saying Moscow carried out some 120 strikes on Salma before its capture by Syrian regime forces.
Soltvedt said Russia's air campaign would "continue to play a hugely important role in the conflict", but he cautioned "there is little to suggest that the Syrian army can roll back gains made by the rebels in 2015 in the short term."
"The regime is certainly on the offensive," said Firas Abi Ali, a senior analyst at research firm IHS Janes.
"Its weapons superiority and Russian aerial support mean that the far-more-poorly-equipped insurgents will have to yield territory," he told AFP.
"The question is whether the Syrian army has the capability to hold the territory that it takes. Its manpower shortages, and insurgents' access to friendly borders, have limited its ability to do that in the past."
Experts also noted that the regime's gains so far have not been geographically vast.
French geographer and Syria expert Fabrice Balanche said the advance in Salma, along with the recapture of the Kweyris military airport in Aleppo and additional wins in southern Aleppo amounted to about 400 square kilometres of retaken ground.
"The army has regained morale, that's for sure," said Balanche, a visiting fellow at the Washington Institute for Near East Policy think tank.
But he too noted the regime was relying heavily on not just Russian support but also Shiite militants.
"Russia's goal is to clear the Jabal Turkman and Jabal Akrad regions [of Latakia] because rebels there can directly threaten Russian bases in the province," he said.
Vasily Kashin, an expert at Moscow's Centre for Analysis of Strategies and Technologies, said Russia has been able to "partially" achieve its main goals: preventing the regime's collapse and creating more favourable conditions for talks.
"The situation has stablised, the government is no longer threatened with collapse," he said.
Related Articles
Dec 16,2015
DAMASCUS — Syrian troops and allied militia pushed rebel fighters back on Wednesday from a hilltop overlooking a strategic highway in Presid
Jan 14,2016
BEIRUT — Backed by relentless Russian air strikes, Syrian troops and allied militiamen on Wednesday pushed deeper into a major rebel strongh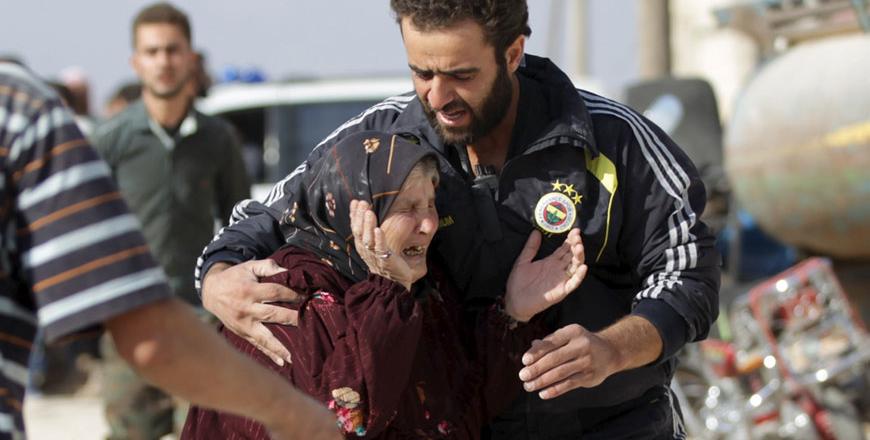 Oct 08,2015
BEIRUT — Heavy Russian aerial bombing and cruise missile strikes launched from warships in the Caspian Sea on Wednesday provided cover for a
Newsletter
Get top stories and blog posts emailed to you each day.