You are here
Syrian army's Aleppo advance slows but victory in sight
By Reuters - Dec 09,2016 - Last updated at Dec 09,2016
Syrian residents fleeing the violence gather at a checkpoint, manned by pro-government forces, in the village of Aziza on the southwestern outskirts of the northern Syrian city of Aleppo on Thursday (AFP photo)
ALEPPO/BEIRUT — The Syrian army's advance in Aleppo slowed on Thursday but a victory was still firmly in sight after President Bashar Assad vowed that retaking the nation's second city would change the course of the six-year civil war in his favour.
Lightning gains in recent days in which government forces and their allies recaptured Aleppo's historic Old City lost some momentum in the face of stiff rebel resistance but the Syrian leadership was confident.
Assad has long sought to seize divided Aleppo which would put him in control of Syria's major cities, the south, central spine and western flank bordering the Mediterranean, dealing a devastating blow to rebels who have fought to unseat him.
Outside of Aleppo, the government and its allies are also putting severe pressure on remaining rebel redoubts. Assad said in an interview with a Syrian newspaper that victory in Aleppo would be a landmark, but not the end of the war.
The rebels on Wednesday called for an immediate five-day ceasefire and the evacuation of civilians and wounded, but gave no indication they were ready to withdraw, as demanded by Damascus and its ally Moscow.
Russian Foreign Minister Sergei Lavrov said on Thursday that Russian and US experts would meet in Geneva on Saturday to discuss the situation in Aleppo, Moscow's RIA news agency reported.
It also cited him as saying that the Syrian army had stopped active military operations in Aleppo to facilitate an effort to remove civilians. Reuters reporters in the city said bombardment could still be heard after Lavrov's comments were published.
"We are close to reaching an understanding, but I want to warn against high expectations," the Interfax news agency quoted Deputy Foreign Minister Sergei Ryabkov as saying.
US Secretary of State John Kerry said after meeting Lavrov in Hamburg that he was not confident but "hopeful" about reaching an agreement, and was still waiting for "certain feedback and input" from Moscow.
The White House said it would adopt a "wait and see" approach on whether Russia helps cease military operations.
The UN assessment for a possible deal, which would see civilian evacuations from besieged rebel-held areas of eastern Aleppo and help aid delivery, was bleak.
Russia and the United States were "poles apart" in trying to agree on terms for evacuations from East Aleppo, UN Syria humanitarian adviser Jan Egeland said.
Five months of talks over aid plans all failed and produced "nothing", Egeland said, adding it was up to Moscow and Washington to agree an evacuation from East Aleppo, where the UN Syria envoy said more than 100,000 people may be living.
More than 800 people have been killed and 3,000-3,500 wounded in eastern Aleppo in the past 26 days, while the remaining trapped civilians await an effective death sentence, the president of Aleppo local council said.
"Today, 150,000 people are threatened with extermination. We are calling for a halt to the bombing and guarantees of safe passage of all," Brita Haji Hassan said during a trip to Geneva.
As the Cold War foes struggled to agree, fighting raged on around the Old City, a UNESCO World Heritage Site, with the Syrian army trying to push into the few remaining rebel-held Aleppo neighbourhoods.
A Reuters journalist said government forces were shelling rebel-held areas of southwestern Aleppo into the afternoon. Columns of smoke were seen rising from rebel-held areas.
Pro-Damascus media reported that Syrian government forces and their allies had launched attacks against insurgents in the Sukkari, Kalasa and Bustan Al Qasr neighbourhoods, west and south of the ancient citadel.
An opposition activist in Aleppo said insurgents had staved off the attacks on the latter two districts.
A Syrian military source reported the army and its allies had also advanced in the Sheikh Saeed district in the south of the rebel enclave. The Syrian Observatory for Human Rights, a Britain-based war monitor, also reported that.
Government forces have in the past two weeks seized more than two-thirds of rebel-held eastern Aleppo, which had been in insurgents hands for years.
Assad said the army advances will completely change the course of the war, and vowed to fight on after recapturing Aleppo. He described Aleppo as the "last hope" of rebels and their backers, "after their failure in the battles of Damascus and Homs".
"Aleppo will completely change the course of the battle in all of Syria," Assad said, speaking in an interview with the Syrian newspaper Al Watan.
"The battle of Aleppo will be a gain, but... it doesn't mean the end of the war in Syria. It is a significant landmark towards the end of the battle, but the war in Syria will not end until terrorism is eliminated.
"Terrorists are there in other areas, so even if we finish in Aleppo, we will carry on with the war against them," he said.
Damascus says all insurgents it is fighting are terrorists.
Retaking Aleppo would also be a success for President Vladimir Putin who intervened to save Moscow's ally in September 2015 with air strikes, and for Shiite Iran, whose elite Islamic Republic Guard Corps has suffered casualties fighting for Assad.
The war has killed hundreds of thousands of Syrians and made more than 11 million homeless, creating the world's worst refugee crisis, and allowed for the rise of the ultra-hardline Daesh group, which still controls areas of eastern Syria.
The head of Britain's MI6 foreign intelligence agency Alex Younger warned on Thursday that Daesh was plotting attacks on the West "without ever having to leave Syria".
Related Articles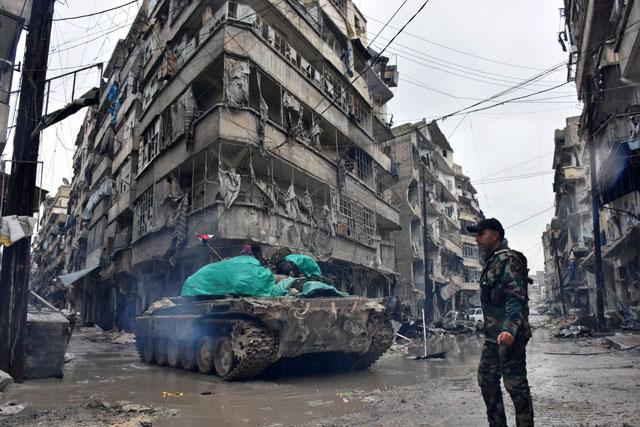 Dec 14,2016
ALEPPO/BEIRUT — Plans to evacuate besieged rebel districts of Aleppo were under threat on Wednesday as renewed air strikes and shelling rock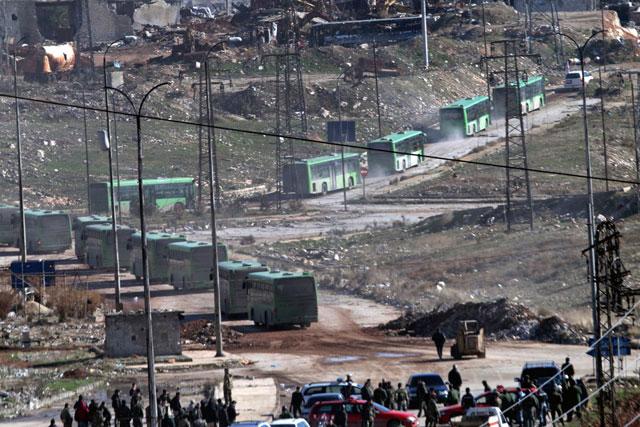 Dec 15,2016
ALEPPO/BEIRUT — An operation to evacuate thousands of civilians and fighters from the last rebel bastion in Aleppo began on Thursday, part o
Oct 14,2015
BEIRUT — Daesh militants battled rival insurgent groups on Wednesday north of the city of Aleppo, where officials say the Syrian army is pre
Newsletter
Get top stories and blog posts emailed to you each day.