You are here
Syrian army tries to choke off rebels in Aleppo
By AP - Jul 07,2014 - Last updated at Jul 07,2014
BEIRUT — Syrian troops advanced in and around the northern city of Aleppo on Monday, in what appears to be an attempt to lay siege to opposition-held parts of the country's largest city, activists said.
The troops faced rebels stretched thin by a two-front fight against government forces and Islamic militants encroaching on opposition-held areas. If rebels are driven out of Aleppo, it would be a near-fatal blow to an uprising that began in March 2011 as largely peaceful protests against President Bashar Assad's rule, but later turned into a full-fledged civil war.
Aleppo is the last large urban area that Syrian rebels hold after losing territory to government forces over the past year, and it lies close to the border with Turkey, an important friendly supply route for rebels. Raqqa, further east, is held exclusively by Sunni extremists from the Islamic State group.
"If Aleppo falls, the Syrian revolution falls," said an Aleppo-based activist who uses the name Baraa Halabi, speaking to The Associated Press over Skype.
Aleppo, once Syria's commercial centre, has been carved up into rebel- and government-controlled areas since an opposition offensive in mid-2012.
Rami Abdulrahman, who heads the Britain-based Syrian Observatory for Human Rights, said Monday that reinforcements, including members of the elite Republican Guards and allies from Lebanon's Hizbollah group, recently arrived in Aleppo.
They appeared to be reinforcing Syrian government forces, which have been steadily seizing control of the city's entrances.
Last week, troops seized the Sheikh Najjar neighbourhood and a key industrial area, allowing them to choke off eastern entrances to rebel-held parts of Aleppo. They also captured the villages of Kafr al-Saghir and Moqbila, just north of Aleppo, tightening their grip on the city's entrances, said Abu Hassan Marea, an activist based near the city.
They already control much of western Aleppo and have closed down most of the city's southern entrances.
A Syrian army officer told state TV that troops now control a main highway north of Aleppo and said they had "closed a belt of up to 80 per cent from the north". The officer did not provide his name, in line with Syrian military regulations.
Activist Abdulrahman said he did not think Aleppo would fall quickly.
"It is going to be a very difficult battle," said Abdurrahman, whose group has a network of activists around Syria. He said the government's aim was likely to capture Aleppo's northern district of Handarat to further close in on rebels.
The government push came just as Islamic militants began pushing into the northern countryside surrounding Aleppo last week.
Islamic State group insurgents turned towards Aleppo's countryside after seizing western and northern swathes of neighbouring Iraq last month. They already have strongholds along the eastern Syrian length of the Euphrates River and in the northern towns of Manbej and Al Bab. The insurgents declared a self-styled caliphate in an area straddling the two territories earlier this week.
This week, Islamic State group fighters seized Kurdish villages on the Turkish border near the provincial town of Ayn Arab near the Turkish border. They are fighting for the towns of Akhtarin and Marea.
"You look to the right, and there's the regime. You look to the left, it's the Islamic State [group]. We are caught in a pincer," said activist Halabi.
Rebels were rushing to bring in convoys of fighters, according to Halabi and another activist, who uses the name Abdullah Ghannam.
"Rebels in the area aren't enough to fill all the fronts — we have four or five active fronts now," Ghannam said.
Fears over the Aleppo front began about a month ago, said the activists, when forces loyal to the government began hammering away at the industrial area. The attacks came after rebel-held areas were badly weakened by bombardment with crude barrel bombs for months.
Government forces were emboldened from a year of victories, most recently wresting back the central city of Homs from rebels. They had cut rebel supply lines into neighbouring Lebanon, and their crushing blockades of rebel-held areas caused insurgents to surrender.
Rebels have also been badly weakened after infighting against Islamic State group extremists began in December last year, the clashes killing thousands of people and diverting the fight.
Related Articles
Feb 23,2014
Two suicide bombers killed a senior Al Qaeda operative on Sunday, blowing themselves up inside the militant leader's compound in the northern Syrian city of Aleppo, rebels and activists said.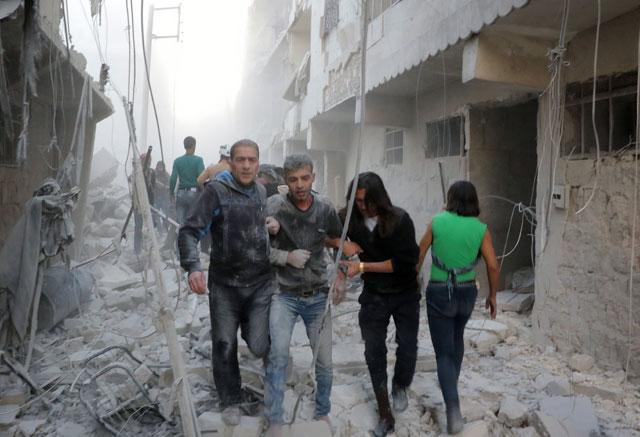 Nov 16,2016
BEIRUT — Russia launched new strikes in Syria on Tuesday involving carrier-borne jets and long-range missiles as opposition activists on the
May 05,2014
Fierce fighting in Syria's contested northern province of Aleppo killed at least 21 rebels on Monday as rockets slammed into a government-held district in the provincial capital, killing nine people.
Newsletter
Get top stories and blog posts emailed to you each day.