You are here
Syrian, Kurdish forces battle Daesh in key border area
By AFP - Mar 02,2015 - Last updated at Mar 02,2015
BEIRUT — Syrian regime forces and Kurdish militia fought separate battles with the Daesh terror group on Monday in a strategic area near the Iraqi and Turkish borders, a monitoring group said.
Forces loyal to President Bashar Assad and fighters from the Kurdish People's Protection Units (YPG) launched uncoordinated offensives against Daesh in the northeastern province of Hasakeh, the Syrian Observatory for Human Rights said.
Observatory head Rami Abdel Rahman told AFP that after three days of clashes, regime forces bolstered by fighters from Arab tribes had secured control over 23 villages in the centre of the province from Daesh.
Syria's official news agency SANA put the number at 31.
State television said the army offensive would continue until it controlled the main road linking the provincial capital Hasakeh and the city of Qamishli.
"IS [Daesh] has launched counter-attacks on regime checkpoints, while the regime fortifies its positions with support from local Arab tribes," Abdel Rahman added.
He said YPG fighters were meanwhile also battling Daesh alongside Arab tribes outside the village of Tal Tamr in Hasakeh's southwest.
"The YPG fighters in Tal Tamr are shelling Daesh around the area to lure Daesh to respond, so they can identify their positions" and call for strikes by the US-led coalition waging an air campaign against Daesh, he said.
"But Daesh is avoiding any response in order not to give away its positions."
YPG spokesman Redur Khalil confirmed to AFP that the Kurdish fighters were conducting "attack-and-retreat operations with Daesh on two fronts.
"The first is around Tal Tamr, in order to retake Assyrian towns in the area, and the second is around Tal Burak," a town between Hasakeh and Qamishli, he said.
Daesh launched an attack last week on the areas around Kurdish-controlled Tal Tamr and kidnapped 220 Assyrian Christians from 11 villages. Nineteen of them were freed Sunday after ransoms were paid.
Control of Hasakeh province is split between Daesh, regime fighters and Kurdish militia, with overlap at a number of points.
Government forces withdrew from most of the province in the first few months after the start of Syria's uprising in March 2011, granting greater autonomy to the Kurds.
The area is of strategic importance because it borders both Turkey and Iraq.
A UN fact-finding mission meanwhile deployed to Syria's second city Aleppo on Monday, despite the rejection by opposition forces of a partial ceasefire there proposed by UN envoy Staffan De Mistura.
"The mission will aim to assess the situation on the ground and to ensure that, once the freeze is announced, humanitarian aid can significantly increase, and to prepare arrangements to follow up on violations of the freeze," his office said in a statement.
The Italian-Swedish diplomat has made the Aleppo freeze the centrepiece of his mediation efforts since he was named as special envoy on the Syrian conflict in July.
Related Articles
Apr 11,2015
Pro-government forces repelled an attack on a key Syrian military airport by Daesh group affiliated militants, losing 20 fighters but killing almost as many jihadists, a monitor said Saturday.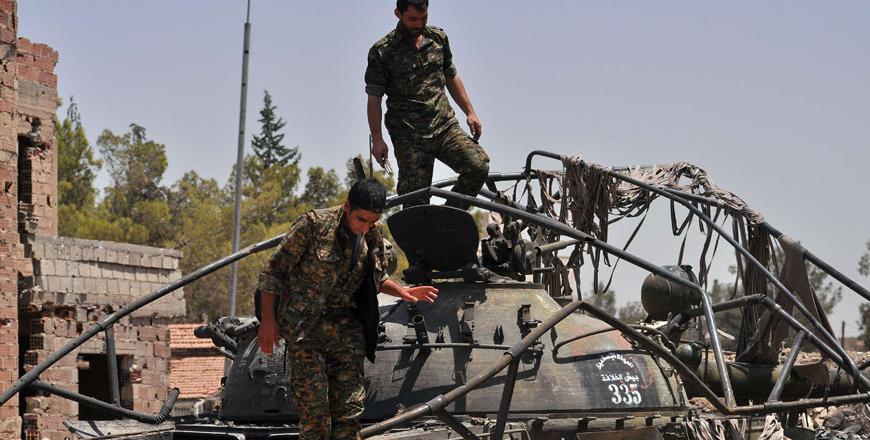 Jul 28,2015
BEIRUT — Syrian troops and Kurdish fighters ousted the Daesh terror group from Hasakeh on Tuesday, more than a month after the jihadists att
Mar 01,2015
Syrian rebel forces in Aleppo on Sunday rejected UN envoy Staffan de Mistura's plan for a freeze in fighting in the divided northern city, dealing a blow to his peace efforts.
Newsletter
Get top stories and blog posts emailed to you each day.