You are here
Syria's civil war to mar Obama legacy
War takes some 400,000 lives and makes more than 11 million people homeless
By Reuters - Dec 13,2016 - Last updated at Dec 13,2016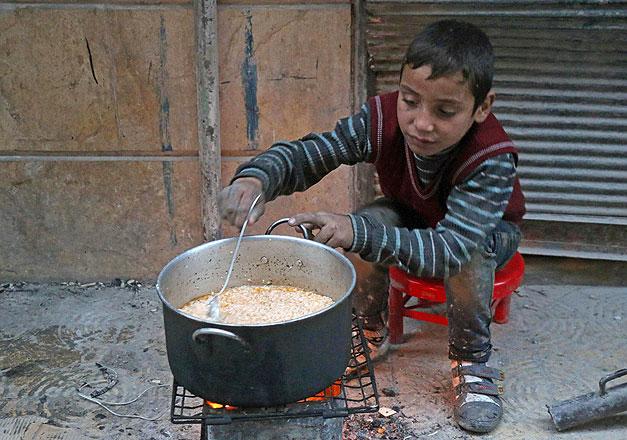 A Syrian child cooks in the street in a rebel-held area of Aleppo, on Tuesday, during an operation by Syrian government forces to retake the embattled city (AFP photo)
WASHINGTON — The fall of the last rebel-held areas in the Syrian city of Aleppo could seal the fate of the "Obama Doctrine", deepening the world's worst humanitarian crisis in decades and staining US President Barack Obama's legacy.
With the US-aligned rebels facing defeat by government forces backed by Russia and Iran, Obama's light-footprint approach to the Syrian conflict will suffer a serious blow weeks before he hands power to President-elect Donald Trump on January 20.
The rebel loss would underscore the failure of US efforts to stem the carnage from Syria's nearly six-year-old civil war, leading some critics to predict that Obama's record will be tarnished just as president Bill Clinton's was by his refusal to intervene to halt the 1994 Rwandan genocide.
"There is no doubt he will be hammered in historical terms," said Aaron David Miller, a former Middle East adviser to Republican and Democratic administrations. "The question will be why he didn't do more."
While the war is expected to grind on, Syrian President Bashar Assad's victory in Aleppo would provide fresh fodder for Trump, who has argued the insurgency has collapsed, and the United States should revamp its fight against Daesh by joining up with Russia, and by extension, Assad.
Syria has been one of the main testing grounds for Obama's doctrine of relying on local proxy fighters instead of large-scale US military deployments, reflecting his reluctance to be drawn back into unpopular ground conflicts like the Iraq war.
The approach has faltered in Syria, where on Tuesday the Syrian army said it could declare full control over eastern Aleppo by Wednesday. A deal was struck to allow the remaining rebel fighters to evacuate their last enclave there, Russian UN Ambassador Vitaly Churkin said.
"Leading from behind leaves a vacuum that is filled by the Bashar Assads and Vladimir Putins of the world," said Senate Armed Services Committee Chairman John McCain, referring to how an Obama aide described his strategy. "I think history will judge that these are unintended results that are going to cause great challenges to the United States for years to come."
Obama has been criticised for refusing to provide sufficient arms and other support to moderate rebel groups to compel Assad and his Russian and Iranian backers to negotiate an end to his authoritarian rule.
"Obama has pursued a policy of calculated dithering in Syria, just agonizing over the choices until they no longer existed," said Emile Hokayem, a senior fellow at the International Institute for Strategic Studies think tank.
The Democratic president has defended his policy as "judicious." His spokesman, Josh Earnest, said it was Obama's "overriding responsibility" to protect the interests and safety of the American people first.
A Republican, Trump has vowed a dramatic shift from Obama's cautious strategy towards a more aggressive approach — although exactly how he will proceed remains unclear.
He will inherit an increasingly complicated conflict in Syria, and many analysts fear his lack of foreign policy experience could lead to dangerous miscalculations.
If Trump follows through after Aleppo's fall on his pledge to cooperate with Russia, Assad's military patron, there is a risk that frustrated moderate rebels could gravitate towards militant factions that pose a potential threat to Western interests.
As Assad himself turns from the wreckage of Aleppo to assert his authority over a fractured Syria, he will have to contend with the loss of swaths of his country for the time being and tough pockets of resistance still to crush.
The war has taken some 400,000 lives and made more than 11 million people homeless, driving many into neighbouring countries or on a long perilous trek to Europe.
Cost of inaction
The imminent fall of rebel-held eastern Aleppo — and the sense of US powerlessness as it unfolds — suggests that Obama likely will be judged by history as much for what he did not do as for what he did.
He first called on Assad to leave power in 2011. But Obama never supplied moderate rebels with enough firepower to topple him or force him to the negotiating table. His failure to carry out threatened air strikes to enforce his 2012 "red line" over Assad's use of banned chemical weapons dealt a heavy blow to US standing, including by some of his staunchest regional allies.
Obama also rejected recommendations, as recently as October, by members of his national security team for tougher action against Assad. Instead, he gave priority to striking Daesh with a US-led bombing campaign and local allies assisted by relatively small numbers of US special forces.
The strategy hewed to a prescription Obama laid out in a 2014 West Point speech in which he made clear he would intervene in foreign conflicts only when he believed US interests were threatened.
That led to the return of thousands of US military personnel to Iraq to support Iraqi forces fighting Daesh.
But in Syria, despite providing billions of dollars in relief aid for refugees, Obama's approach has failed to quell what some have called the worst humanitarian crisis since World War II.
Obama recently told an interviewer that the grim situation in Syria "haunts me constantly" — although he insisted there was not much he would have done differently.
James Jeffrey, a former US ambassador to Iraq and Turkey, said Obama's risk-averse approach had not only allowed Assad to attack the opposition with impunity but also opened the door to greater Russian and Iranian influence in the Middle East.
But Paul Pillar, a former top US intelligence analyst on the Middle East, said Obama was right to hold back in Syria because it was "no place to commit US prestige and resources for regime change".
Earnest said on Thursday that historians may "end up quibbling" about Obama's Syria policy, when he was asked about a Syrian opposition leader who told The Wall Street Journal that "history will never forgive Obama for what he has done to the Syrian people".
White House aides privately acknowledge that Syria — and other Arab countries in turmoil, such as Libya and Yemen — could leave a black mark on his legacy.
But they hope his record will be buoyed in other areas, including the landmark Iran nuclear deal, diplomatic openings to Cuba and Myanmar, the killing of Al Qaeda leader Osama Bin Laden and the prevention of a 9/11-style attack on US soil on his watch.
Still, reflecting deep unease in Washington over the bloodshed in Aleppo, Robert Ford, who resigned in 2014 as US ambassador to Syria over policy disagreements, and is now at the Middle East Institute, said: "I'm personally sad that after we thought we had learned lessons in places like Sarajevo, Srebrenica and Rwanda, it's in fact very clear that this administration doesn't really care."
Related Articles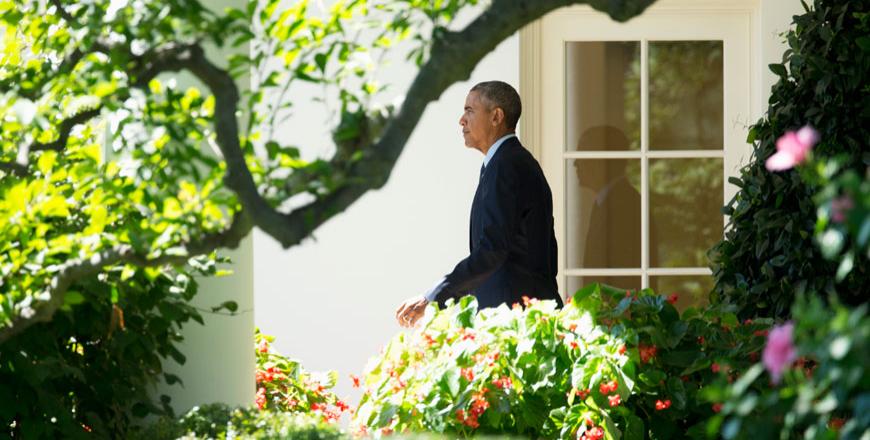 Sep 14,2015
WASHINGTON — US presidents are just as likely to be remembered for their foreign policy failures as their successes.Jimmy Carter sealed the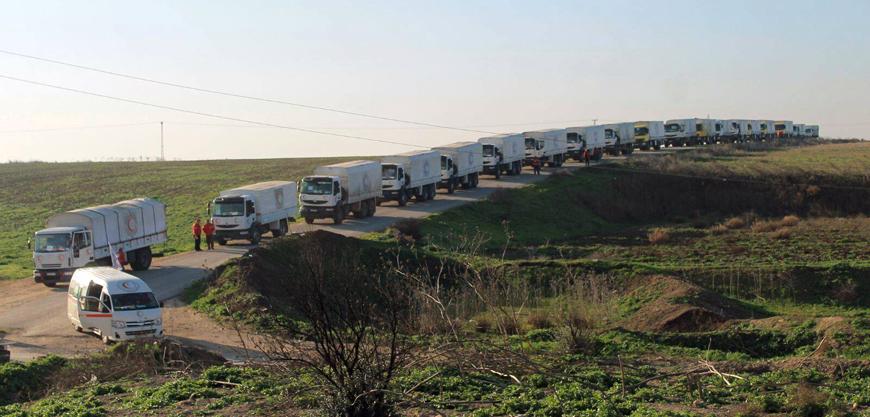 Feb 17,2016
WASHINGTON — The United States is coming under increasingly bitter criticism for its perceived lack of leadership over Syria as the country'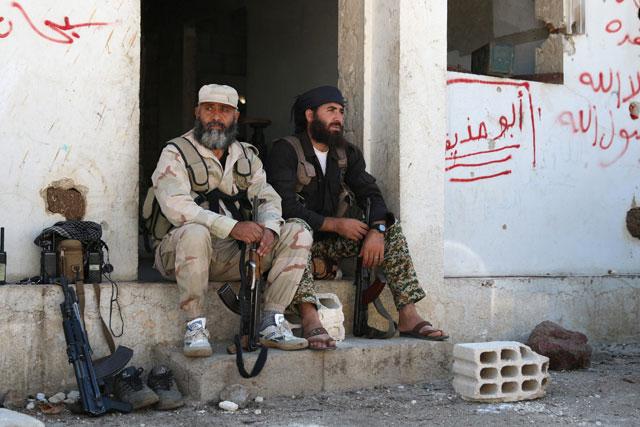 Sep 10,2016
WASHINGTON — Saturday's deal to renew a nationwide truce in Syria, open aid routes and establish a US-Russian military partnership may
Newsletter
Get top stories and blog posts emailed to you each day.