You are here
Ten migrants drown after boat sinks off Libya
By Reuters - Jun 14,2014 - Last updated at Jun 14,2014
ROME — Ten migrants drowned after the boat they were travelling in sank off the Libyan coast, Italy's navy said on Saturday, reporting the latest deaths among thousands of migrants trying to reach Europe from Africa and Syria.
At least 50,000 people have crossed from North Africa to Italy so far this year, exceeding the 40,000 who arrived in the whole of 2013, according to the Italian coastguard authorities.
That leaves the annual total set to surpass the 60,000 who made the trip in 2011 when the Arab Spring revolutions loosened border controls.
The navy said that, together with the Italian coastguard, on Friday it had saved 39 migrants from the boat which capsized around 40 nautical miles north of Libya but that it had also picked up 10 dead bodies.
It gave no information on the nationality of the victims or the other migrants, who have been transferred onto the Italian supply ship Etna.
The ship, carrying a total of around 700 migrants picked up in the last few days, is heading for the Sicilian capital of Palermo where it is due to arrive on Sunday, the navy said.
The surge of migrants leaving North African shores is straining the ability of the Italian naval mission — called Mare Nostrum or "Our Sea" — to patrol the waters between Africa and Italy on its own.
Italian Prime Minister Matteo Renzi has called on the United Nations to intervene in Libya, from where he says more than 90 per cent of the migrants depart and where criminal gangs charge migrants more than $1,000 each for a passage on unsafe vessels.
Mare Nostrum began in October after 366 migrants fleeing African countries drowned when their boat capsized a mile from Sicily. After the tragedy, the EU pledged 30 million euros ($40.85 million)in emergency funding, mainly to finance immigration facilities on land.
Italy has repeatedly asked for more European Union countries to join Mare Nostrum, which is Europe's biggest ever search-and-rescue mission, but so far only Slovenia has chipped in, offering one ship for two months late last year.
Related Articles
Nov 15,2014
Italian authorities said Saturday that more than 900 people had been rescued at sea in 24 hours, in a blow to hopes that the approach of winter would stem the flow of migrants attempting perilous crossings of the Mediterranean.
Feb 11,2015
More than 300 migrants were feared drowned Wednesday after their overcrowded dinghies sank in the Mediterranean, the latest boat disaster on the perilous crossing from Africa to Europe.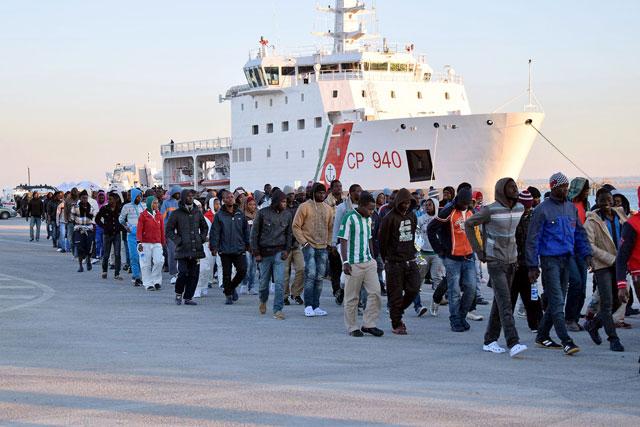 Apr 19,2015
Up to 700 people were feared drowned Sunday after an overcrowded boat smuggling them to Europe capsized off Libya in the latest and deadliest in a long list of migrant disasters in the Mediterranean.
Newsletter
Get top stories and blog posts emailed to you each day.